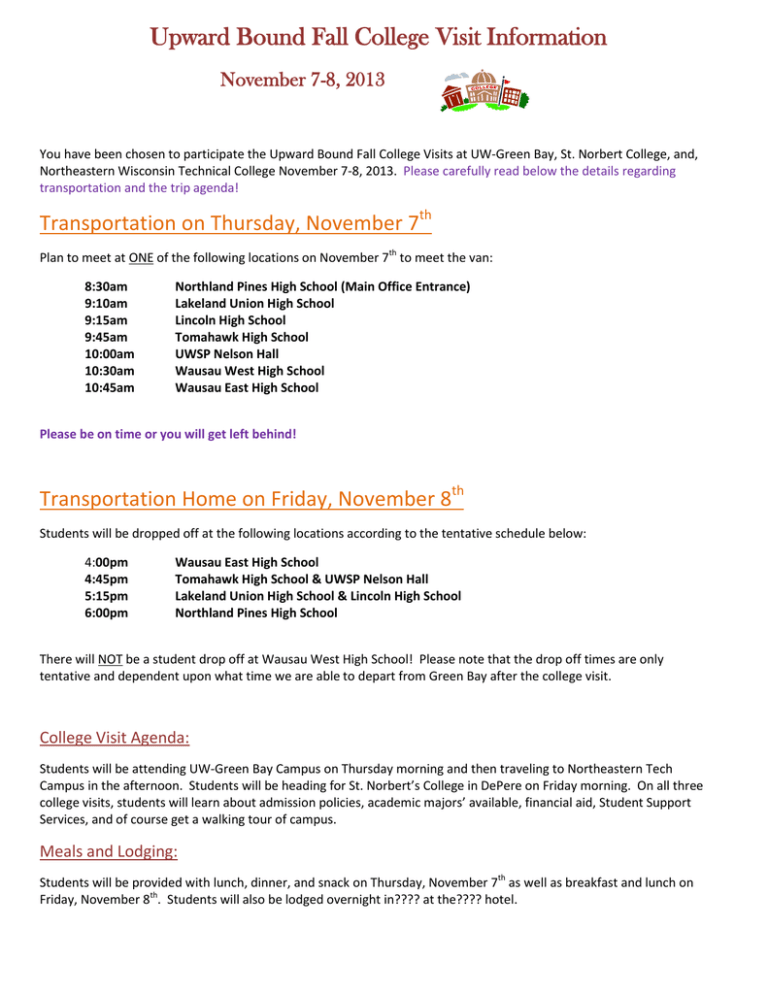 Upward Bound Fall College Visit Information
November 7-8, 2013
You have been chosen to participate the Upward Bound Fall College Visits at UW-Green Bay, St. Norbert College, and,
Northeastern Wisconsin Technical College November 7-8, 2013. Please carefully read below the details regarding
transportation and the trip agenda!
Transportation on Thursday, November 7th
Plan to meet at ONE of the following locations on November 7th to meet the van:
8:30am
9:10am
9:15am
9:45am
10:00am
10:30am
10:45am
Northland Pines High School (Main Office Entrance)
Lakeland Union High School
Lincoln High School
Tomahawk High School
UWSP Nelson Hall
Wausau West High School
Wausau East High School
Please be on time or you will get left behind!
Transportation Home on Friday, November 8th
Students will be dropped off at the following locations according to the tentative schedule below:
4:00pm
4:45pm
5:15pm
6:00pm
Wausau East High School
Tomahawk High School & UWSP Nelson Hall
Lakeland Union High School & Lincoln High School
Northland Pines High School
There will NOT be a student drop off at Wausau West High School! Please note that the drop off times are only
tentative and dependent upon what time we are able to depart from Green Bay after the college visit.
College Visit Agenda:
Students will be attending UW-Green Bay Campus on Thursday morning and then traveling to Northeastern Tech
Campus in the afternoon. Students will be heading for St. Norbert's College in DePere on Friday morning. On all three
college visits, students will learn about admission policies, academic majors' available, financial aid, Student Support
Services, and of course get a walking tour of campus.
Meals and Lodging:
Students will be provided with lunch, dinner, and snack on Thursday, November 7th as well as breakfast and lunch on
Friday, November 8th. Students will also be lodged overnight in???? at the???? hotel.
What to Bring to the College Visits:
Students should bring a change of clothes and personal items for the overnight, comfortable walking shoes and a jacket
for cool weather. Students should also prepare for inclement weather as the walking tour of each campus will take
place rain or shine. Students should also bring a pen or pencil to complete college visit evaluations. Optional items to
bring are study materials, iPods, cell phones, and extra cash for snacks not provided by Upward Bound. In any case,
Upward Bound will not be responsible for lost or stolen personal items brought on the trip.
College Visit Expectations/Behavior Guidelines:
Students are expected to behave respectfully and utilize manner at all times. Students are to act responsibly and
participate in all campus visit activities. Parents/guardians will be contacted if students are caught in violation of the UB
drug and alcohol policy and students in violation of this policy will be subsequently expelled from the Upward Bound
Program.
Miscellaneous and Contact Information:
Students who are unable to participate in the Upward Bound Fall College Visits due to a last minute illness or family
emergency should contact Judy Young at (715) 346-2940 (office), or (715) 340-1319 (cell). A voice message can be left at
either number at any time.