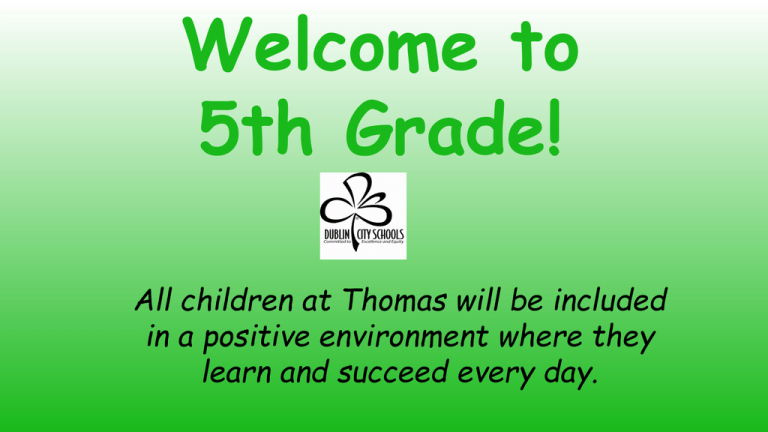 Welcome to
5th Grade!
All children at Thomas will be included
in a positive environment where they
learn and succeed every day.
➢
➢
Mrs. Tucker
Language Arts/SS
Mrs.Mast
Math/Science
Who are the 5th Grade
Teachers?
Mr. Andrews
Ms. Howard
Math/Science
Language Arts/SS
5th Grade Daily Schedule
9:10-9:30 Second Bell, Morning Work
9:30-10:50 Class 1
10:50-11:40 Class 2
11:45-12:30 Related Arts
12:30-1:15 Lunch/Recess
1:20-2:45
Class 3
2:45-3:35
Class 4
3:35-3:40
Pack Up/Dismissal
Language Arts
/
/
/
/
Reading
Language/Word Study
Writing
Speaking and Listening
SOCIAL STUDIES
/ Geography and the Early Civilizations
in the Western Hemisphere
/ Immigration Brings Change to the
Western Hemisphere
/ Western Hemisphere Today
MATH
/
/
/
/
/
Number and Operations in Base Ten
Number and Operations-Fractions
Measurement and Data
Geometry
Operations and Algebraic Thinking
SCIENCE
/ Life Science
/ Physical Science
/ Earth & Space
DUBLIN GRADING SCALE
100-93 A
92-90 A89-87 B+
86-83 B
82-80 B79-77 C+
76-73 C
72-70 C69-67 D+
66-63 D
62-60 D59-0 F
Standardized Testing this
year
➢PARCC is no longer being used.
➢MAP will be given in the fall, winter and spring
online, in the areas of Math and Reading.
➢Fifth grade will be tested in the areas of
Reading, Math and Science at the end of April.
These tests are called AIR which stands for
American Institute for Research.
GUIDANCE
3 Week Cycles
with Jodi Cooper
CONFERENCES
FALL
October
22nd or 28th
(This conference will
be with your child's
homeroom teacher.)
WINTER
January 28th
February 4th
(This session will be on
an as needed basis with
your child's team.)
*More information will be sent electronically.
s
e
i
l
p
p
Su
Please make sure your child
has brought in all items on the
5th Grade Supply List.
Thank you!
Communication
➢ Planner/Progress Book
➢ Online Weekly Newsletter
➢ Make sure we have your
current email.
➢ Progress Reports
➢ Email/Voicemail
HOMEWORK
➢Planner
➢Progress Book
Progress Book
http://www.dublinschools.net/timandrews.aspx
or
http://dashboard.dublinschools.net
Leader in Me
As a grade level we are incorporating vocabulary
from the book Leader In Me by Steven Covey.
/ Throughout the year we will focus on the 7 Habits of
Happy Kids.
/ Students will have a copy of these in their take home
planners. We encourage you to review the habits and
become familiar with them, as we will be using these
/
vocabulary words on a regular basis.
Leader
in
Me
Behavior
/ Please look at planners nightly to check on
behavior for that day.
/ Your child will circle met or not met at the
bottom of their planners.
/ For more information please see the
classroom management page in your flip
book.
When Expectations are Met
/
/
/
If these expectations are met, the students will be able in to
bring in their electronics (DS, Game Boys, MP3 players, cell
phones) to use for 30 minutes at the end of the day on Fridays.
If your student does have a cell phone they ARE NOT allowed
to call anyone, text, take pictures or use social media.
They are also welcome to bring board games. Students will be
given "tickets" randomly for good behavior for monthly
drawings.
When Expectations Not Met
/ The students will have to fill out a Stop and Think
Reflection Sheet.
/ This will need to be signed and returned the following
day.
/ Students may also need to remain inside during
recess to refocus their behavior.
Tucker
Howard
Mast
Andrews
A
Phys. Ed.
Music
Art
Library
B
Music
Art
Library
Phys. Ed.
C
Art
Library
Phys.Ed
Music
D
Library
Phys. Ed.
Music
Art
District Gifted and Enrichment Program
Meeting Dates:
Sept. 15-Elementary Enrichment & gifted programming information night at
Dublin Scioto, 7 p.m.
Sept. 22-Elementary Enrichment & gifted programming information night at
Dublin Coffman, 7 p.m.
Sept. 29-Elementary Enrichment & gifted programming information night at
Dublin Jerome, 7 p.m.
6
th
Grade Math
Please see Margaret
Bates in room 162 for
more information.
We are looking forward to a
fun, exciting, and successful
school year!!
Don't forget to stick your flip book
to your refrigerator.
Thank you for coming!