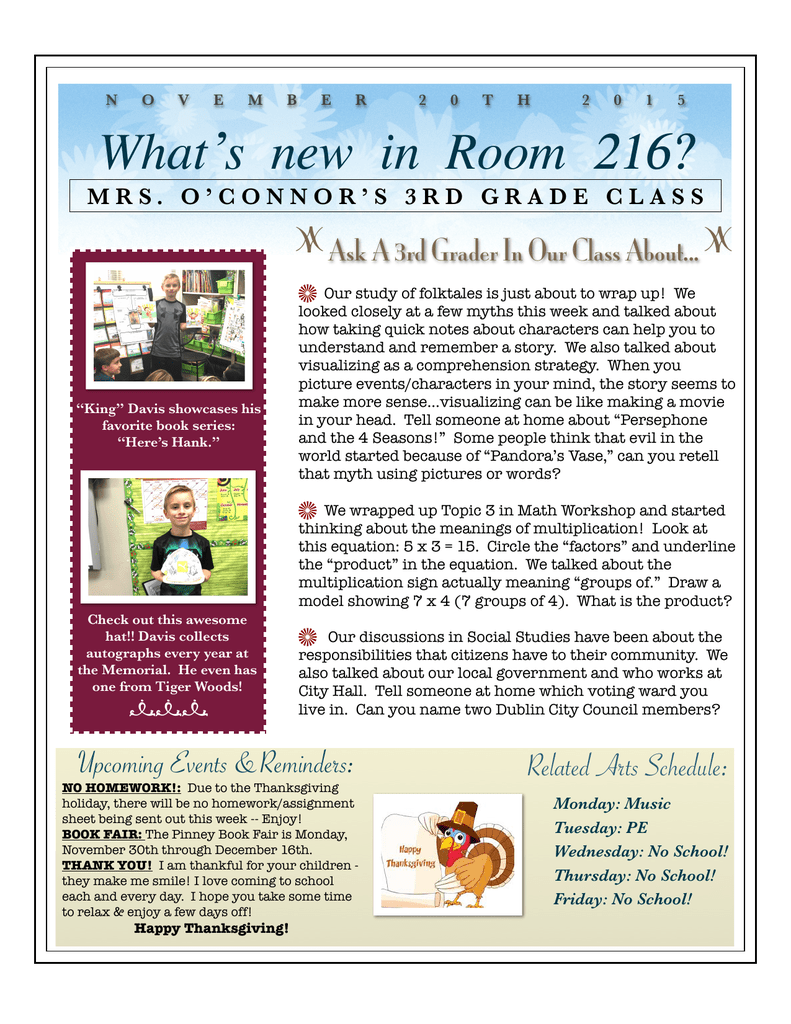 N
O
V
E
M
B
E
R
2
0
T
H
2
0
1
5
What's new in Room 216?
MRS. O'CONNOR'S 3RD GRADE CLASS
z Ask A 3rd Grader In Our Class About... z
"King" Davis showcases his
favorite book series:
"Here's Hank."
Our study of folktales is just about to wrap up! We
looked closely at a few myths this week and talked about
how taking quick notes about characters can help you to
understand and remember a story. We also talked about
visualizing as a comprehension strategy. When you
picture events/characters in your mind, the story seems to
make more sense...visualizing can be like making a movie
in your head. Tell someone at home about "Persephone
and the 4 Seasons!" Some people think that evil in the
world started because of "Pandora's Vase," can you retell
that myth using pictures or words?
We wrapped up Topic 3 in Math Workshop and started
thinking about the meanings of multiplication! Look at
this equation: 5 x 3 = 15. Circle the "factors" and underline
the "product" in the equation. We talked about the
multiplication sign actually meaning "groups of." Draw a
model showing 7 x 4 (7 groups of 4). What is the product?
Check out this awesome
hat!! Davis collects
autographs every year at
the Memorial. He even has
one from Tiger Woods!
nnn
Our discussions in Social Studies have been about the
responsibilities that citizens have to their community. We
also talked about our local government and who works at
City Hall. Tell someone at home which voting ward you
live in. Can you name two Dublin City Council members?
Upcoming Events &Reminders:
NO HOMEWORK!: Due to the Thanksgiving
holiday, there will be no homework/assignment
sheet being sent out this week -- Enjoy!
BOOK FAIR: The Pinney Book Fair is Monday,
November 30th through December 16th.
THANK YOU! I am thankful for your children they make me smile! I love coming to school
each and every day. I hope you take some time
to relax & enjoy a few days off!
Happy Thanksgiving!
Related Arts Schedule:
Monday: Music
Tuesday: PE
Wednesday: No School!
Thursday: No School!
Friday: No School!