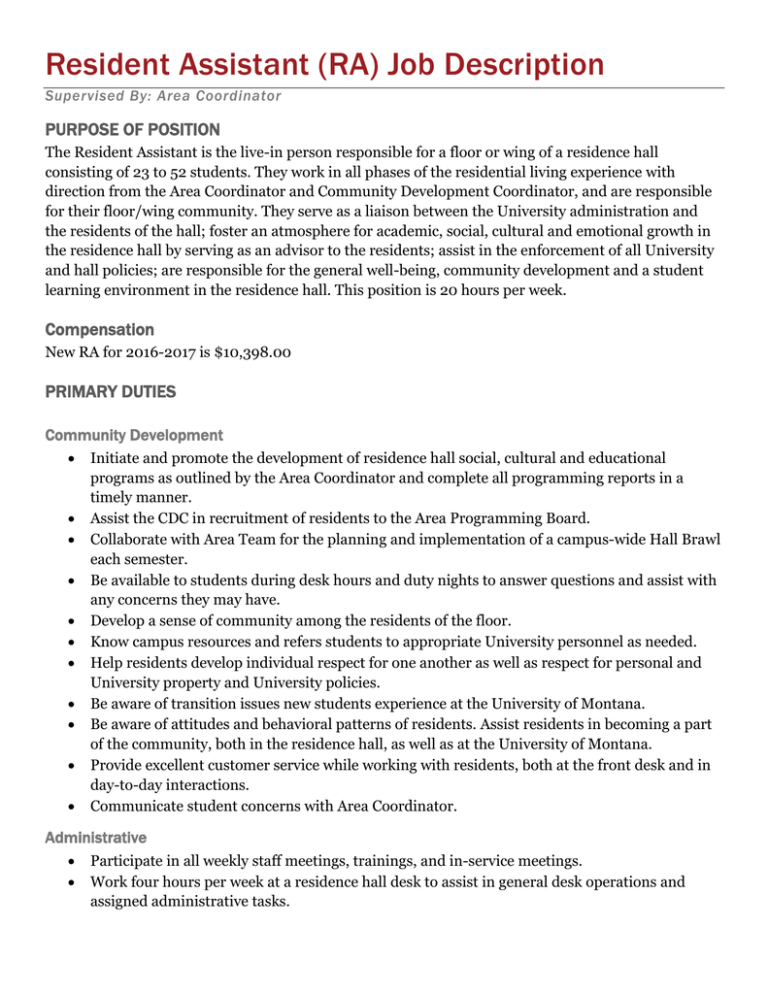 Resident Assistant (RA) Job Description
Supervised By: Area Coordinator
PURPOSE OF POSITION
The Resident Assistant is the live-in person responsible for a floor or wing of a residence hall
consisting of 23 to 52 students. They work in all phases of the residential living experience with
direction from the Area Coordinator and Community Development Coordinator, and are responsible
for their floor/wing community. They serve as a liaison between the University administration and
the residents of the hall; foster an atmosphere for academic, social, cultural and emotional growth in
the residence hall by serving as an advisor to the residents; assist in the enforcement of all University
and hall policies; are responsible for the general well-being, community development and a student
learning environment in the residence hall. This position is 20 hours per week.
Compensation
New RA for 2016-2017 is $10,398.00
PRIMARY DUTIES
Community Development











Initiate and promote the development of residence hall social, cultural and educational
programs as outlined by the Area Coordinator and complete all programming reports in a
timely manner.
Assist the CDC in recruitment of residents to the Area Programming Board.
Collaborate with Area Team for the planning and implementation of a campus-wide Hall Brawl
each semester.
Be available to students during desk hours and duty nights to answer questions and assist with
any concerns they may have.
Develop a sense of community among the residents of the floor.
Know campus resources and refers students to appropriate University personnel as needed.
Help residents develop individual respect for one another as well as respect for personal and
University property and University policies.
Be aware of transition issues new students experience at the University of Montana.
Be aware of attitudes and behavioral patterns of residents. Assist residents in becoming a part
of the community, both in the residence hall, as well as at the University of Montana.
Provide excellent customer service while working with residents, both at the front desk and in
day-to-day interactions.
Communicate student concerns with Area Coordinator.
Administrative


Participate in all weekly staff meetings, trainings, and in-service meetings.
Work four hours per week at a residence hall desk to assist in general desk operations and
assigned administrative tasks.









Be available to assist in covering desk hours on weekends and/or holidays and in the absence
of the Hall Administrative Assistant.
Assist with room checks and Health Inspection as required by RLO.
Be available to assist in covering desk hours on weekends and/or holidays and in the absence
of the Hall Administrative Assistant.
Answer the phone and general questions at the front desk from residents and guests.
Disperse packages through StarRez as needed to residents.
Check out temporary access cards and keys to residents when locked out.
Complete all required logs at the front desk as outlined in training.
Maintain confidentiality of student information in accordance with Residence Life and FERPA
policies.
Participate in the recruitment and selection processes for Resident Assistants.
Conduct



Reflect positive behavior and follow all University of Montana Student Code of Conduct
requirements, Residence Life policies and State and Federal Laws both on and off campus.
Report all Student Conduct Code violations and concerning behaviors through the Maxient
conduct system.
Perform the "RA on Duty" function by conducting rounds of the community and addressing
any concerns.
Departmental Initiatives


Participate in one RLO committee for a major departmental activity and process each semester.
Participate in a Departmental Quality Circle. There will be an opportunity for some staff to co-chair a
Quality Circle based on staff member interest and Quality Circle needs.