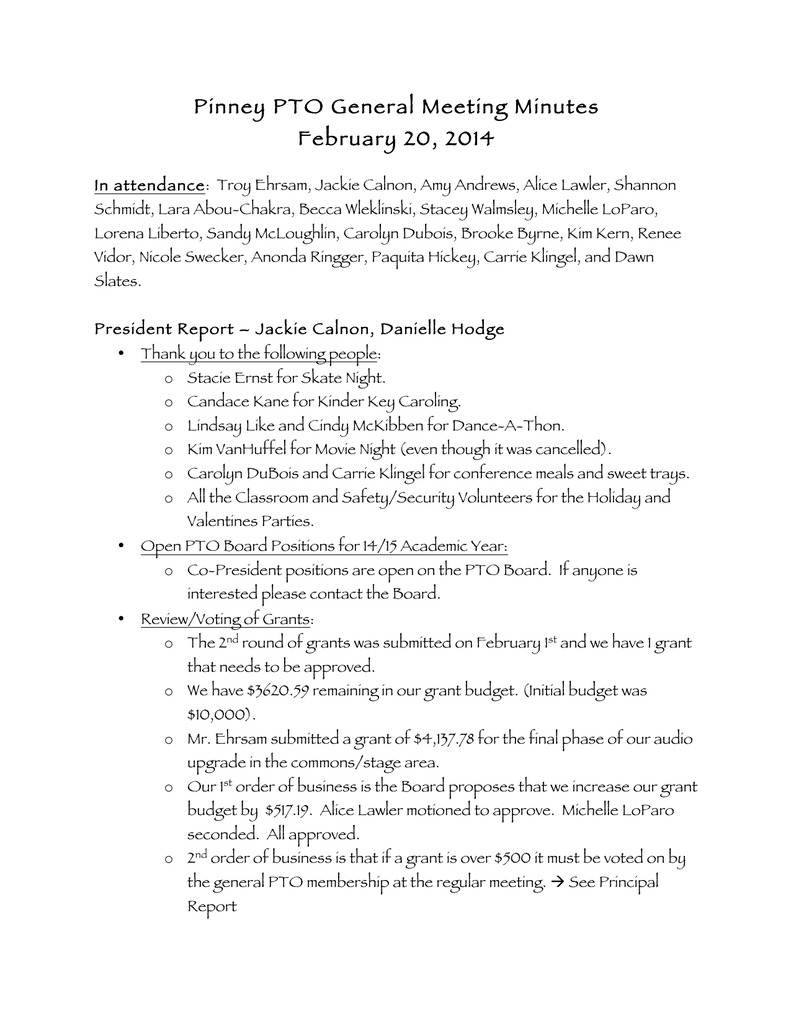 Pinney PTO General Meeting Minutes
February 20, 2014
In attendance: Troy Ehrsam, Jackie Calnon, Amy Andrews, Alice Lawler, Shannon
Schmidt, Lara Abou-Chakra, Becca Wleklinski, Stacey Walmsley, Michelle LoParo,
Lorena Liberto, Sandy McLoughlin, Carolyn Dubois, Brooke Byrne, Kim Kern, Renee
Vidor, Nicole Swecker, Anonda Ringger, Paquita Hickey, Carrie Klingel, and Dawn
Slates.
President Report – Jackie Calnon, Danielle Hodge
•
Thank you to the following people:
o Stacie Ernst for Skate Night.
o Candace Kane for Kinder Key Caroling.
o Lindsay Like and Cindy McKibben for Dance-A-Thon.
o Kim VanHuffel for Movie Night (even though it was cancelled).
o Carolyn DuBois and Carrie Klingel for conference meals and sweet trays.
o All the Classroom and Safety/Security Volunteers for the Holiday and
Valentines Parties.
•
Open PTO Board Positions for 14/15 Academic Year:
o Co-President positions are open on the PTO Board. If anyone is
interested please contact the Board.
•
Review/Voting of Grants:
o The 2nd round of grants was submitted on February 1st and we have 1 grant
that needs to be approved.
o We have $3620.59 remaining in our grant budget. (Initial budget was
$10,000).
o Mr. Ehrsam submitted a grant of $4,137.78 for the final phase of our audio
upgrade in the commons/stage area.
o Our 1st order of business is the Board proposes that we increase our grant
budget by $517.19. Alice Lawler motioned to approve. Michelle LoParo
seconded. All approved.
o 2nd order of business is that if a grant is over $500 it must be voted on by
the general PTO membership at the regular meeting. à See Principal
Report
Shared Use (Bike) Path Connection Update – Becca Wleklinski
•
History: When Becca's 6th grader was in kindergarten, she began working with
the City of Dublin and Concord Township on a plan to get students back and
forth from Muirfield to Tartan. Held a meeting four years ago to get discussion
started which resulted in the City of Dublin placing it in their 5-year plan; but the
implementation is complex because of the different entities involved. (City of
Dublin, Concord Township, Muirfield and Tartan HOA, Tartan Fields Golf
Course, etc.)
•
Introduced our guests: Paul Hammersmith and Ken Richardson from the City of
Dublin Engineering, and Joe Garrett and Bart Johnson from Concord Township.
Paul Hammersmith, City of Dublin
•
2 years ago started "Section 2" by putting a shared use path on Glick Road.
•
"Section 3" plan is for the path to go farther east on Glick to Shawnee Hills.
•
"Section 1" plan was from Davington east to Muirfield Drive and to incorporate
this Concord road portion north to Tartan Fields.
•
We want to take the path north on the east side of Concord road. We are
investigating how to get past the Tartan bridge and hook into the existing path.
Haven't worked out who will pay for what and easements are needed from
property owners. Capital improvements program hopefully approved/funded in
June.
Ken Richardson, City of Dublin
•
Previously the Muirfield homeowners association didn't want public paths
intersecting into the private Muirfield paths.
•
4 years ago the Muirfield board changed their stance by allowing this tie-in.
•
The Glick road "Section 2" ties into the Muirfield system and helps those north
of Glick Rd. get around better.
•
The path will not be constructed this summer. A design consultant has already
surveyed. 2015 may be a possibility.
Bart Johnson, Concord Township
•
Tartan Fields built the existing Concord path.
•
Private property wouldn't allow ideal path location, so we want to get from
the west side to the east side. Concern is there isn't really a safe point to
cross.
•
Talking to new Tartan Fields Golf Course owners about sharing the bridge.
(The bridge is public property, but each end or access to the bridge is
private.)
•
Jackie Calnon commented that golfers wouldn't want kids on the bridge.
And, understand the east/west concern, but what about north/south?
•
Concord Township would make north/south phase 1 and crossing phase 2.
•
City of Dublin and Concord Township are investigating on their ends, but
had lost communication. Now reconnected and looking into shared funding,
etc.
•
When a 45mph speed limit is right next to a path there is a concern about the
design. We basically inherited this development or design oversight (lack of
safe crossing from east and west sides of Concord). Now we are trying to
find a safe and feasible way to make this work for all parties involved.
Questions:
•
Carrie Klingel: What is the preliminary plan? Is it to focus on the east
side/school side? Ken Richardson: There is 8 ft diameter pipe under
Concord Road. The plan would be on the east side to tie into the path
outside of the tunnel and run the path north. We would try to have a 10-foot
offset of grass from the road to the path and the path would be 8 feet wide.
As we get closer to bridge, it gets very narrow, so we are thinking of a
concrete barrier like you would see on an interstate. We looked at the east
side of Concord because of the existing path.
•
Alice Lawler: Are you considering doing the barrier soon on the existing path
where it is very close to the road? Bart Johnson: We would do the barrier
when we do the path. Concord Township has to investigate the path being
too close to the road.
•
Michelle LoParo: Who is responsible for lighting the path from Rob Roy to
Eli Pinney? Concord Township is willing to install the lighting, but Tartan
HOA would be responsible to pay the electric bill. Need people to email/call
Tartan HOA push this issue.
•
Shannon Schmidt: Who is responsible for snow removal on the path from
Rob Roy to Eli Pinney? Tartan HOA. Amy Andrews asked Mr. Ehrsam to
send an email to Tartan Board president.
•
Becca Wleklinski: What can we do to help this shared usage path process?
Continue to ask our City of Dublin councilman, John Reiner, and the
Concord Township trustees.
o Concord township trustees contact information:
§
Bart Johnson – [email protected]
§
Todd Cooper – [email protected]
§
Joe Garrett – [email protected]
o City of Dublin contact information:
§
§
John Reiner, City of Dublin Ward 3 Rep. – [email protected]
Paul Hammersmith, City Engineer for Dublin [email protected]
o Tartan Fields Homeowners' Association:
§
§
§
Marc Bowman, President - [email protected]
Susan Gibbs, Vice-President – [email protected]
Mark Reader, Property Manager – [email protected]
Principal Report – Troy Ehrsam
•
Grant Request: The $4,137.78 grant that I submitted is for the 3rd and final phase
of our audio/video upgrades in our morning announcement studio (PSN), sound
system in the commons, and lighting trusses on our stage. In particular, the
money will support a much needed lighting upgrade on the stage and for a
mounted sound box for the equipment. (The 1st phase was new sound equipment
and the 2nd phase was speakers in the commons) The goal is to enhance the
dramatic feature. Lara Abou-Chakra motioned to approve. Becca Wleklinski
seconded. All approved.
•
Class placement for next year: Mr. Ehrsam will send the 2014/2015 Student
Placement Profile Sheet out at the end of March/early April. This is the same
form as previous years. Please provide information about your child as a learner
and the best learning environment. This parent form is very helpful for him to
hear concerns and successes. Mrs. LeGros explained that this year the current
teachers (including related arts and Mrs. Cellar) would be closely working with
Mr. Ehrsam on whom to put in each class. Mr. Ehrsam will then create his
database based on teacher and parent input along with lots of variables such as
gifted, focused acceleration, gender balance, and other special needs with the
goal of achieving a heterogeneous mix in the 90-110 classroom slots in grades 1-5.
•
Class placement Questions:
o Lara Abou-Chakra - What about buddy system request, choose 2 friends.
§
Answer: Friendships would be tough and he would rather leave it
up to staff review.
o Sandy McLoughlin - Do you know yet about 3rd going into 4th grade class
size/plan?
§
K-1st 26 students is the cap. 2nd /3rd 28 students is the cap. 4th/5th
30 students is the cap. 106 kids are currently in 3rd grade. The PTR
(Pupil Teacher Ratio) is 28.8 if there were to be 4 sections of 4th
grade. Next Thursday, Mr. Ehrsam is meeting with all principals to
find out our total allocated sections. Then he can begin working on
the plan for next year including ideas like a 3rd grade teacher
looping into 4th or other options that reduce PTR's.
•
Class lists: Prior to last year, class lists were sent home on the last day of school.
Due to a district wide security change, Mr. Ehrsam is unable to communicate
entire class lists to the public. This year, sometime in August, he will again use the
Parent Dashboard to communicate student class assignments. Kindergarten
am/pm preference notification will be sent out a little earlier (likely June 2014)
•
HEARTSafe: This is a 7-step accreditation designed to promote survival from
sudden out-of-hospital cardiac arrest. Christy Birkholz, an Eli Pinney parent,
has been working with Fairfield Medical Center and Mr. Ehrsam to implement this
program. 56 Pinney staff members are currently trained in CPR/AED. Thursday
(2/27), Fairfield Medical Center trainers visited Pinney to teach our 4th and 5th
graders about heart safety including the HOPE (Hands On Practical
Experience) Cardiopulmonary Resuscitation training. Grizzell 6th graders will also
be trained in early March.
•
Lice issue: We are working closely with the district and following the board of
health policy. Our nurse has checked over 300 heads at Pinney, including full
classes. We have no live cases right now. We have identified a couple of repeat
cases and have advised them to work with the board of health. We did cancel
movie night and Jackie Calnon suggested we temporarily stop the buddy
program. Program is currently on hold until after spring break. Concern voiced
about letters not sent to parents when cases were identified in classrooms.
Parents need to know so they can teach their children correct behavior and take
the correct steps. Lice are very treatable if handled correctly. Mr. Ehrsam will
check with our nurse, Mrs. Pagan, about the possibility of a blanket
communication.
Vice President Report – Amy Andrews, Alice Lawler
•
PTO Facebook Page – If you are on Facebook, make sure you find the Eli
Pinney Group. This will be used for Pinney and PTO announcements.
•
PTO Page (Pinney Newsletter) – This was a new page in the last newsletter.
Treasurer Report – Lara Abou-Chakra, Becca Wleklinski
•
Budget Reports – Main item was to increase the grant budget.
Secretary Report – Suzanne Kuebler, Shannon Schmidt – no report
Committee Reports
•
Dance-A-Thon - 2.21.14. Thank you for your contributions.
•
Read Across America Week – 2.24 to 2.28 - Author/photographer David
Fitzsimmons talked to the students on Monday 2.24 and there will be a secret spy
going around the school at scheduled times catching children reading.
Reminders
•
Time with Teacher Raffle – 3.12 to 3.14
•
Bus Driver Appreciation Breakfast – 4.10
•
Movie Night – 4.11 -- Frozen
•
Author Visit – 4.14 and 4.15
Jackie Calnon adjourned.