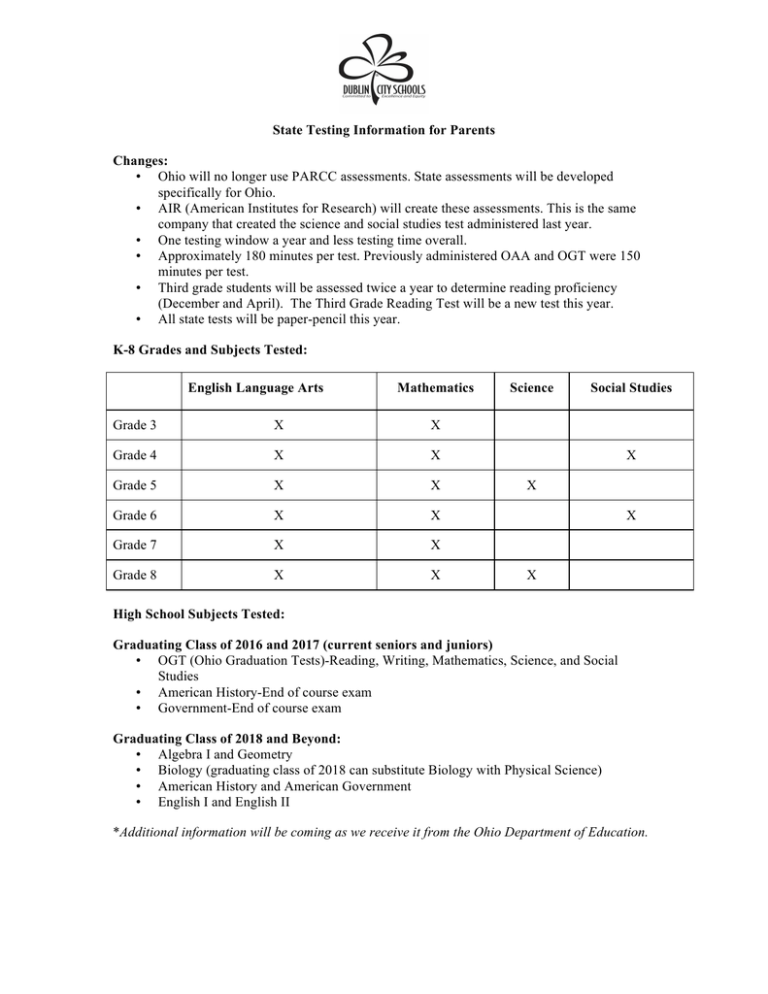 State Testing Information for Parents
Changes:
• Ohio will no longer use PARCC assessments. State assessments will be developed
specifically for Ohio.
• AIR (American Institutes for Research) will create these assessments. This is the same
company that created the science and social studies test administered last year.
• One testing window a year and less testing time overall.
• Approximately 180 minutes per test. Previously administered OAA and OGT were 150
minutes per test.
• Third grade students will be assessed twice a year to determine reading proficiency
(December and April). The Third Grade Reading Test will be a new test this year.
• All state tests will be paper-pencil this year.
K-8 Grades and Subjects Tested:
English Language Arts
Mathematics
Grade 3
X
X
Grade 4
X
X
Grade 5
X
X
Grade 6
X
X
Grade 7
X
X
Grade 8
X
X
Science
Social Studies
X
X
X
X
High School Subjects Tested:
Graduating Class of 2016 and 2017 (current seniors and juniors)
• OGT (Ohio Graduation Tests)-Reading, Writing, Mathematics, Science, and Social
Studies
• American History-End of course exam
• Government-End of course exam
Graduating Class of 2018 and Beyond:
• Algebra I and Geometry
• Biology (graduating class of 2018 can substitute Biology with Physical Science)
• American History and American Government
• English I and English II
*Additional information will be coming as we receive it from the Ohio Department of Education.