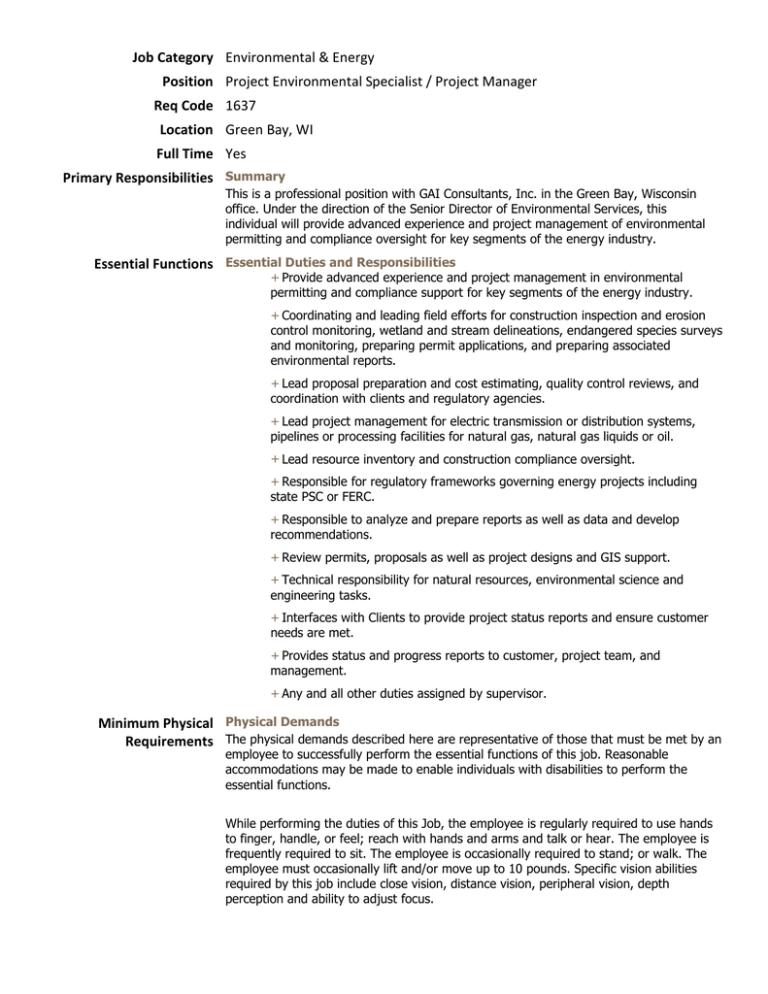 Job Category Environmental & Energy
Position Project Environmental Specialist / Project Manager
Req Code 1637
Location Green Bay, WI
Full Time Yes
Primary Responsibilities Summary
This is a professional position with GAI Consultants, Inc. in the Green Bay, Wisconsin
office. Under the direction of the Senior Director of Environmental Services, this
individual will provide advanced experience and project management of environmental
permitting and compliance oversight for key segments of the energy industry.
Essential Functions Essential Duties and Responsibilities
+ Provide advanced experience and project management in environmental
permitting and compliance support for key segments of the energy industry.
+ Coordinating and leading field efforts for construction inspection and erosion
control monitoring, wetland and stream delineations, endangered species surveys
and monitoring, preparing permit applications, and preparing associated
environmental reports.
+ Lead proposal preparation and cost estimating, quality control reviews, and
coordination with clients and regulatory agencies.
+ Lead project management for electric transmission or distribution systems,
pipelines or processing facilities for natural gas, natural gas liquids or oil.
+ Lead resource inventory and construction compliance oversight.
+ Responsible for regulatory frameworks governing energy projects including
state PSC or FERC.
+ Responsible to analyze and prepare reports as well as data and develop
recommendations.
+ Review permits, proposals as well as project designs and GIS support.
+ Technical responsibility for natural resources, environmental science and
engineering tasks.
+ Interfaces with Clients to provide project status reports and ensure customer
needs are met.
+ Provides status and progress reports to customer, project team, and
management.
+ Any and all other duties assigned by supervisor.
Minimum Physical Physical Demands
Requirements The physical demands described here are representative of those that must be met by an
employee to successfully perform the essential functions of this job. Reasonable
accommodations may be made to enable individuals with disabilities to perform the
essential functions.
While performing the duties of this Job, the employee is regularly required to use hands
to finger, handle, or feel; reach with hands and arms and talk or hear. The employee is
frequently required to sit. The employee is occasionally required to stand; or walk. The
employee must occasionally lift and/or move up to 10 pounds. Specific vision abilities
required by this job include close vision, distance vision, peripheral vision, depth
perception and ability to adjust focus.
Work Environment
The work environment characteristics described here are representative of those an
employee encounters while performing the essential functions of this job. Reasonable
accommodations may be made to enable individuals with disabilities to perform the
essential functions.
Then noise level in the work environment is moderate.
Desired Job Experience Qualifications
1) Bachelor's degree in Natural Resource Ecology, Engineering, Biology, or Environmental
Science Business
2) Minimum of 8 years of experience commensurate with environmental consulting
practices with a background in environmental science, ecology, or construction inspection
services
3) Experience with environmental permitting and regulatory agencies in Wisconsin and/or
neighboring states, related to Section 401 and 404 Clean Water Act Permitting and other
similar permits.
4) Work is expected to be split between 60-70% field based work and 30-40% office
based work. Must be willing to work flexible hours and overtime.
5) Advanced technical writing ability. Strong interpersonal and organizational skills a
must.
Other Qualifications Language Skills
Perform verbal and written communication with both internal staff as well as clients,
review agencies, and government agencies. Public hearing presentations for most
federally funded projects.
Computer Skills
Database and software programs including Excel, Access, Word. Deltek Vision is a plus.
Certificates, Licenses, Registrations
Professional Wetland Scientist (PWS) is a plus.
Professional Geologist (PG) is a plus.
Current driver's license
Other Skills and Abilities
GIS Support.
This position involves the review of request for proposals (RFP) posted on line as well as
sent directly to GAI. Position leads in the development of the letter of interest (LOI) and
coordination with project's client for projects that are selected to be pursued.
Other Qualifications
Must be able to travel and work out of the office, including overnight trips.
In state travel is a requirement and extended field assignments are likely. There may also
be up to 25% out of state travel associated with this position on a project specific basis
or to assist other offices.
Technical knowledge of natural resources and field assessment methods.
Knowledgeable and have experience with erosion and sedimentation control monitoring
and construction inspections on linear projects, is preferred.
Ability to multi-task and prioritize work.
Advanced degree a plus.