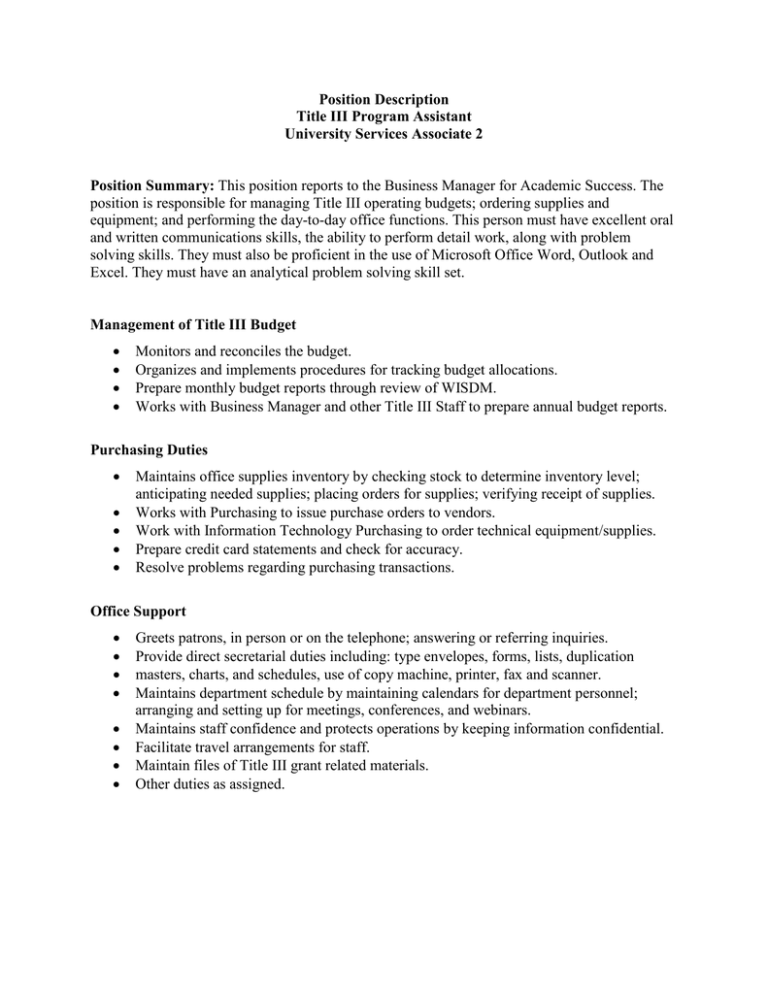 Position Description
Title III Program Assistant
University Services Associate 2
Position Summary: This position reports to the Business Manager for Academic Success. The
position is responsible for managing Title III operating budgets; ordering supplies and
equipment; and performing the day-to-day office functions. This person must have excellent oral
and written communications skills, the ability to perform detail work, along with problem
solving skills. They must also be proficient in the use of Microsoft Office Word, Outlook and
Excel. They must have an analytical problem solving skill set.
Management of Title III Budget
•
•
•
•
Monitors and reconciles the budget.
Organizes and implements procedures for tracking budget allocations.
Prepare monthly budget reports through review of WISDM.
Works with Business Manager and other Title III Staff to prepare annual budget reports.
Purchasing Duties
•
•
•
•
•
Maintains office supplies inventory by checking stock to determine inventory level;
anticipating needed supplies; placing orders for supplies; verifying receipt of supplies.
Works with Purchasing to issue purchase orders to vendors.
Work with Information Technology Purchasing to order technical equipment/supplies.
Prepare credit card statements and check for accuracy.
Resolve problems regarding purchasing transactions.
Office Support
•
•
•
•
•
•
•
•
Greets patrons, in person or on the telephone; answering or referring inquiries.
Provide direct secretarial duties including: type envelopes, forms, lists, duplication
masters, charts, and schedules, use of copy machine, printer, fax and scanner.
Maintains department schedule by maintaining calendars for department personnel;
arranging and setting up for meetings, conferences, and webinars.
Maintains staff confidence and protects operations by keeping information confidential.
Facilitate travel arrangements for staff.
Maintain files of Title III grant related materials.
Other duties as assigned.