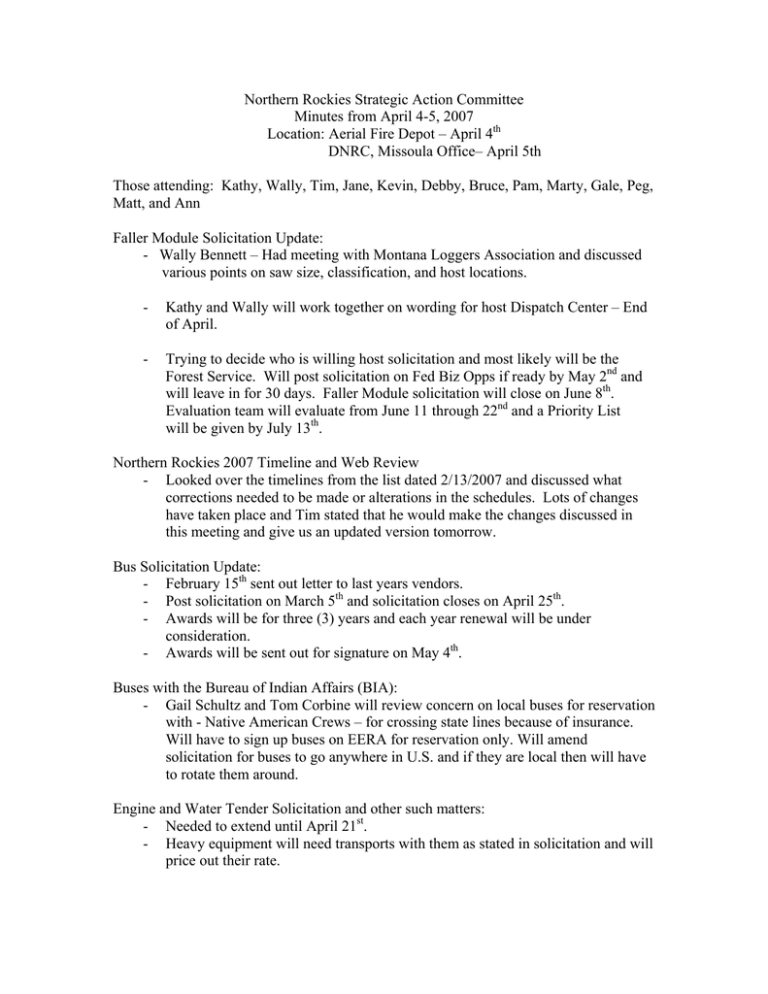 Northern Rockies Strategic Action Committee
Minutes from April 4-5, 2007
Location: Aerial Fire Depot – April 4th
DNRC, Missoula Office– April 5th
Those attending: Kathy, Wally, Tim, Jane, Kevin, Debby, Bruce, Pam, Marty, Gale, Peg,
Matt, and Ann
Faller Module Solicitation Update:
- Wally Bennett – Had meeting with Montana Loggers Association and discussed
various points on saw size, classification, and host locations.
-
Kathy and Wally will work together on wording for host Dispatch Center – End
of April.
-
Trying to decide who is willing host solicitation and most likely will be the
Forest Service. Will post solicitation on Fed Biz Opps if ready by May 2nd and
will leave in for 30 days. Faller Module solicitation will close on June 8th.
Evaluation team will evaluate from June 11 through 22nd and a Priority List
will be given by July 13th.
Northern Rockies 2007 Timeline and Web Review
- Looked over the timelines from the list dated 2/13/2007 and discussed what
corrections needed to be made or alterations in the schedules. Lots of changes
have taken place and Tim stated that he would make the changes discussed in
this meeting and give us an updated version tomorrow.
Bus Solicitation Update:
- February 15th sent out letter to last years vendors.
- Post solicitation on March 5th and solicitation closes on April 25th.
- Awards will be for three (3) years and each year renewal will be under
consideration.
- Awards will be sent out for signature on May 4th.
Buses with the Bureau of Indian Affairs (BIA):
- Gail Schultz and Tom Corbine will review concern on local buses for reservation
with - Native American Crews – for crossing state lines because of insurance.
Will have to sign up buses on EERA for reservation only. Will amend
solicitation for buses to go anywhere in U.S. and if they are local then will have
to rotate them around.
Engine and Water Tender Solicitation and other such matters:
- Needed to extend until April 21st.
- Heavy equipment will need transports with them as stated in solicitation and will
price out their rate.
-
-
-
Heavy equipment with water – skidgines, soft tracks, pumper cats, and super
skidgines – there is estimated to be about 40 or 50 pieces of equipment between
about 20 to 30 vendors.
Small Disadvantaged Veteran Owned Business - They will get priority
placement at dispatch zone they are in.
Preproposal Meetings were conducted at four separate locations on March 1922, at Billings, Great Falls, Missoula, and Coeur d'Alene to go over the entire
solicitation. The meetings were well attended, several locations had to conduct
an extra 2 hour session because of the large number of contractors in attendance,
and lots of questions were asked and for the most part roughly the same. The
questions from the four meetings were posted to the website that was listed in
the solicitation package.
Cooperator MOU's / Inspections – Tim mentioned that these cooperators would
be in place for the inspections that were to run from April 16th through May 25th.
Stated that he had met with 6 companies and were now in the process of going
through their paper work to see about approving them for an MOU. He has been
able to approve a couple of these already for an MOU. Because some of these
eventual MOU holders were prior state and federal employees and have retired
they have to deal with the potential conflict of interest issues and each agency is
different in their policy. Another difficulty is that they have to be able to cover
an entire geographic area which for this region consists of Idaho, Montana, and
North Dakota. Tim was in a meeting on March 10-12 with those individuals
helping out with inspections across the region. Tim pointed out that we were
going to need other agency staff to help with these upcoming inspections for
oversight. This also includes the qualifications verification process that goes
with inspections.
Dispatching Best Value Resources - Kathy mentioned that nothing has changed
from what has been set up with Best Value and that in area requests they will go
to a circular pattern outward.
Posting Updates:
- Posting updates to frequently asked questions go to the respectable Contracting
Officer and then go to Tracey Nimlos.
VIPR Update:
- Debbie attended a meeting to Fort Collins to see the process in which
programmers are to work on the eventual development of the VIPR program.
Found it to be very interesting how programmers take in all the information and
process it to eventually come up with a program.
Performance Evaluations:
- They took a lot of time to enter this last year and there were all different types of
forms being used out at the incidents. A write up was done about all the
problems and difficulties that we had this last year with getting the information,
getting it sorted, and entering it into the database. We will refine the process for
the 2007 incident season and a consistent form that will be used. Also need
clarification of receiving one evaluation per incident and what central location
they are to be mailed to.
DNRC Update:
- For sack lunches we have about the same number as last year. The average
amount is about $10.00. We sent out a questionnaire asking why we don't have
more wanting to participate in providing sack lunches.
- Porta Potties and Sinks – Letter was sent out to go to site and told them when bids
due and such. Got a number of complaints about not being able to get to site and
so they had to open up the solicitation again and extend it to April 19. Plan is to
award contracts on April 30th.
Potable Water Solicitation Update:
- There about 45 people on the bidders list for the region that the solicitation has
gone out to. Original date for solicitation was for March 9th but had to extend to
April 19th. Amendment was sent to Mary Clark. Canteen filling devices put
back in. National specifications put in. Want potable water tanks to come filled
with water and for them also to have the capacity of 500 gallons or more. BLM
discussed with Kevin things that we would like him to take back to the National
Committee. Government person does the inspection on equipment.
Resource Availability List:
- Jim Newton and Nancy Gibson were going to work on.
-
Each Zone MAC to come up with equipment list. Then which agency would
come up with EERA's or list of equipment.
- Jane will talk to FMO's and three zones who will be the lead.
-
Peg and Ann – See if business as usual
-
Tim check with DNRC
- East Side - Miles City - Rebecca Maker 233-2829
- Lewiston - Jena(sp?) Merwin 538-1090
- Billings – Peg Geiger 896-2862
- BIA- Flathead – Patty Clairmont 676-2550
Look at System for Repository:
- Get with Kathy and Jim – Business Committee needs to look at this whole issue
in the Fall in coming up with time frames/guidelines.
2008-2010 Timeline Solicitations and Lead Agency:
- DNRC hasn't presented this list to the Legislature. If expenditure is greater than
$5,000 annually then they have to send out a competitive solicitation. With BLM
there is no OIG audit yet but are doing what FS is doing to keep one step ahead
just in case are required. BIA has to set aside for Native American only so we
will give everyone the same price.
- GIS Units – For the region there are 5 units / 4 companies. Peg mentioned the
one she knows about is county owned. Standards to type these should go to the
EaTIS group and to be done by August. This is a low priority we should
compete locally and hire at the local level.
-
Mobile Laundry – There is one on the Flathead. Compete at the local level and
hire at the local level.
-
Office, Clerical – Hire at the local level. Since they are also under GSA
Schedules – go commercial.
-
Tents and Canopy's – Compete next year.
-
Crash Rescue – There are national standard specifications – kick up to
Helicopter Aviation Group and make them aware of specifications and see what
they want. See if national contract can be done and see where they are at.
-
Service/Shop Truck – Look at competitive solicitation. Kevin to see about 1
class.
-
Truck/Trailer Refrigeration – Look at going commercial.
-
Smaller Kitchens/Type III Caters – For 2008 – Might be needed to add in the
middle of initial and National Contract of 300. Need to bounce off the idea to
BLM (Mary Clark) to see if she would be willing to take lead for cater.
-
Heavy Equipment – Solicitation for 2009 needs to be different that water
handling solicitation. Also need to address that there be no priority list.
-
Look at solicitations for EMT's be done in 2009, Helicopter Support Trailers
be done in 2008, and Communications Trailers possibly moved to 2008
-
Gray Water possibly moved to 2008.
-
With discussion on the above items Tim will put out a Northern Rockies
"Draft" Solicitation Plan for the Competitive EERAs. This is only a draft and
will be discussed later as to who might possibly take the lead. Hope that we
might have a lot of these items in place with three year contracts before the
2010 deadline.
-
If inspections work this year with the MOU holders then we could possibly
move to other pieces of equipment.
Other Issues / Updates:
Weed wash stations and guidelines are out with there being a Type I & Type II.
Not to be national competition and FS, BLM, and DNRC have weed
specialists will be put in chapter 20.
-
Car rentals – FS national committee was looking into the possibility of using
the GSA contract for this season. The committee will have to get back shortly
or otherwise the state will have to go out with another contract like last year.
May 15th is the drop dead date for the car rental solicitation to go out. Marty
will report back if we will be able to use the GSA contract for this year
or not.
-
Next SAC meeting is schedule for May 30-31 at the DNRC Office in
Missoula.