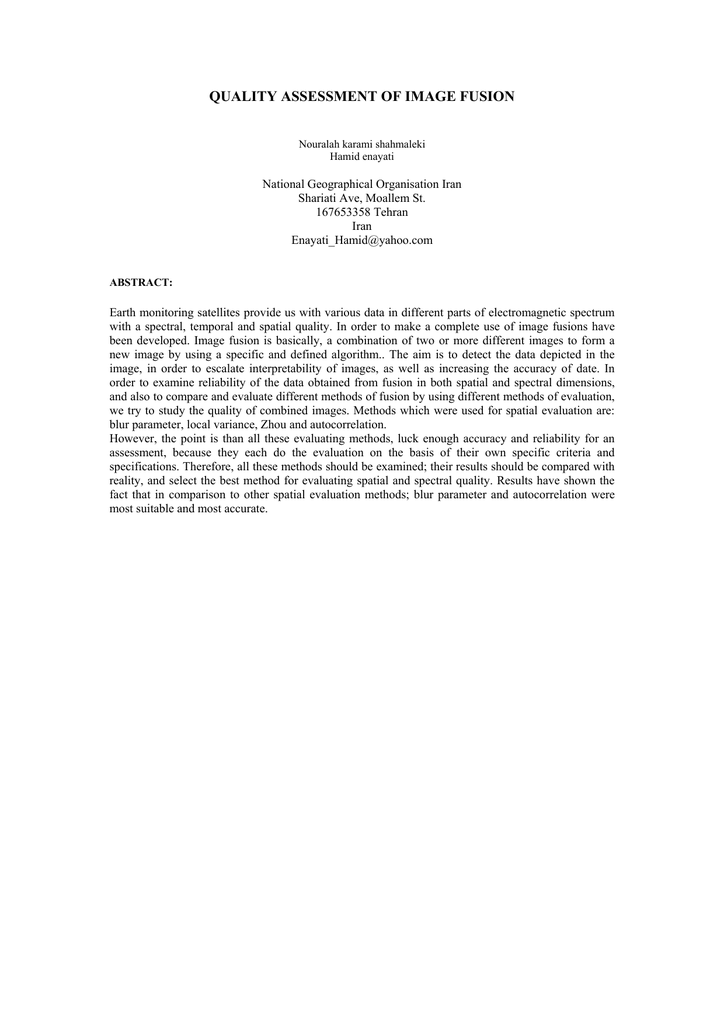 QUALITY ASSESSMENT OF IMAGE FUSION
Nouralah karami shahmaleki
Hamid enayati
National Geographical Organisation Iran
Shariati Ave, Moallem St.
167653358 Tehran
Iran
[email protected]
ABSTRACT:
Earth monitoring satellites provide us with various data in different parts of electromagnetic spectrum
with a spectral, temporal and spatial quality. In order to make a complete use of image fusions have
been developed. Image fusion is basically, a combination of two or more different images to form a
new image by using a specific and defined algorithm.. The aim is to detect the data depicted in the
image, in order to escalate interpretability of images, as well as increasing the accuracy of date. In
order to examine reliability of the data obtained from fusion in both spatial and spectral dimensions,
and also to compare and evaluate different methods of fusion by using different methods of evaluation,
we try to study the quality of combined images. Methods which were used for spatial evaluation are:
blur parameter, local variance, Zhou and autocorrelation.
However, the point is than all these evaluating methods, luck enough accuracy and reliability for an
assessment, because they each do the evaluation on the basis of their own specific criteria and
specifications. Therefore, all these methods should be examined; their results should be compared with
reality, and select the best method for evaluating spatial and spectral quality. Results have shown the
fact that in comparison to other spatial evaluation methods; blur parameter and autocorrelation were
most suitable and most accurate.