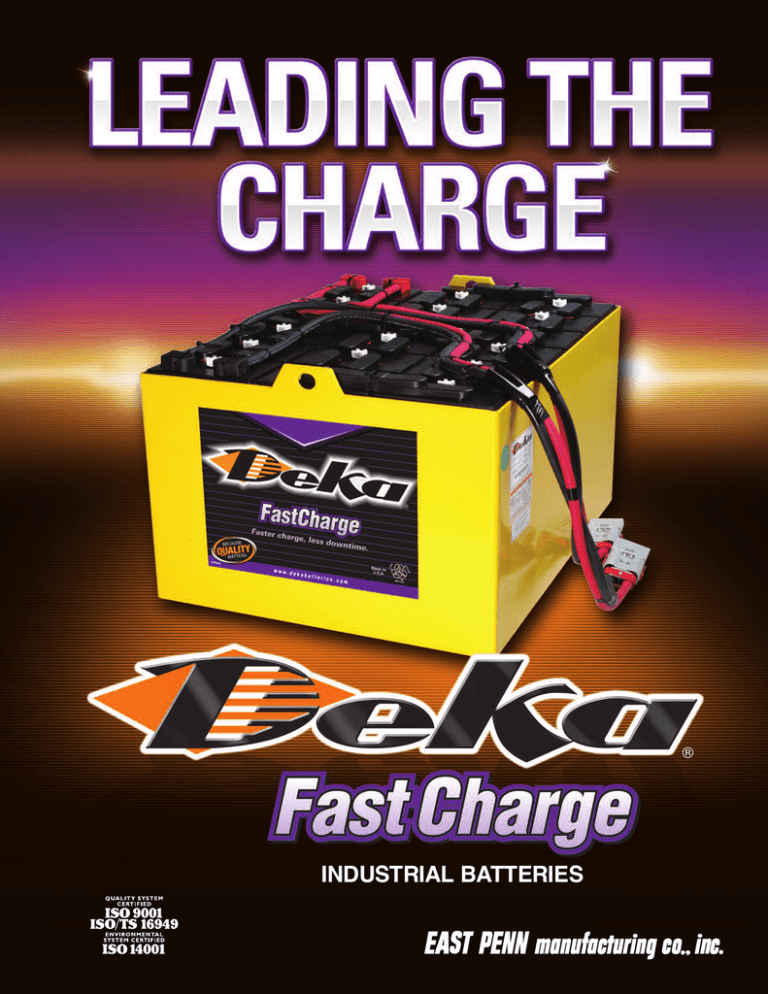 ®
IndustrIal BatterIes
B AT T E R I E S
Leading
the Charge
Deka Fast Charge Batteries are built to last longer under
rigorous fast charge conditions. Optimized for electrical
conductivity and extended performance, they feature:
■ Heavy-duty intercell connectors – provides optimal current transfer
■ Copper inserted posts (15 plates or less) – improves conductivity
■ Single or dual cables and connectors – available based on charger
connection requirements
■ Optional vented trays and forced air cooling – optimizes air circulation
Deka also offers value added products and services
to maximize fast charging productivity, reliability
and performance:
■ Battery to charger communication devices measure critical data such
as AH throughput and operation conditions
■ Electrolyte level monitoring and watering systems minimize water time
and maintenance expense
■ Turn key installation programs, scheduled watering and maintenance
programs from the industry's most dependable North American network
Compare these features which are standard on every Deka battery:
■ Exclusive individual plate formation in open
tanks optimizes power capacity, cell consistency,
and long-term reliability.
■ Superior non-porous, precision-cast grids are
designed for maximum current-carrying capacity
exclusively for motive power applications.
The grids are pasted with active material that
delivers reliable performance throughout a
long service life. All phases of plate production
are computer controlled to meet rigid quality
control specifications.
■ Both the positive and negative plates are cured
in temperature/humidity-controlled ovens to
ensure optimum plate curing regardless of
external environmental conditions.
"P O W E R E D
■ Manufactured in compliance with American
■ The positive plate is protected by a multiple-step
National Standards Institute and Underwriters
retention system, including two layers of vertical mats
Laboratories Standard Number ANSI/UL583.
consisting of fiberglass tape and interwoven glass
fibers, a horizontal glass fiber mat, and a perforated ■ Federal Specification Number W-B-133D.
retainer envelope. This ensures optimum active mate■ Complies with Industrial Truck Association
rial retention for longer life, and provides increased
Recommended Practices.
plate insulation for added performance. The positive
plates are also surrounded by deep channeled,
microporous separators that provide a durable barrier
between positive and negative plates, while allowing
the free flow of electrolyte throughout the cell,
optimizing performance and extending service life.
■ No other industrial battery manufacturer can claim
these and other features, plus ensure the highest
quality material, workmanship and superior
engineering technology. All of these important
components make the Deka name synonymous
with number one quality in the production of
precision-built batteries.
FOR PERFORMANCE"
®
DISTRIBUTED BY:
Lyon Station, PA 19536-0147 • Phone: 610-682-6361 • Fax: 610-682-4781
Order Department Hotline: 610-682-3260
www.dekabatteries.com • e-mail: epmmotve@eastpenn-deka.com
E.P.M. Form No. 1611 9/10
© 2010 by EPM Printed in U.S.A.