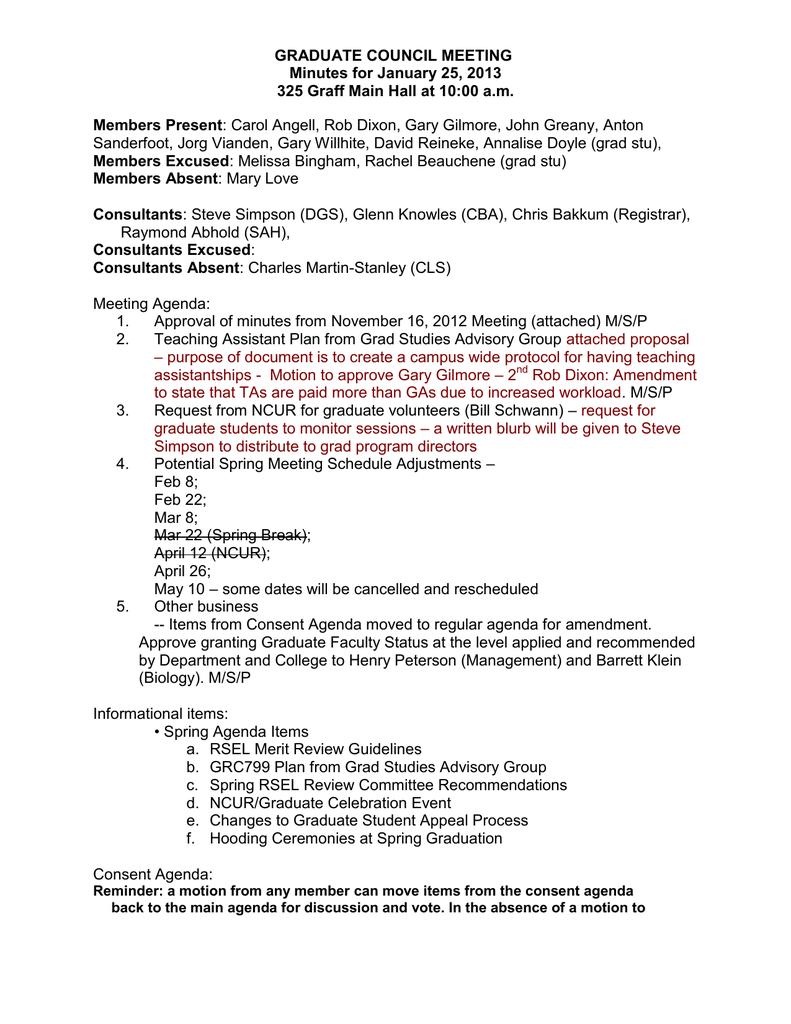 GRADUATE COUNCIL MEETING
Minutes for January 25, 2013
325 Graff Main Hall at 10:00 a.m.
Members Present: Carol Angell, Rob Dixon, Gary Gilmore, John Greany, Anton
Sanderfoot, Jorg Vianden, Gary Willhite, David Reineke, Annalise Doyle (grad stu),
Members Excused: Melissa Bingham, Rachel Beauchene (grad stu)
Members Absent: Mary Love
Consultants: Steve Simpson (DGS), Glenn Knowles (CBA), Chris Bakkum (Registrar),
Raymond Abhold (SAH),
Consultants Excused:
Consultants Absent: Charles Martin-Stanley (CLS)
Meeting Agenda:
1.
Approval of minutes from November 16, 2012 Meeting (attached) M/S/P
2.
Teaching Assistant Plan from Grad Studies Advisory Group attached proposal
– purpose of document is to create a campus wide protocol for having teaching
assistantships - Motion to approve Gary Gilmore – 2nd Rob Dixon: Amendment
to state that TAs are paid more than GAs due to increased workload. M/S/P
3.
Request from NCUR for graduate volunteers (Bill Schwann) – request for
graduate students to monitor sessions – a written blurb will be given to Steve
Simpson to distribute to grad program directors
4.
Potential Spring Meeting Schedule Adjustments –
Feb 8;
Feb 22;
Mar 8;
Mar 22 (Spring Break);
April 12 (NCUR);
April 26;
May 10 – some dates will be cancelled and rescheduled
5.
Other business
-- Items from Consent Agenda moved to regular agenda for amendment.
Approve granting Graduate Faculty Status at the level applied and recommended
by Department and College to Henry Peterson (Management) and Barrett Klein
(Biology). M/S/P
Informational items:
• Spring Agenda Items
a. RSEL Merit Review Guidelines
b. GRC799 Plan from Grad Studies Advisory Group
c. Spring RSEL Review Committee Recommendations
d. NCUR/Graduate Celebration Event
e. Changes to Graduate Student Appeal Process
f. Hooding Ceremonies at Spring Graduation
Consent Agenda:
Reminder: a motion from any member can move items from the consent agenda
back to the main agenda for discussion and vote. In the absence of a motion to
GRADUATE COUNCIL MEETING
Minutes for January 25, 2013
325 Graff Main Hall at 10:00 a.m.
move an item off the consent agenda for consideration, these items are
considered passed as of close of the meeting.