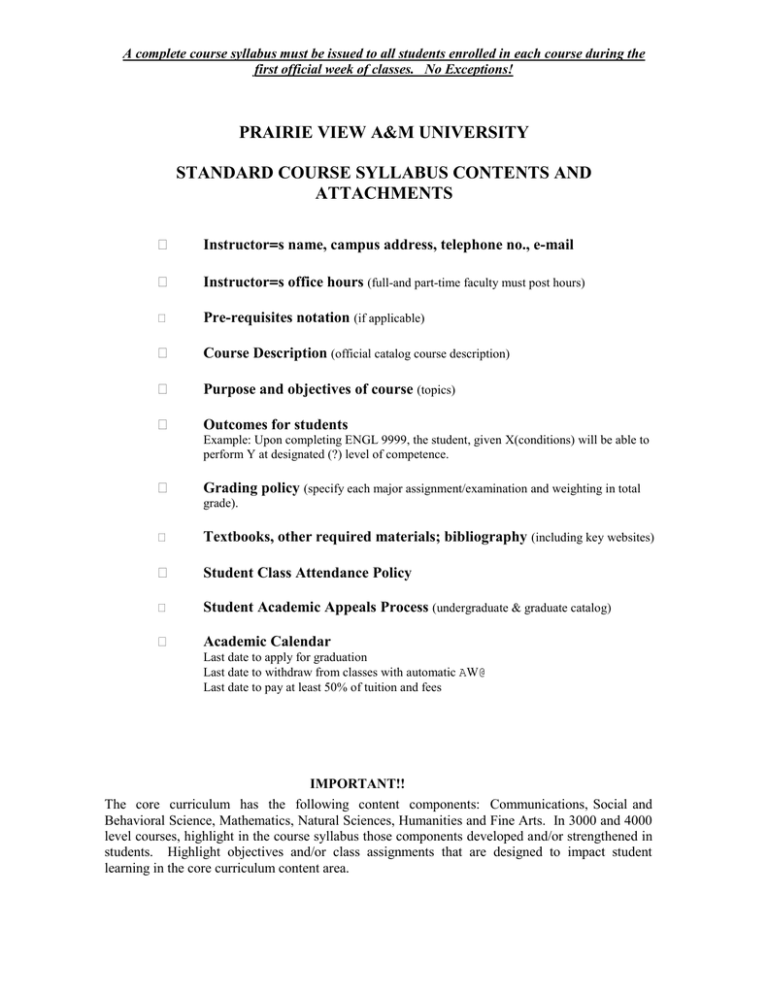 A complete course syllabus must be issued to all students enrolled in each course during the
first official week of classes. No Exceptions!
PRAIRIE VIEW A&M UNIVERSITY
STANDARD COURSE SYLLABUS CONTENTS AND
ATTACHMENTS

Instructor=s name, campus address, telephone no., e-mail

Instructor=s office hours (full-and part-time faculty must post hours)

Pre-requisites notation (if applicable)

Course Description (official catalog course description)

Purpose and objectives of course (topics)

Outcomes for students
Example: Upon completing ENGL 9999, the student, given X(conditions) will be able to
perform Y at designated (?) level of competence.

Grading policy (specify each major assignment/examination and weighting in total
grade).

Textbooks, other required materials; bibliography (including key websites)

Student Class Attendance Policy

Student Academic Appeals Process (undergraduate & graduate catalog)

Academic Calendar
Last date to apply for graduation
Last date to withdraw from classes with automatic AW@
Last date to pay at least 50% of tuition and fees
IMPORTANT!!
The core curriculum has the following content components: Communications, Social and
Behavioral Science, Mathematics, Natural Sciences, Humanities and Fine Arts. In 3000 and 4000
level courses, highlight in the course syllabus those components developed and/or strengthened in
students. Highlight objectives and/or class assignments that are designed to impact student
learning in the core curriculum content area.