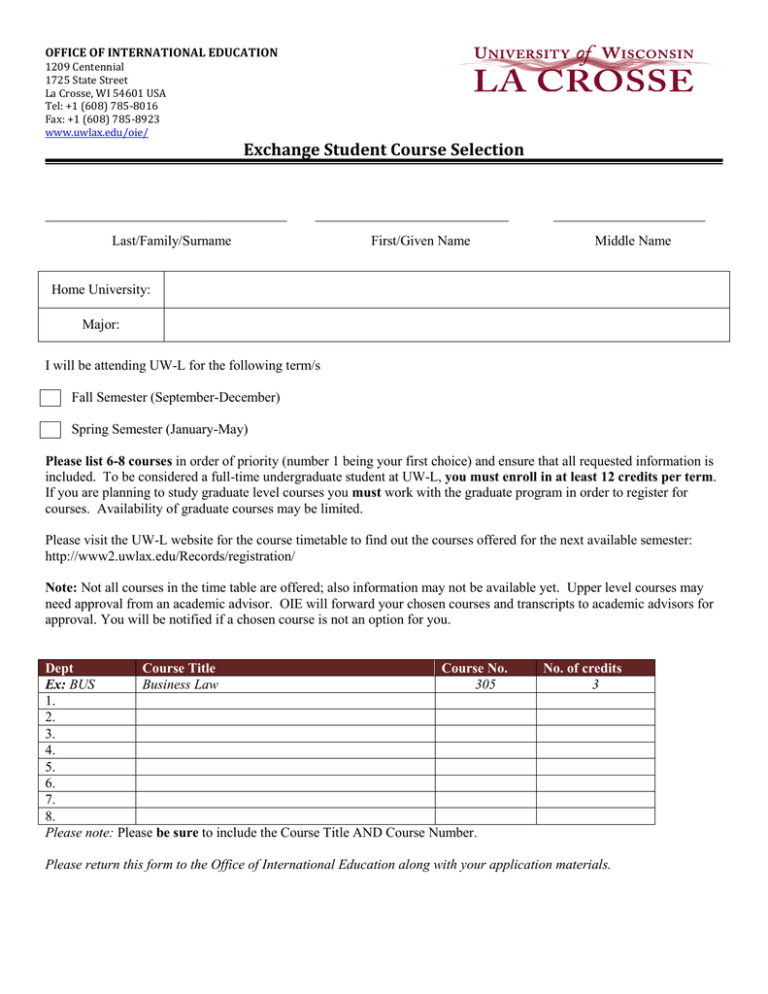 OFFICE OF INTERNATIONAL EDUCATION
1209 Centennial
1725 State Street
La Crosse, WI 54601 USA
Tel: +1 (608) 785-8016
Fax: +1 (608) 785-8923
www.uwlax.edu/oie/
Exchange Student Course Selection
___________________________________
____________________________
Last/Family/Surname
First/Given Name
______________________
Middle Name
Home University:
Major:
I will be attending UW-L for the following term/s
Fall Semester (September-December)
Spring Semester (January-May)
Please list 6-8 courses in order of priority (number 1 being your first choice) and ensure that all requested information is
included. To be considered a full-time undergraduate student at UW-L, you must enroll in at least 12 credits per term.
If you are planning to study graduate level courses you must work with the graduate program in order to register for
courses. Availability of graduate courses may be limited.
Please visit the UW-L website for the course timetable to find out the courses offered for the next available semester:
http://www2.uwlax.edu/Records/registration/
Note: Not all courses in the time table are offered; also information may not be available yet. Upper level courses may
need approval from an academic advisor. OIE will forward your chosen courses and transcripts to academic advisors for
approval. You will be notified if a chosen course is not an option for you.
Dept
Course Title
Course No.
Ex: BUS
Business Law
305
1.
2.
3.
4.
5.
6.
7.
8.
Please note: Please be sure to include the Course Title AND Course Number.
No. of credits
3
Please return this form to the Office of International Education along with your application materials.