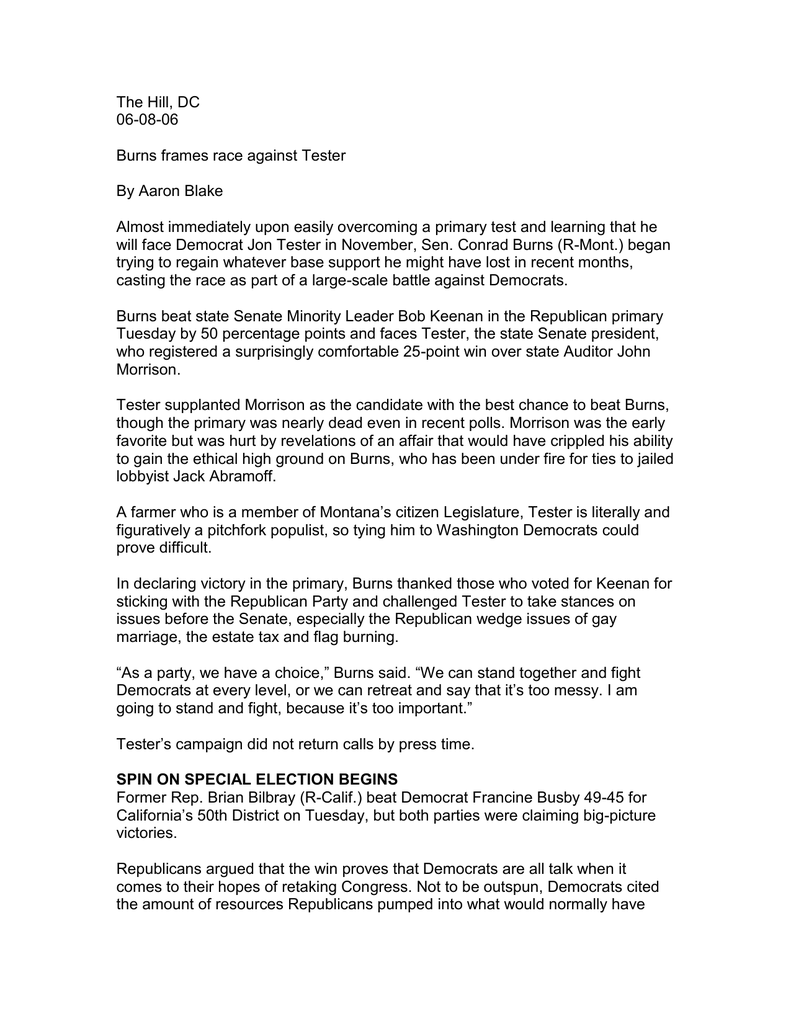 The Hill, DC
06-08-06
Burns frames race against Tester
By Aaron Blake
Almost immediately upon easily overcoming a primary test and learning that he
will face Democrat Jon Tester in November, Sen. Conrad Burns (R-Mont.) began
trying to regain whatever base support he might have lost in recent months,
casting the race as part of a large-scale battle against Democrats.
Burns beat state Senate Minority Leader Bob Keenan in the Republican primary
Tuesday by 50 percentage points and faces Tester, the state Senate president,
who registered a surprisingly comfortable 25-point win over state Auditor John
Morrison.
Tester supplanted Morrison as the candidate with the best chance to beat Burns,
though the primary was nearly dead even in recent polls. Morrison was the early
favorite but was hurt by revelations of an affair that would have crippled his ability
to gain the ethical high ground on Burns, who has been under fire for ties to jailed
lobbyist Jack Abramoff.
A farmer who is a member of Montana's citizen Legislature, Tester is literally and
figuratively a pitchfork populist, so tying him to Washington Democrats could
prove difficult.
In declaring victory in the primary, Burns thanked those who voted for Keenan for
sticking with the Republican Party and challenged Tester to take stances on
issues before the Senate, especially the Republican wedge issues of gay
marriage, the estate tax and flag burning.
"As a party, we have a choice," Burns said. "We can stand together and fight
Democrats at every level, or we can retreat and say that it's too messy. I am
going to stand and fight, because it's too important."
Tester's campaign did not return calls by press time.
SPIN ON SPECIAL ELECTION BEGINS
Former Rep. Brian Bilbray (R-Calif.) beat Democrat Francine Busby 49-45 for
California's 50th District on Tuesday, but both parties were claiming big-picture
victories.
Republicans argued that the win proves that Democrats are all talk when it
comes to their hopes of retaking Congress. Not to be outspun, Democrats cited
the amount of resources Republicans pumped into what would normally have
been an easily retained seat.
National Republican Congressional Committee (NRCC) Chairman Tom Reynolds
(N.Y.) declared that "national Democrats did not discover their shockwave in San
Diego."
"The results in San Diego show that nothing has happened to alter the notion that
House elections are about a choice between local personalities focused on local
issues," Reynolds said.
The Democratic Congressional Campaign Committee (DCCC) pointed to the
Republicans' large advantage in party registration in the district and the $5 million
Republicans spent on the race. Busby ran for the seat against former Rep.
Randy "Duke" Cunningham (R) in 2004 and lost by 22 points; she improved only
slightly on her 44 percent showing in the April election that set up Tuesday's
runoff.
"In an election cycle that is shaping up to be a change-versus-the-status-quo
contest, Francine Busby has shown that a strong change message can make
even former members of Congress vulnerable in deeply red Republican districts,"
DCCC Chairman Rahm Emanuel (Ill.) said.
Reynolds shot back, saying, "There are no moral victories in American politics:
Either you win or you don't."
Larry Sabato of the University of Virginia Center for Politics said that the
Republicans' investment is "probably $5 million well-spent," adding that
Democrats missed a chance to kick-start their push to retake Congress.
"[Busby] made no progress from the first primary," Sabato said. "That's got to be
disappointing to Democrats. There's no way around that."
Jon Fleischman, publisher of the conservative California politics website Flash
Report, said that although the Bilbray win is good for Republicans, the financial
drain on the party's campaign coffers has to hurt.
"There is no doubt whatsoever that what would have been a safe Republican
seat with a conservative nominee turned into one of the most expensive
boondoggles of all time," Fleischman said.
WHALEN VS. BRALEY TO REPLACE NUSSLE
Republican Mike Whalen and Democrat Bruce Braley each emerged from
bruising three-way primaries to grab their parties' nominations to replace
gubernatorial candidate Rep. Jim Nussle (R) in Iowa's 1st District.
Now another three-way race might be in the offing, which could prove damaging
to Democrats' efforts to gain a seat in the blue-leaning district.
In what's shaping up to be one of the closest House races in November, former
state legislator Bill Gluba told the Quad-City Times after losing the Democratic
primary that he is strongly considering running for the seat as an independent.
The newspaper reported that Gluba claimed national Democrats worked to sink
his campaign.
Gluba finished third, with 26 percent. Braley won with 37 percent, and former
state Rep. Rick Dickinson took 34 percent.
Asked for a response to Gluba's possible run, DCCC spokeswoman Jen Psaki
said, "Bill Gluba has been a committed member of the Democratic Party for
decades and has a strong record of supporting fellow Democrats."
Calls to Gluba's campaign were not answered.
Whalen beat his opponents more handily, taking 48 percent of the vote to state
Rep. Bill Dix's 38 percent and former state party Chairman Brian Kennedy's 14
percent.
Dianne Bystrom, director of the Center for Women and Politics at Iowa
State University, said Braley effectively used his stance as the only candidate
who supports abortion rights, but she said she didn't know how well that would
play in the general election.
Both Whalen, a restaurant owner, and Braley, a lawyer, are political newcomers
who beat politically experienced opponents.
"That could pick up on some sentiments that we're seeing in national polling with
the president's approval rating not only being low, but the approval rating for
Congress being low," Bystrom said.
DCCC-BACKED FILSON LOSES
The NRCC gloated after DCCC-supported candidate Steve Filson lost in
California's 11th District primary.
Filson was a member of the DCCC's Red to Blue program and is the third
DCCC-backed candidate to lose a primary, joining Andrew Horne in Kentucky's
3rd District and Joe Sulzer in Ohio's 18th.
Jerry McNerney, supported by the state Democratic Party, beat Filson 53-29 and
will face Rep. Richard Pombo (R), who survived a three-way primary that
included former Rep. Pete McCloskey with 62.5 percent of the vote.
Democrats also found something to crow about in the GOP primary results,
arguing that Pombo's 62.5 percent was particularly weak for an incumbent.
"Pombo's disappointing showing in his primary underscores how sick
Californians are of his leadership," Psaki said.