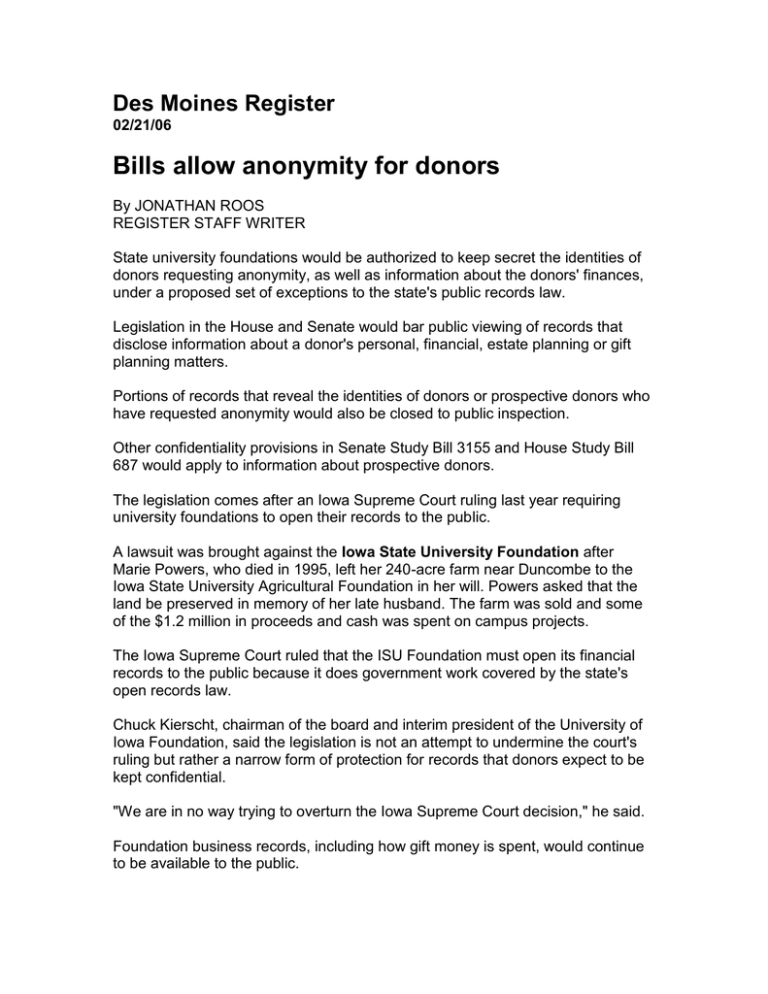 Des Moines Register
02/21/06
Bills allow anonymity for donors
By JONATHAN ROOS
REGISTER STAFF WRITER
State university foundations would be authorized to keep secret the identities of
donors requesting anonymity, as well as information about the donors' finances,
under a proposed set of exceptions to the state's public records law.
Legislation in the House and Senate would bar public viewing of records that
disclose information about a donor's personal, financial, estate planning or gift
planning matters.
Portions of records that reveal the identities of donors or prospective donors who
have requested anonymity would also be closed to public inspection.
Other confidentiality provisions in Senate Study Bill 3155 and House Study Bill
687 would apply to information about prospective donors.
The legislation comes after an Iowa Supreme Court ruling last year requiring
university foundations to open their records to the public.
A lawsuit was brought against the Iowa State University Foundation after
Marie Powers, who died in 1995, left her 240-acre farm near Duncombe to the
Iowa State University Agricultural Foundation in her will. Powers asked that the
land be preserved in memory of her late husband. The farm was sold and some
of the $1.2 million in proceeds and cash was spent on campus projects.
The Iowa Supreme Court ruled that the ISU Foundation must open its financial
records to the public because it does government work covered by the state's
open records law.
Chuck Kierscht, chairman of the board and interim president of the University of
Iowa Foundation, said the legislation is not an attempt to undermine the court's
ruling but rather a narrow form of protection for records that donors expect to be
kept confidential.
"We are in no way trying to overturn the Iowa Supreme Court decision," he said.
Foundation business records, including how gift money is spent, would continue
to be available to the public.
Critics contend the proposals would remove too many records from public
viewing.
"It's so broad that it would keep quite a bit of information confidential," said
Randall Wilson, legal director of the Iowa chapter of the American Civil Liberties
Union.
Mark Gannon, an Ames resident who was involved in bringing the lawsuit against
the ISU Foundation, said he didn't object to keeping donors' personal information
out of view, as long as the money can be tracked.
"If there is personal information, they should segregate it and leave the rest of the
information intact" for public examination, Gannon said.
The legislation, which would also apply to foundations that support public
libraries and government-owned hospitals, faces an uncertain future.
Sen. Jeff Danielson, a Cedar Falls Democrat, said he favors allowing
confidentiality of individual donors, but if donors attach conditions to their gifts,
the public should know about the restrictions.
"There are humble, wealthy Iowans who would be willing to (make donations) if
they can have some confidentiality. Not everyone wants to broadcast to the world
that they have given," he said.
Kierscht, the U of I Foundation leader, warned that without the secrecy
protections, the state universities' efforts to court donors could be put at a
competitive disadvantage with private institutions or other states that have
"donor-privacy" laws.