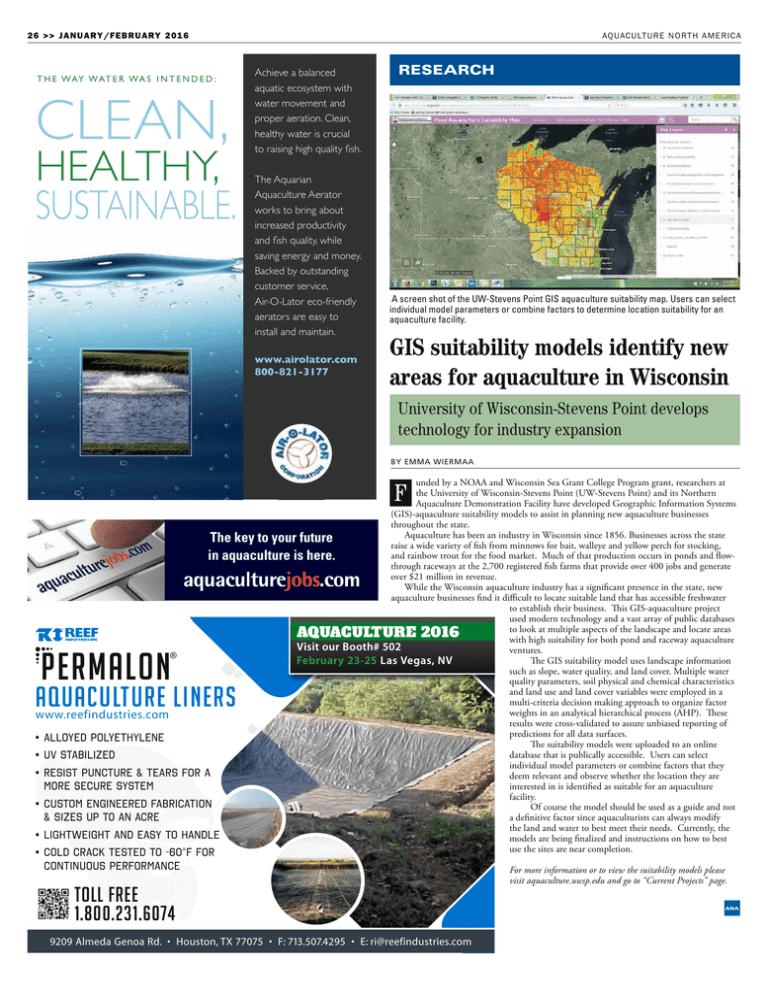 AQUACU LTU RE NORTH A M ERICA
26 >> J A N U A RY /F EBR U A RY 2 0 1 6
T H E W AY WAT E R WA S I N T E N D E D :
CLEAN,
HEALTHY,
SUSTAINABLE.
Achieve a balanced
aquatic ecosystem with
water movement and
proper aeration. Clean,
healthy water is crucial
to raising high quality fish.
The Aquarian
Aquaculture Aerator
works to bring about
increased productivity
and fish quality, while
saving energy and money.
Backed by outstanding
customer service,
Air-O-Lator eco-friendly
aerators are easy to
install and maintain.
www.airolator.com
800-821-3177
RESEARCH
A screen shot of the UW-Stevens Point GIS aquaculture suitability map. Users can select
individual model parameters or combine factors to determine location suitability for an
aquaculture facility.
GIS suitability models identify new
areas for aquaculture in Wisconsin
University of Wisconsin-Stevens Point develops
technology for industry expansion
BY EMMA WIERMAA
unded by a NOAA and Wisconsin Sea Grant College Program grant, researchers at
the University of Wisconsin-Stevens Point (UW-Stevens Point) and its Northern
Aquaculture Demonstration Facility have developed Geographic Information Systems
(GIS)-aquaculture suitability models to assist in planning new aquaculture businesses
throughout the state.
Aquaculture has been an industry in Wisconsin since 1856. Businesses across the state
The key to your future
raise a wide variety of fish from minnows for bait, walleye and yellow perch for stocking,
and rainbow trout for the food market. Much of that production occurs in ponds and flowin aquaculture is here.
through raceways at the 2,700 registered fish farms that provide over 400 jobs and generate
over $21 million in revenue.
While the Wisconsin aquaculture industry has a significant presence in the state, new
aquaculture businesses find it difficult to locate suitable land that has accessible freshwater
to establish their business. This GIS-aquaculture project
used modern technology and a vast array of public databases
to look at multiple aspects of the landscape and locate areas
AQUACULTURE 2016
with high suitability for both pond and raceway aquaculture
Visit our Booth# 502
ventures.
®
The GIS suitability model uses landscape information
February 23-25 Las Vegas, NV
such as slope, water quality, and land cover. Multiple water
quality parameters, soil physical and chemical characteristics
and land use and land cover variables were employed in a
multi-criteria decision making approach to organize factor
weights in an analytical hierarchical process (AHP). These
www.reefindustries.com
results were cross-validated to assure unbiased reporting of
predictions for all data surfaces.
• Alloyed polyethylene
The suitability models were uploaded to an online
database that is publically accessible. Users can select
• UV stabilized
individual model parameters or combine factors that they
• Resist puncture & tears for a
deem relevant and observe whether the location they are
interested in is identified as suitable for an aquaculture
more secure system
facility.
• Custom engineered fabrication
Of course the model should be used as a guide and not
a definitive factor since aquaculturists can always modify
& sizes up to an acre
the land and water to best meet their needs. Currently, the
• Lightweight and easy to handle
models are being finalized and instructions on how to best
use the sites are near completion.
• Cold crack tested to -60°F for
F
PERMALON
AQUACULTURE LINERS
Continuous performance
TOLL fREE
1.800.231.6074
9209 Almeda Genoa Rd. • Houston, TX 77075 • F: 713.507.4295 • E: ri@reefindustries.com
For more information or to view the suitability models please
visit aquaculture.uwsp.edu and go to "Current Projects" page.