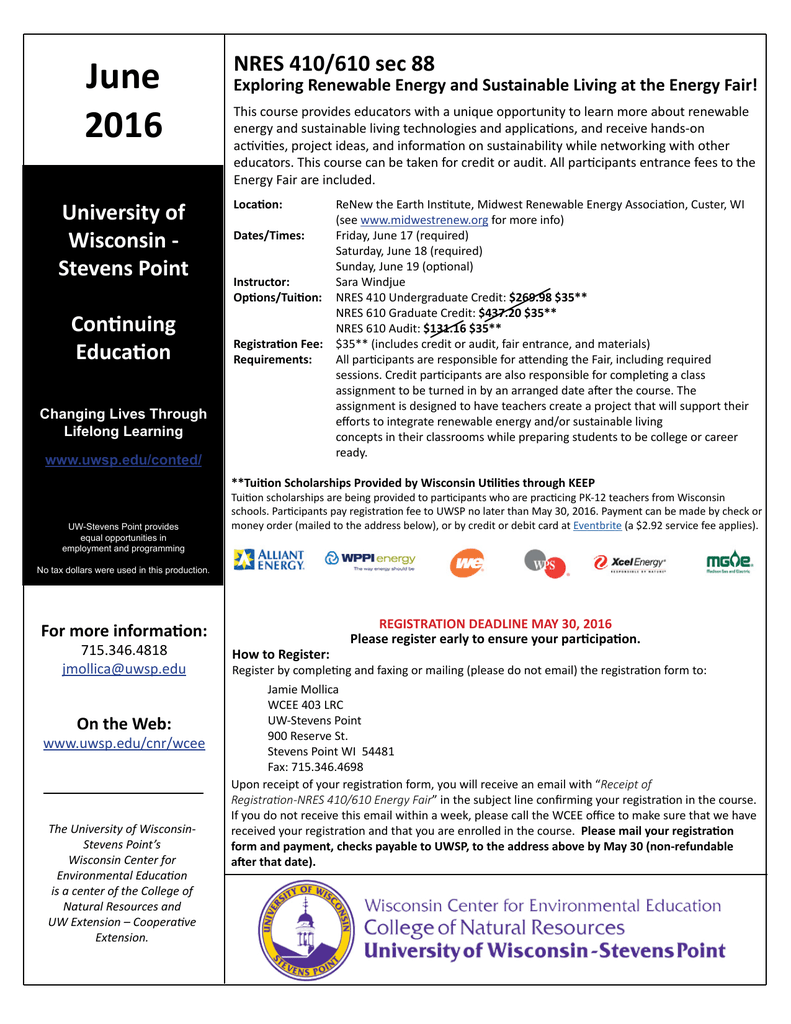 June
2016
University of
Wisconsin Stevens Point
Continuing
Education
Changing Lives Through
Lifelong Learning
www.uwsp.edu/conted/
NRES 410/610 sec 88
Exploring Renewable Energy and Sustainable Living at the Energy Fair!
This course provides educators with a unique opportunity to learn more about renewable
energy and sustainable living technologies and applications, and receive hands-on
activities, project ideas, and information on sustainability while networking with other
educators. This course can be taken for credit or audit. All participants entrance fees to the
Energy Fair are included.
Location:
ReNew the Earth Institute, Midwest Renewable Energy Association, Custer, WI
(see www.midwestrenew.org for more info)
Dates/Times:
Friday, June 17 (required)
Saturday, June 18 (required)
Sunday, June 19 (optional)
Instructor:
Sara Windjue
Options/Tuition: NRES 410 Undergraduate Credit: $269.98 $35**
NRES 610 Graduate Credit: $437.20 $35**
NRES 610 Audit: $131.16 $35**
Registration Fee: $35** (includes credit or audit, fair entrance, and materials)
Requirements:
All participants are responsible for attending the Fair, including required
sessions. Credit participants are also responsible for completing a class
assignment to be turned in by an arranged date after the course. The
assignment is designed to have teachers create a project that will support their
efforts to integrate renewable energy and/or sustainable living
concepts in their classrooms while preparing students to be college or career
ready.
**Tuition Scholarships Provided by Wisconsin Utilities through KEEP
UW-Stevens Point provides
equal opportunities in
employment and programming
Tuition scholarships are being provided to participants who are practicing PK-12 teachers from Wisconsin
schools. Participants pay registration fee to UWSP no later than May 30, 2016. Payment can be made by check or
money order (mailed to the address below), or by credit or debit card at Eventbrite (a $2.92 service fee applies).
No tax dollars were used in this production.
For more information:
715.346.4818
[email protected]
On the Web:
www.uwsp.edu/cnr/wcee
The University of WisconsinStevens Point's
Wisconsin Center for
Environmental Education
is a center of the College of
Natural Resources and
UW Extension – Cooperative
Extension.
How to Register:
REGISTRATION DEADLINE MAY 30, 2016
Please register early to ensure your participation.
Register by completing and faxing or mailing (please do not email) the registration form to:
Jamie Mollica
WCEE 403 LRC
UW-Stevens Point
900 Reserve St.
Stevens Point WI 54481
Fax: 715.346.4698
Upon receipt of your registration form, you will receive an email with "Receipt of
Registration-NRES 410/610 Energy Fair" in the subject line confirming your registration in the course.
If you do not receive this email within a week, please call the WCEE office to make sure that we have
received your registration and that you are enrolled in the course. Please mail your registration
form and payment, checks payable to UWSP, to the address above by May 30 (non-refundable
after that date).