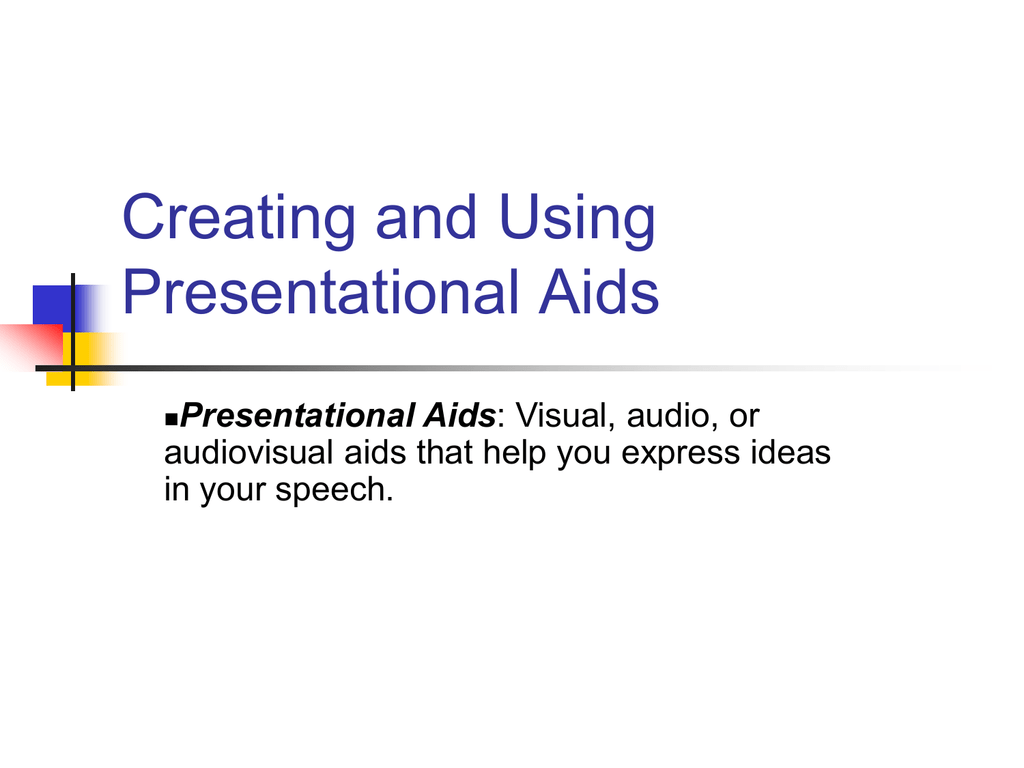 Creating and Using
Presentational Aids
Presentational Aids: Visual, audio, or
audiovisual aids that help you express ideas
in your speech.

Why Use Presentational Aids


The main reason to use such aids is that they
make verbal messages more concrete.
Presentational aids also:





Adds variety to your speech
Reduces your public speaking anxiety
Increases listener retention
Enhances the persuasive appeal of your speech
Reaches listeners by addressing different learning
styles
Types of Presentational Aids










Actual Objects
Models
Photographs
Drawings
Diagrams
Maps
Graphs
Charts
Audiovisual Materials
Audio materials
Example Diagram
Example Map
Using Graphs

Graphs: Representations intended to
make statistics, statistical trends, and
statistical relationships clearer to the
listeners.



Bar graphs: Useful for comparing items.
Line Graphs: Useful for representing
trends over time.
Pie Graphs: Useful for representing
percentages of a whole.
Example Bar Graph
Example Line Graph
Example Pie Graph
Ways to Display
Presentational Aids






Chalkboard / Whiteboard
Poster board / Display board / Flipchart
Handouts
Overhead Projectors / Document Cameras
Audio and video players
Computerized slide shows (powerpoint) and
LCD's
Constructing Presentational
Aids


The aid should enhance verbal message.
The aid should communicate ideas clearly.
 Size – Make it large!
 Simplicity – Keep it simple! Use simple font.
 Color – The use of color can help you
communicate ideas and make your presentation
clear.
 Limit the information on your aid. (Your slide show
should enhance your presentation, not repeat it –
avoid having too much on the slide.)
 Use upper and lower case letters.
The Importance of Font
Good Choices Bad Choices
Arial
Avoid Very thin fonts
Geneva
Avoid Gaudy or
italicized fonts
Avoid Cursive fonts
Helvetica
Times New Roman
Using Presentational Aids





Practice with your presentational aid.
Position your presentational aid before you
begin your speech.
Explain and integrate your presentational aid.
Talk to your audience, not to the
presentational aid.
Disclose and conceal your presentational aid
when appropriate.
Explaining and Integrating
Your Presentational Aids



Reveal the aid by disclosing it to the
group.
Explain what the aid is by describing
its purpose.
Refer to the aid by pointing to it and to
the images and details you are talking
about.
Explaining and Integrating
Presentational Aids


Integrate the aid by showing its
connection to the point you are making
in the speech.
Remove the aid by concealing it to the
group.