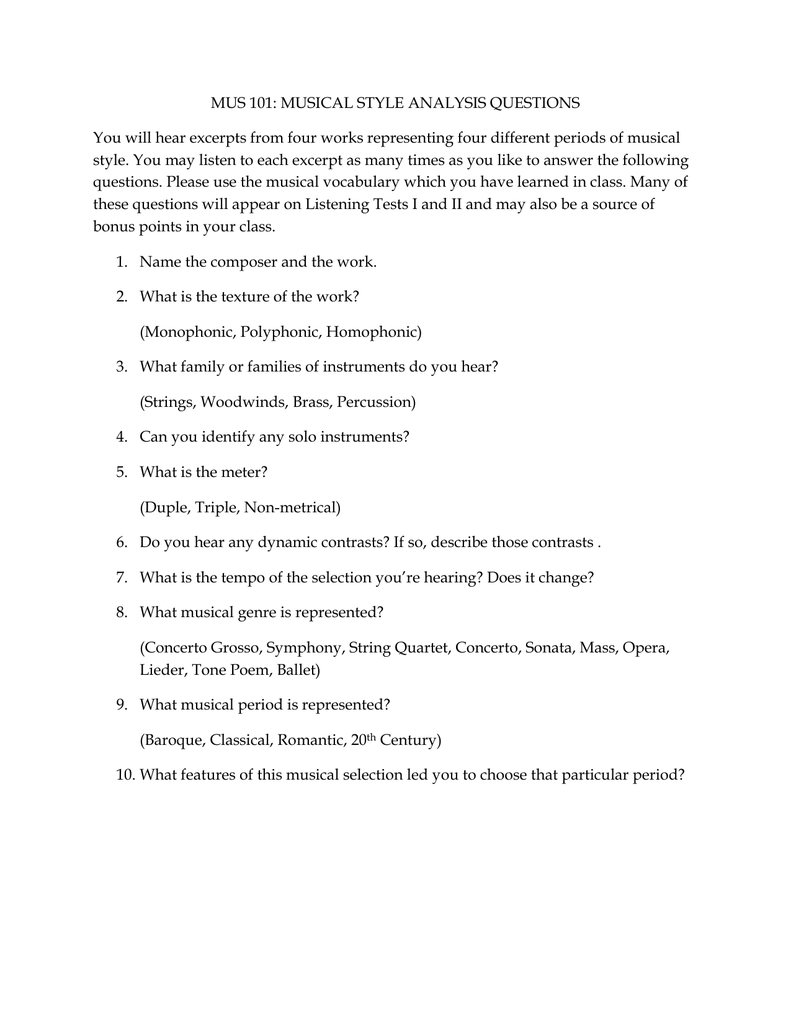 MUS 101: MUSICAL STYLE ANALYSIS QUESTIONS
You will hear excerpts from four works representing four different periods of musical
style. You may listen to each excerpt as many times as you like to answer the following
questions. Please use the musical vocabulary which you have learned in class. Many of
these questions will appear on Listening Tests I and II and may also be a source of
bonus points in your class.
1. Name the composer and the work.
2. What is the texture of the work?
(Monophonic, Polyphonic, Homophonic)
3. What family or families of instruments do you hear?
(Strings, Woodwinds, Brass, Percussion)
4. Can you identify any solo instruments?
5. What is the meter?
(Duple, Triple, Non-metrical)
6. Do you hear any dynamic contrasts? If so, describe those contrasts .
7. What is the tempo of the selection you're hearing? Does it change?
8. What musical genre is represented?
(Concerto Grosso, Symphony, String Quartet, Concerto, Sonata, Mass, Opera,
Lieder, Tone Poem, Ballet)
9. What musical period is represented?
(Baroque, Classical, Romantic, 20th Century)
10. What features of this musical selection led you to choose that particular period?