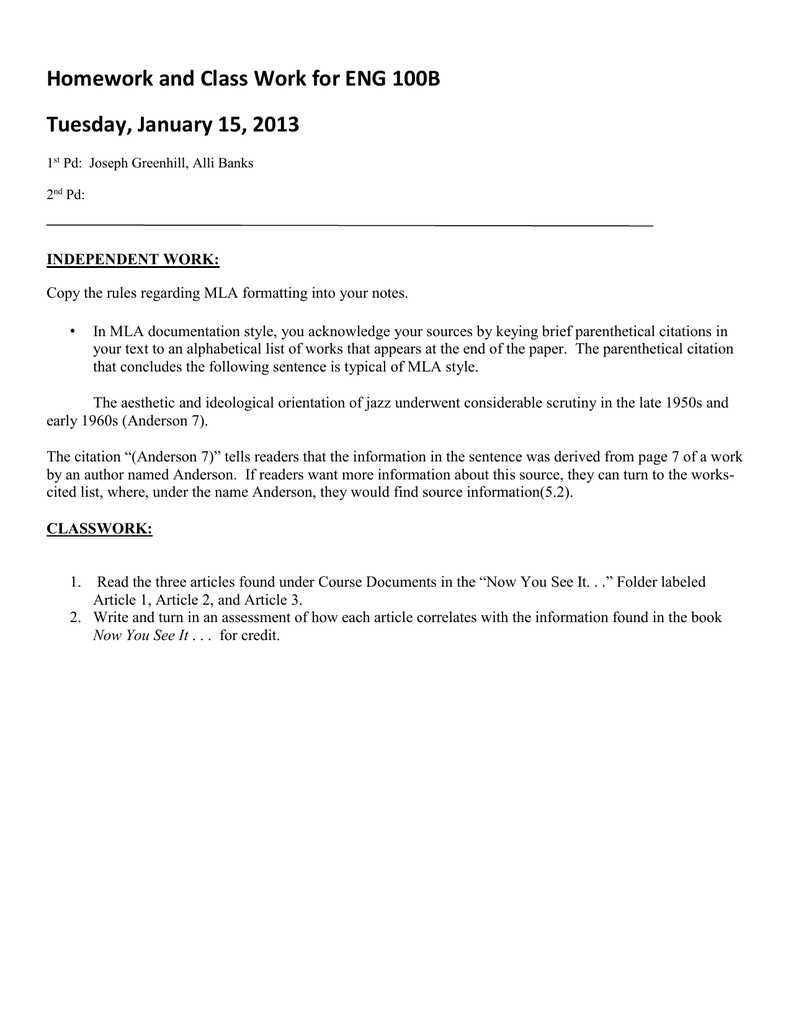 Homework and Class Work for ENG 100B
Tuesday, January 15, 2013
1st Pd: Joseph Greenhill, Alli Banks
2nd Pd:
INDEPENDENT WORK:
Copy the rules regarding MLA formatting into your notes.
•
In MLA documentation style, you acknowledge your sources by keying brief parenthetical citations in
your text to an alphabetical list of works that appears at the end of the paper. The parenthetical citation
that concludes the following sentence is typical of MLA style.
The aesthetic and ideological orientation of jazz underwent considerable scrutiny in the late 1950s and
early 1960s (Anderson 7).
The citation "(Anderson 7)" tells readers that the information in the sentence was derived from page 7 of a work
by an author named Anderson. If readers want more information about this source, they can turn to the workscited list, where, under the name Anderson, they would find source information(5.2).
CLASSWORK:
Read the three articles found under Course Documents in the "Now You See It. . ." Folder labeled
Article 1, Article 2, and Article 3.
2. Write and turn in an assessment of how each article correlates with the information found in the book
Now You See It . . . for credit.
1.