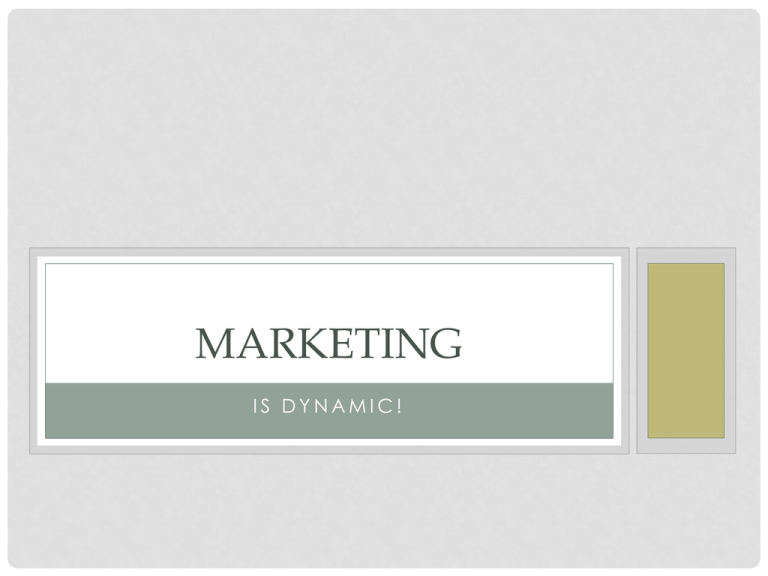 MARKETING
IS DYNAMIC!
CUSTOMER-FOCUSED
• Customer – an individual or group who buys
products
• Examples – individuals, groups
• Target market – the specific group of customers
whose needs a company will focus on satisfying
• How can potential customers be grouped?
• Examples of target markets
• Think of something you purchased recently. How
did that product meet your needs and wants?
RELATIONSHIPS
• Is based on the relationship between the buyer and
the seller
• Some relationships are short-term
• Some relationships are long-term and lead to more satisfied
and loyal customers
• Examples of product loyalty
• Research has shown that it is less costly to keep a
current customer than to get a new customer.
• Why do you think that would be true?
MORE ABOUT RELATIONSHIPS
• Many businesses focus on developing and
maintaining relationships with their customers.
• Contact customer after the sale
•
•
•
•
Is product working properly, meeting the needs
Problems can be worked out quickly
Sales people might send birthday cards or incentives
Send notices of sales and special "LOYAL CUSTOMER" events
• Many businesses reward repeat customers with discounts or
free products
• Frequent flier points
• Kroger coupons
INTERNATIONAL
• People around the world are linked by phone, fax,
internet, and travel
• You can buy foreign products in many stores in the
US
• US products are for sale in many foreign countries
• Through the internet, people can buy products from
anywhere in the world.