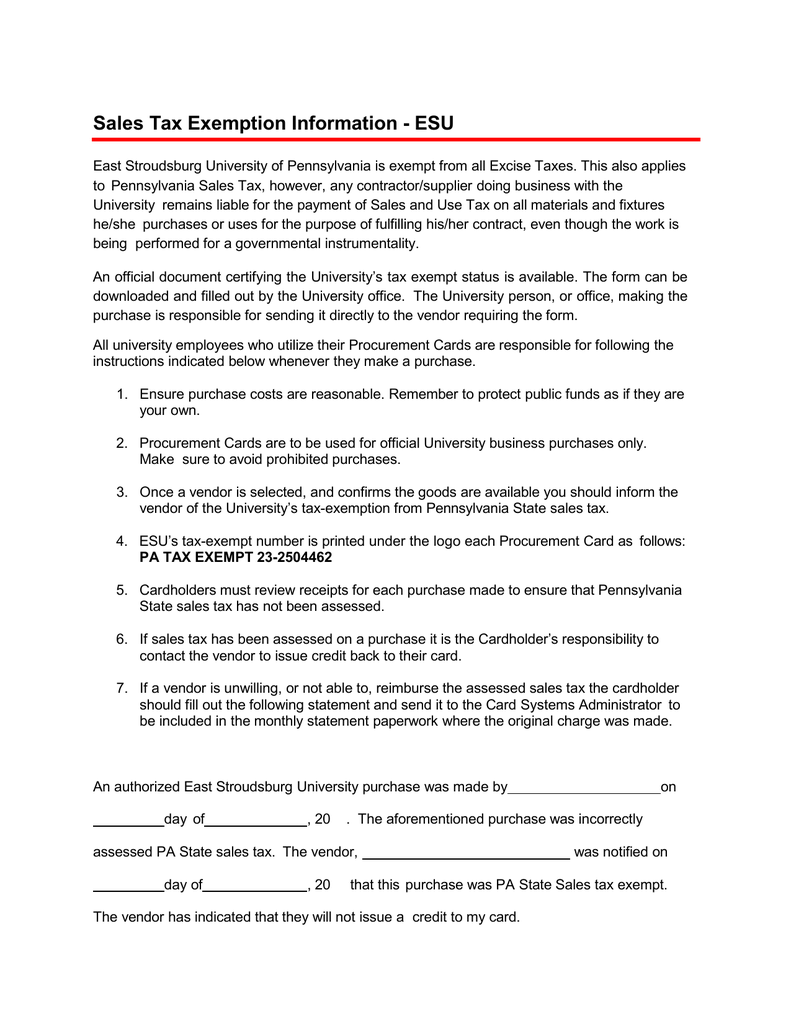 Sales Tax Exemption Information - ESU
East Stroudsburg University of Pennsylvania is exempt from all Excise Taxes. This also applies
to Pennsylvania Sales Tax, however, any contractor/supplier doing business with the
University remains liable for the payment of Sales and Use Tax on all materials and fixtures
he/she purchases or uses for the purpose of fulfilling his/her contract, even though the work is
being performed for a governmental instrumentality.
An official document certifying the University's tax exempt status is available. The form can be
downloaded and filled out by the University office. The University person, or office, making the
purchase is responsible for sending it directly to the vendor requiring the form.
All university employees who utilize their Procurement Cards are responsible for following the
instructions indicated below whenever they make a purchase.
1. Ensure purchase costs are reasonable. Remember to protect public funds as if they are
your own.
2. Procurement Cards are to be used for official University business purchases only.
Make sure to avoid prohibited purchases.
3. Once a vendor is selected, and confirms the goods are available you should inform the
vendor of the University's tax-exemption from Pennsylvania State sales tax.
4. ESU's tax-exempt number is printed under the logo each Procurement Card as follows:
PA TAX EXEMPT 23-2504462
5. Cardholders must review receipts for each purchase made to ensure that Pennsylvania
State sales tax has not been assessed.
6. If sales tax has been assessed on a purchase it is the Cardholder's responsibility to
contact the vendor to issue credit back to their card.
7. If a vendor is unwilling, or not able to, reimburse the assessed sales tax the cardholder
should fill out the following statement and send it to the Card Systems Administrator to
be included in the monthly statement paperwork where the original charge was made.
An authorized East Stroudsburg University purchase was made by
day of
, 20
. The aforementioned purchase was incorrectly
assessed PA State sales tax. The vendor,
day of
, 20
on
was notified on
that this purchase was PA State Sales tax exempt.
The vendor has indicated that they will not issue a credit to my card.
REV-1220 AS+ (9-08)(!)
PENNSYLVANIA EXEMPTION
CERTIFICATE
pennsylvania
DEPARTM ENT OF REVENUE
BUREAU OF
BUSINESS TRUST FUND TAXES
PO BOX 280901
HARRISBURG, PA 17128-0901
CHECK ONE:
~ STATE OR LOCAL SALES AND USE TAX
0
0
0
STATE OR LOCAL HOTEL OCCUPANCY TAX
PUBLIC TRANSPORTATION ASSISTANCE TAXES AND FEES (PTA)
VEHICLE RENTAL TAX (VRT)
This form cannot be used to
obtain a Sales Tax License
Number, PTA License Number
or Exempt Status.
Read Instructions
On Reverse Carefully
(Please Print or Type)
THIS FORM MAY BE PHOTOCOPIED - VOID UNLESS COMPLETE INFORMATION IS SUPPLIED
0
CHECK ONE:
PENNSYLVANIA TAX UNIT EXEMPTION CERTIFICATE (USE FOR ONE TRANSACTION)
I&] PENNSYLVANIA TAX BLANKET EXEMPTION CERTIFICATE (USE FOR MULTIPLE TRANSACTIONS)
Name of Seller, Vendor, or Lessor
Street
City
State
ZIP Code
NOTE: Do not use this form for claiming an exemption on the registration of a vehicle. To claim an exemption from tax for a motor vehicle, trailer, semi-trailer
or tractor with the PA Department of Transportation, Bureau of Motor Vehicles, use one of the following forms:
FORM MV-1 Application for Certificate of Title (first time registrations)
FORM MV-4ST Vehicle Sales and Use Tax Return/Application for Registration (other registrations)
Property and services purchased or leased using this certificate are exempt from tax because: (Select the appropriate paragraph from the back of this form,
check the corresponding block below and insert information requested.)
D
IKl
2. Purchaser is a/an: lnstrumentali!}'. of the Commonwealth of PA
D
3.
D
D
4. Purchaser is a/an:
D
1. Property or services will be used directly and predominately by purchaser in performing purchaser's operation of:
Property will be resold under License Number
. (If purchaser does not have a PA Sales Tax License Number,
include a statement under Number 7 explaining why a number is not required.)
holding Exemption Number
5. Property or services will be used directly and predominately by purchaser performing a public utility service.
and/or O US Department of Transportation MC/MX
D PA Public Utility Commission PUC Number
. (If purchaser does not have a PA Sales Tax License Number,
6. Exempt wrapping supplies, License Number
include a statement under Number 7 explaining why a number is not required.)
~ 7.
Other
(Explain in detail. Additional space on reverse side.)
I am authorized to execute this Certificate and claim this exemption. Misuse of this Certificate by seller, lessor, buyer, lessee, or their representative is
punishable by fine and imprisonment.
Name of Purchaser or Lessee
EIN
Date
~
t :gnature
EAST STROUDSBURG UNIVERSITY
23-2504462
11/14/13
Street
20 1 PROSPECT STREET
, ._/ •wl\AA
r •
City
State
ZIP Code
EAST STROUDSBURG
PA
18301
1. ACCEPTANCE AND VALIDITY:
For this certificate to be valid, the seller/lessor shall exercise good faith in accepting this certificate, which includes: (1) the certificate shall be completed
properly; (2) the certificate shall be in the seller/lessor's possession within 60 days from the date of sale/lease; (3) the certificate does not contain information which is knowingly false; and (4) the property or service is consistent with the exemption to which the customer is entitled. For more information, refer to
Exemption Certificates, Title 61 PA Code §32.2. An invalid certificate may subject the seller/lessor to the tax.
2. REPRODUCTION OF FORM:
This form may be reproduced but shall contain the same information as appears on this form.
3. RETENTION :
The seller or lessor must retain this certificate for at least four years from the date of the exempt sale to which the certificate applies.
DO NOT RETURN THIS FORM TO THE PA DEPARTMENT OF REVENUE.
4. EXEMPT ORGANIZATIONS:
This form may be used in conjunction with form REV-1715, Exempt Organization Declaration of Sales Tax Exemption, when a purchase of $200 or more is
made by an organization which is registered with the PA Department of Revenue as an exempt organization. These organizations are assigned an exemption number, beginning with the two digits 75 (example: 75-00000-0).