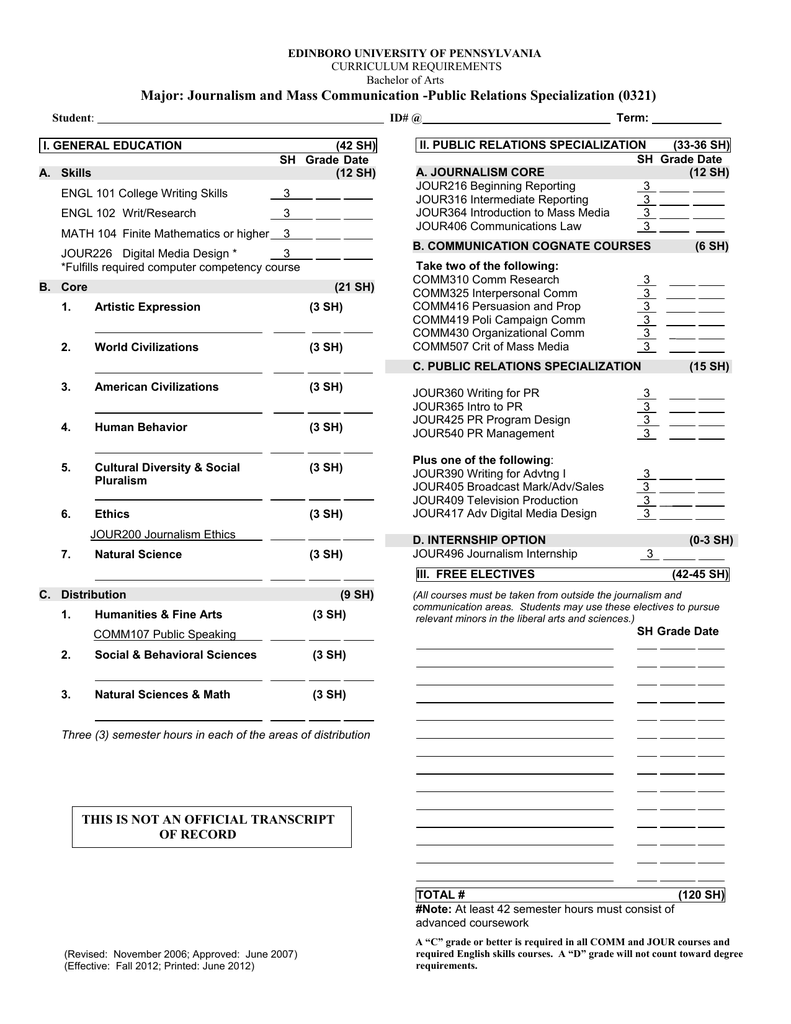 EDINBORO UNIVERSITY OF PENNSYLVANIA
CURRICULUM REQUIREMENTS
Bachelor of Arts
Major: Journalism and Mass Communication -Public Relations Specialization (0321)
Student:
ID# @
I. GENERAL EDUCATION
A. Skills
(42 SH)
SH Grade Date
(12 SH)
ENGL 101 College Writing Skills
3
ENGL 102 Writ/Research
3
MATH 104 Finite Mathematics or higher
3
II. PUBLIC RELATIONS SPECIALIZATION
(33-36 SH)
SH Grade Date
A. JOURNALISM CORE
(12 SH)
JOUR216 Beginning Reporting
3
JOUR316 Intermediate Reporting
3
JOUR364 Introduction to Mass Media
3
JOUR406 Communications Law
3
B. COMMUNICATION COGNATE COURSES
JOUR226 Digital Media Design *
3
*Fulfills required computer competency course
B. Core
Term:
(21 SH)
1.
Artistic Expression
(3 SH)
2.
World Civilizations
(3 SH)
Take two of the following:
COMM310 Comm Research
COMM325 Interpersonal Comm
COMM416 Persuasion and Prop
COMM419 Poli Campaign Comm
COMM430 Organizational Comm
COMM507 Crit of Mass Media
3
3
3
3
3
3
(6 SH)
_
C. PUBLIC RELATIONS SPECIALIZATION
3.
American Civilizations
(3 SH)
4.
Human Behavior
(3 SH)
5.
Cultural Diversity & Social
Pluralism
(3 SH)
6.
Ethics
JOUR360 Writing for PR
JOUR365 Intro to PR
JOUR425 PR Program Design
JOUR540 PR Management
3
3
3
3
(3 SH)
Plus one of the following:
JOUR390 Writing for Advtng I
JOUR405 Broadcast Mark/Adv/Sales
JOUR409 Television Production
JOUR417 Adv Digital Media Design
3
3
3 __
3
(3 SH)
D. INTERNSHIP OPTION
JOUR496 Journalism Internship
JOUR200 Journalism Ethics
7.
Natural Science
III. FREE ELECTIVES
C. Distribution
1.
Humanities & Fine Arts
(15 SH)
(9 SH)
(3 SH)
(0-3 SH)
3
(42-45 SH)
(All courses must be taken from outside the journalism and
communication areas. Students may use these electives to pursue
relevant minors in the liberal arts and sciences.)
SH Grade Date
COMM107 Public Speaking
2.
Social & Behavioral Sciences
(3 SH)
3.
Natural Sciences & Math
(3 SH)
Three (3) semester hours in each of the areas of distribution
THIS IS NOT AN OFFICIAL TRANSCRIPT
OF RECORD
TOTAL #
(120 SH)
#Note: At least 42 semester hours must consist of
advanced coursework
(Revised: November 2006; Approved: June 2007)
(Effective: Fall 2012; Printed: June 2012)
A "C" grade or better is required in all COMM and JOUR courses and
required English skills courses. A "D" grade will not count toward degree
requirements.