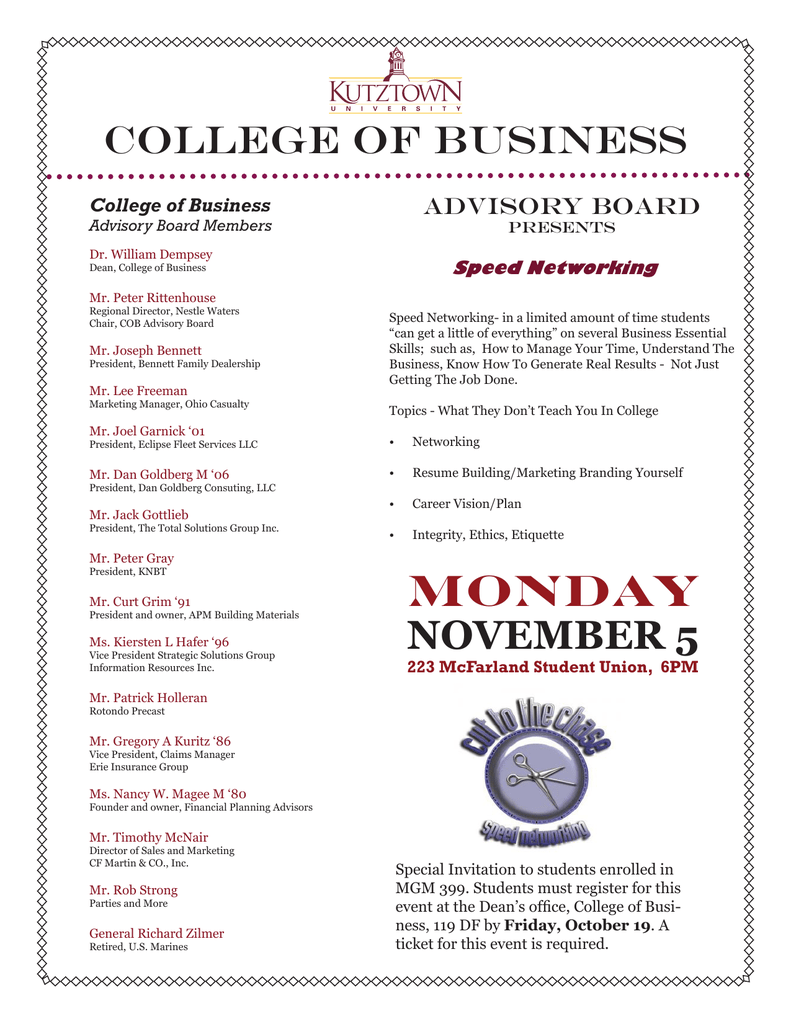 college of business
advisory board
College of Business
Advisory Board Members
presents
Dr. William Dempsey
Speed Networking
Dean, College of Business
Mr. Peter Rittenhouse
Regional Director, Nestle Waters
Chair, COB Advisory Board
Mr. Joseph Bennett
President, Bennett Family Dealership
Mr. Lee Freeman
Marketing Manager, Ohio Casualty
Mr. Joel Garnick '01
Speed Networking- in a limited amount of time students
"can get a little of everything" on several Business Essential
Skills; such as, How to Manage Your Time, Understand The
Business, Know How To Generate Real Results - Not Just
Getting The Job Done.
Topics - What They Don't Teach You In College
President, Eclipse Fleet Services LLC
•
Networking
Mr. Dan Goldberg M '06
•
Resume Building/Marketing Branding Yourself
•
Career Vision/Plan
•
Integrity, Ethics, Etiquette
President, Dan Goldberg Consuting, LLC
Mr. Jack Gottlieb
President, The Total Solutions Group Inc.
Mr. Peter Gray
President, KNBT
Mr. Curt Grim '91
President and owner, APM Building Materials
Ms. Kiersten L Hafer '96
Vice President Strategic Solutions Group
Information Resources Inc.
monday
NOVEMBER 5
223 McFarland Student Union, 6PM
Mr. Patrick Holleran
Rotondo Precast
Mr. Gregory A Kuritz '86
Vice President, Claims Manager
Erie Insurance Group
Ms. Nancy W. Magee M '80
Founder and owner, Financial Planning Advisors
Mr. Timothy McNair
Director of Sales and Marketing
CF Martin & CO., Inc.
Mr. Rob Strong
Parties and More
General Richard Zilmer
Retired, U.S. Marines
Special Invitation to students enrolled in
MGM 399. Students must register for this
event at the Dean's office, College of Business, 119 DF by Friday, October 19. A
ticket for this event is required.