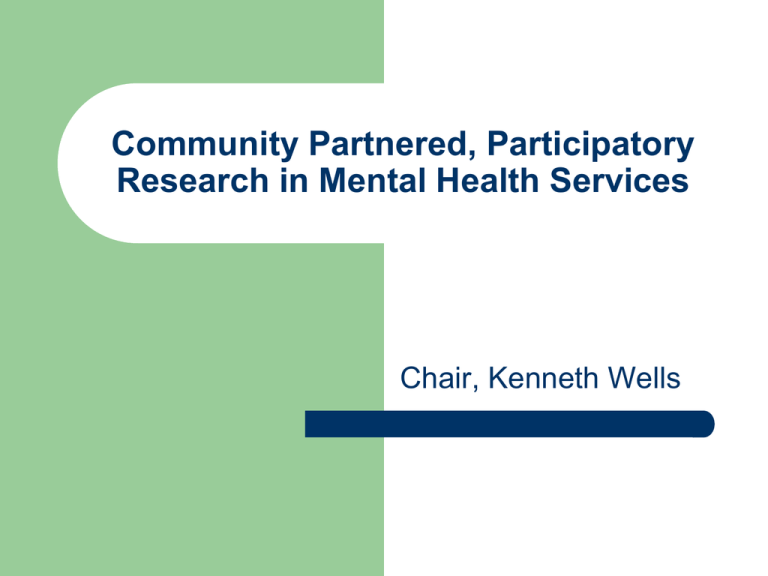 Community Partnered, Participatory
Research in Mental Health Services
Chair, Kenneth Wells
Presenters

Loretta Jones (Healthy African American Families/CRD University)
Bowen Chung (UCLA-Harbor and RAND)
– Partnered Planning of a Randomized Trial: Community Partners in Care

Margarita Alegria (Cambridge Health Alliance, Harvard University)
– Community-based Participatory Research: Recommendations and
Challenges

Enola Proctor (Washington University)
–
Partnered Research with Social Services Agencies: Examples and
Challenges

Benjamin Springgate (Tulane and RAND)
Charles Allen (Holy Cross Neighborhood Association; Tulane and Xavier)
– Partnered Development of a Community Health Worker Model for Mental
Health Outreach

Kavita Patel
– Making Government Work for Mental Health: New opportunities for
Community Partnerships and Research
CBPR and Mental Health Services
Research

Underserved communities may stand the most to gain
from improvements in access and quality of care
–
Partners in Care
–
Public health impact

Health services research findings are often underutilized
in communities
– Research impact

Social justice and transparency of research priority
setting, process and access to products
– Power shifting through participation
Key Questions

How is CBPR being done for mental health issues? What
are experiences of community and academic partners
and study participants?

What does community engagement as a strategy for
mental health services research offer community,
research and policy stakeholders?

What are the challenges for science and communities?
What are models for making it work?

What role can partnered research plan in healthcare
reform and other policy initiatives?