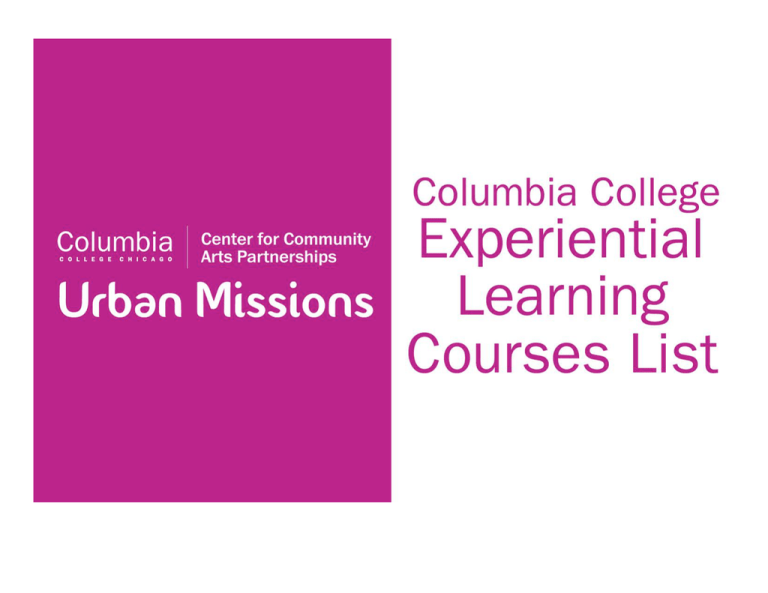 U.S Foreign Policy- 50-1302
Course analyzes various internal and external factors that
influence formulation and execution of U.S foreign policy.
Content examines the crucial role of U.S foreign policy and
its importance and implications both for the U.S and other
countries. Through discussion of past and present major
international problems and policy decisions, current foreign
policy of the U.S is examined in terms of historic actions,
political ideas and consequences.
***Partnering High School / CBO students are invited to join Columbia
students as they present and discuss US Foreign Policy together.
Columbia students offer perspectives on what it is like to be a college
student, explain US Foreign policy and why it is important, and present
on topics they have studied throughout the semester. Guest speakers
have included US Ambassadors, members from the Chicago Consular
community, and representatives from Egypt / Morocco. U.S. Foreign
Policy has partnered with Steinmetz and Chicago Academy High
Schools.
Oral Expressions: 52-1401
Students overcome difficulties they may have in public
speaking, such as stage fright and poor diction. Students
are made aware of important elements such as delivery
and posture, use of gestures, and good grammar. Course
introduces students to informative, persuasive and
occasional modes of public speaking and helps students
develop well-organized and purposeful speeches.
***Partnering High School / CBO students are invited to join
Columbia students as they present on topics such as how to be
successful in college, how to apply, tips for college, etc. Oral
Expressions has partnered with Sullivan High School.
The Television Producer: 40-2201
Course introduces the students to the duties of the
television producer, focusing primarily on the producer's
role in creating different types of programming. We will
explore relationships with the production team, the director,
writers, and the studio. Main goals include individual
development in areas of problem solving, prioritization,
team building, and scheduling for a successful project. The
roles of the producer in all phases of the production will be
emphasized.
***Students in the Television Department are partnered with a
Community Based Organization (CBO) to write/direct and produce a
commercial which will be used by the CBO for advertising/informational
purposes. TV Producer has worked with Puerto Rican Arts Alliance
(PRAA). You can see their final product here:
https://www.youtube.com/watch?v=8ob8LQvEukk
Documenting Social Injustice: 40-3340
This course combines social justice education with a
practical exploration into the role new technologies can play
in media activism. Students will become familiar with a
range of social justice issues through media examples,
assignments, research, and class discussion. By mid-term,
each student will propose his or her activist media project
that supports a specific social justice cause in a well
researched, passionate, and persuasive presentation to the
class. Students will have the opportunity to partner with a
community-based organization, learning how to create
advocacy media in a real world situation. Crews will work on
a short doc, PSA, crowdfunding site or social media
outreach plan, learning how to use transmedia to help create
policy change, mobilize people to create change, and
promote discussion.
***Students are partnered with a Community Based Organization (CBO) to
produce a PSA documenting social injustices relevant to the CBO's mission. This course has partnered with CLAIM (Chicago Legal Advocacy for
Incarcerated Mothers) to create a PSA for its "Benevolent" crowd funding and social
media campaigns.
Theater Practicum: 31-2950
This course will engage students in the theory and practice
of teaching theatre to youth. The class meets twice a
week. Students will spend one class studying teaching
fundamentals: classroom management, curriculum
development, lesson planning, and assessment as they
relate to the teaching performance skills. The other class
will be spent in practice in a youth theatre program in the
Chicago area. Students will teach and observe each
other's teaching in an established, ongoing youth arts
program.
***Students in the Theatre Department are partnered with a High
school/ CBO to gain a solid understanding of teaching artistry and put
theory into practice by working together as a teaching ensemble.
Theater Practicum has partnered with Perspectives Charter School IIT
to train students in scriptwriting and performance within an ensemble.
Percussion Ensemble: 32-2830
This course involves a performance ensemble, which is
made up entirely of percussion instruments of both definite
and indefinite pitch. Course develops sight reading ability
and ensemble skills and may be repeated three times for
credit. Enrollment in this ensemble requires concurrent
registration in private lessons.
***Students from the Music Department are partnered with a
Community Based Organization to perform and teach community
youth the art of percussion. Percussion ensemble performs at the Dia
de Muertos processions with ElevArte Community Studio. Students
have also taught the art of percussion to students at Ruiz elementary,
who have also joined in the community procession.
Ad Agency: 54-3978
Course teaches students how to function in an advertising
agency as a specialist (account managements, creative,
media, traffic, production) and as a member of an agency
team, students work with actual clients in real assignments
and are required to participate in client meetings, generate
contact reports, conduct research, develop strategies, write
media plans, ideate concepts, and produce creative
elements. Course culminates in the final production of
completed marketing campaign elements, enabling students
to have published samples for their portfolios.
Prerequisites: Completion of Marketing Communication
core courses and permission of instructor after an interview
(to ensure a balance between account and creative
specialties, diversity, and the appropriate skill level)
***Students are partnered with a Community Based Organizations to develop marketing campaigns specific to each CBO client. Ad Agency has
worked with Project Brotherhood, Association House, Teatro Americano, Matli Dance Academy, and Access Living. Campaigns for these CBOs
have produced PSAs, posters, TV commercials and radio spots providing students with published work for their portfolios.
Interactive Advertising Campaign Development:
54-2606
In this elective course, offered and taught jointly by
Interactive Arts and Media and the Marketing
Communication Department, students will develop
interactive advertising campaigns for select
products/services. This course will challenge student
teams from each department to conduct research, develop
strategies, create concepts and produce digital campaigns.
At the culmination of the course, students will formally
present their fully developed interactive campaigns and will
have produced work for their portfolios.
***Students are partnered with a Community Based Organization to
develop a marketing campaign specific to each CBO client. Interactive
Advertising Campaign Development has worked with NeighborCarts, E.A.T. Chicago, and Taste Buddies. Campaigns for these CBO clients have
produced Social Media plans, interactive websites, and educational characters for community youth. An example of work produced for
NeighborCarts can be found here: http://iam.colum.edu/students/stacy.deluca/neighborcarts/index.html
Writing and Rhetoric I: 52-1151
Writing and Rhetoric I helps students understand and
refine their own writing processes. Designed to assist
students in making connections between their knowledge,
cultures, worlds, and the multiple-literacies and discourses
of academic, communicative and performing life, the
course encourages students to develop their distinctive
voices as they learn to make conscious rhetorical
decisions. Writing and Rhetoric I connects personal
reflection with critical analysis, providing plentiful and
varied opportunities for writing, strengthening reading
skills, and becoming a member of a writer-reader
community.
***Students are partnered with a Community Based Organization
(CBO) to advocate and raise awareness for a social justice issue in the
city of Chicago. Writing and Rhetoric partnered with the Chicago
Coalition for the Homeless to provide audience for formerly homeless speakers, making flyers for petition, collecting signatures for petition, making
presentations, writing letters and blog material for this CBO.
Radio Workshop: 41-3500
This service-learning course involves students in
community outreach to identify significant community
problems, issues and needs and how these areas are
addressed by public service programming. Students create
a radio public affairs issue fact sheet on the non-profit
group and produce issue related public service
announcements for broadcast on WCRX, the Columbia
College radio station, and local commercial stations. This
class also covers critical Federal Communications
Commission (FCC) rules and regulations as they relate to
the radio station public file.
***Students from the Radio Department are partnered with a
Community Based Organization (CBO) to create a radio public affairs
issue fact sheet and produce issue-related public service
announcements to broadcast on WCRX, the Columbia College radio
station, and local commercial stations. Radio Workshop partnered with
Archi-Treasures to produce a 30 and a 60 second public service
announcement.
People Power and Social Media: 41-2115
This is a problem-solving course utilizing current events for
inquiry, reflection and the practice of civic responsibility.
This course combines opportunities for students to
collaborate in groups to research an issue, develop
concentrated knowledge on a topic, encourage creative
and critical thinking and following up by voicing their
opinions for actions utilizing social media. Students will
also engage with a selected non-profit group (identified in
collaboration with the Center for Community Arts
Partnerships) to produce an issue specific podcast and/or
blog independently or on the website of the non-profit
group.
***Students are partnered with a Community Based Organization
(CBO) to produce an issue specific podcast/or blog independently or
on the website of the CBO where they will share their concerns and
knowledge with people around the world. Students decide upon an issue, research the topic and participate in group discussions (with a little
bit of roleplaying). Students utilize multiple media platforms and the Internet to become better informed and learn about the various perspectives
of the issue.
Writing for Managers: 28-2120
The course emphasizes the importance of professional
written communication for artists, entrepreneurs, and
managers in today's arts, entertainment and media
environment. The course focuses on identifying the most
appropriate media and format for reaching target
audiences and achieving intended communication goals. It
also provides students with the essential tools and skills to
organize and effectively convey information in a clear and
concise manner. This course fulfills Columbia College's
writing intensive requirement (WI).
BIGart J-Session: 38-1581J
BIGArt J-Session provides first-year students an
introduction to the professional field of teaching artistry.
After learning about the field and context of arts education
as a whole, we will enter the field to serve as a teaching
artist; Columbia students will work directly with young
people in classroom and community organization settings
on collaborative art projects. The end result of the course
will be portfolio that documents the learning process and
the outcomes of the project; we will also host a showcase
for the Columbia College Community to share our work
after J-Session concludes. This course also provides an
introduction to (and applicable credit towards) a Teaching
Artist minor.
***First year students are partnered with a Community Based
Organization (CBO) to provide an arts making workshop with
community youth. Big Art has partnered with ElevArte Community
Studio to help paint the faces of community members attending their
annual Dia de los Muertos celebration. Students also facilitate and
participate in the community procession.
Gallery Management Practicum: 28-4020
This practicum course provides hands-on gallery
management, exhibition, curatorial, and design experience
for students of all majors. Known as The Hokin Project, this
course presents the work of the Columbia College Chicago
community through exhibitions, programs, and events in
the Hokin Gallery. Gallery Management Practicum is a
student-run collaboration of the Arts, Entertainment &
Media Management Department (AEMM) and Student
Affairs / Department of Exhibitions and Performance
Spaces (DEPS).
***Students in the Business and Entrepreneurship department partner
with local/international artists to curate a show in the Hokin Gallery.
Student have partnered with Robert Karimi/The Peoples Cook to
curate an interactive art exhibit and plan pop up performances
Introduction to Management: 28-1110
In this course students learn the basic management
functions of planning, organizing, leading and controlling,
as they explore their opportunities as future arts managers
and entrepreneurs. Using text, activities, films, cases and
projects, students deepen their understanding of the role of
the arts manager; practice applying management skills,
tools, and techniques; and identify ways to effectively and
creatively respond to management problems and
challenges.
***Students from Columbia's Business and Entrepreneurship
department have partnered with True Star to research and present
recommendations for a crowd-funding campaign. Recommendations
included marketing for True Star's different sets of stakeholders,
branding, social media strategies, video, and internship possibilities.
Information Management: 28-1113
This course provides students with a practical framework
for employing essential computer applications in today's
business environment. Students apply advanced functions
of database, spreadsheet, word processing and
presentation software to business analysis and decisionmaking processes. The skill set pursued in this course is
fundamental to effective managerial operations of a variety
of arts, entertainment and media businesses and
organizations.
***Students from Columbia's Business and Entrepreneurship
department have partnered with Residence Association of Greater
Englewood to tabulate and analyze survey data from their 'So Fresh
Saturday' events from Summer 2014 and Summer 2013. Students
presented recommendations to R.A.G.E. for future data collection.
Team Development: 36-2602
This course offers an introductory look into the
collaborative process in the interactive field. Students will
learn about the roles in interactive team development, how
to effectively manage time and project scope, how to set
and meet deadlines, and how to work as a group to deliver
user-centered projects.
*** Students from Columbia's Interactive Arts & Media department
have partnered with Chicago Public Art Group to develop a better user
experience for CPAG's online presence. Products include an
interactive mural map, brochures, and a social media guide.
Event Management: 28-4090
This course is designed to provide resources, tools, and
training necessary for planning and management of live
events. Students are given hands-on orientation of event
management processes and the opportunity to participate
in managing actual events.
*** Students in the Business and Entrepreneurial Dept. have planned
and implemented a fundraising event to raise money for the Center for
Community Arts Partnerships.
Decision Making for Fashion Business: 27-3970
This required course that must be taken by graduating
students during their final semester. Course applies
previously learned fundamentals of critical business
decision making that are necessary in developing a
competitive edge in today's fashion/retail business market.
Students work with a mentor in the professional field and
develop a merchandising package or business strategy
that will be presented to industry professionals.
*** Students from Columbia's Fashion Department have partnered with
True Star Magazine to develop and implement a three page fashion
spread, write-ups for the magazine and a photo shoot for stock photos.
Business of Visual Art: 28-1270
This course investigates a broad range of visual arts
institutions, organizations, and businesses, including
museums, commercial galleries, non-profit and alternative
venues, auction house and art fairs. The course includes
site visits and meetings with professionals to provide an
inside look at how these arts businesses operate and to
expose students to diverse career opportunities in the field
of visual arts. This course is an entry point for other visual
arts management classes, a requirement for students
pursuing a visual arts management concentration, and is
also open to non-Business and Entrepreneurship majors.
*** Students from the Business and Entrepreneurial Department have
visited ElevArte Community Studio to discuss working in the non-profit
arts sector and how it functions differently from the commercial side of
visual arts.
Arts in Health: 70-3100
This course explores the arts in healthcare movement as
part of the integrative health model in American society.
Students will learn theory and its application, professional
development skills, and a variety of programming options
for diverse artistic media. Attention will be given to
understanding healthcare policies specific to employees in
this environment. This course prepares the student for their
next semester's healthcare practicum.
***Students in the Creative Arts Therapies Dept. have worked with
Snow City Arts on a gallery installation for their gala night and
participated in one of their staff professional development days.
Members of Snow City's staff also came to speak to the class about
their work within Chicago's hospitals.
Theatre Foundations I: Theatre Making 31-1251
Theatre Foundation I: Theatre Making invites incoming
students into their role as creative practitioners. Students
investigate the elements and principles of artistic process
that can be applied to all aspects of theatre making. The
course develops students' awareness, observation and
collaborative skills, and their ability to transpose
experiences in the world into visual, written, vocal and
physical form. Readings, composition work in class and
attendance at Columbia College Chicago productions and
in the city of Chicago deepens students' understanding and
appreciation of the scope of contemporary theatre making
practices.
***Students in the Theatre Department are partnered with
local/international artists to do professional development workshops.
Students have partnered with Robert Karimi/The Peoples Cook on a community building workshop.
Teaching Artist in the School: 38-3580
This course engages students in the theory and practice of
the teaching artist in schools. Students explore the role of
the teaching artist in education and observe arts teaching
at a Chicago Public School or an arts organization.
Interdisciplinary Learning Through the Arts or
Approved Pedagogy Course in Major: 38-3581
This course takes an in-depth look at the impact
of interdisciplinary arts teaching on student learning.
Students learn how to create interdisciplinary curriculum
across core academic subjects and the arts, connect to the
Common Core Standards, develop assessment tools, and
build documentation into teaching practice.
Creative Drama in the Classroom: 38-2175-01
Topics courses allow the Early Childhood program to offer
individual courses outside of its core curriculum as faculty
expertise becomes available. Permission of Program
Director required.
Documentary Topics: The Production Unit (aka The
Doc Unit) 24-3820-01
The Doc Unit is not a traditional course. The Doc Unit is a
production company. The Doc Unit offers crews-for-hire to
any department in the college that needs documentation or
short documentary content. Get valuable work experience
around the Columbia campus and the city of Chicago.
Manage freelance projects that involve client relations,
deadlines, deliverables, teamwork, and
professional communications.
Chicago–My Kind of Town: 24-1810-01
This course explores the city. Bring your camera. Meet
remarkable people. Discover unforgettable places. Make
your art. Find your voice.
THE CITY OF CHICAGO is OUR CLASSROOM!
This course is a non-production, rotating topics course that
looks at examples of documentary filmmaking. Such past
topics have included cross-cultural filmmaking, the music
documentary, and indigenous filmmaking.