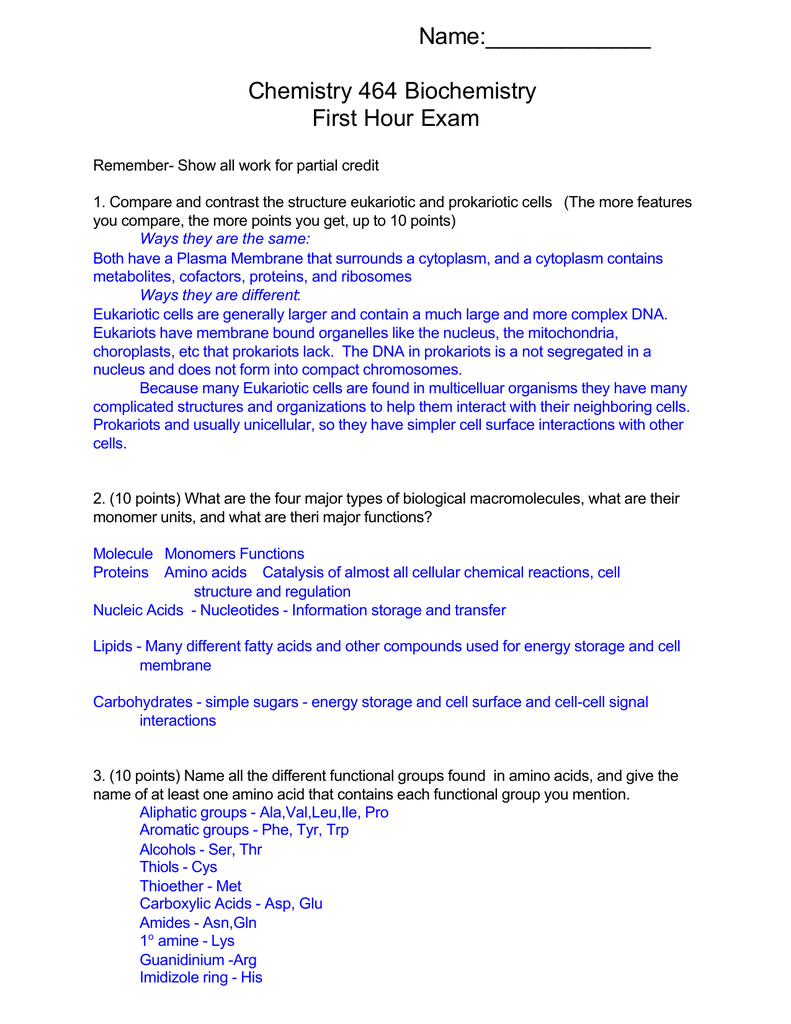 Name:_____________
Chemistry 464 Biochemistry
First Hour Exam
Remember- Show all work for partial credit
1. Compare and contrast the structure eukariotic and prokariotic cells (The more features
you compare, the more points you get, up to 10 points)
Ways they are the same:
Both have a Plasma Membrane that surrounds a cytoplasm, and a cytoplasm contains
metabolites, cofactors, proteins, and ribosomes
Ways they are different:
Eukariotic cells are generally larger and contain a much large and more complex DNA.
Eukariots have membrane bound organelles like the nucleus, the mitochondria,
choroplasts, etc that prokariots lack. The DNA in prokariots is a not segregated in a
nucleus and does not form into compact chromosomes.
Because many Eukariotic cells are found in multicelluar organisms they have many
complicated structures and organizations to help them interact with their neighboring cells.
Prokariots and usually unicellular, so they have simpler cell surface interactions with other
cells.
2. (10 points) What are the four major types of biological macromolecules, what are their
monomer units, and what are theri major functions?
Molecule Monomers Functions
Proteins Amino acids Catalysis of almost all cellular chemical reactions, cell
structure and regulation
Nucleic Acids - Nucleotides - Information storage and transfer
Lipids - Many different fatty acids and other compounds used for energy storage and cell
membrane
Carbohydrates - simple sugars - energy storage and cell surface and cell-cell signal
interactions
3. (10 points) Name all the different functional groups found in amino acids, and give the
name of at least one amino acid that contains each functional group you mention.
Aliphatic groups - Ala,Val,Leu,Ile, Pro
Aromatic groups - Phe, Tyr, Trp
Alcohols - Ser, Thr
Thiols - Cys
Thioether - Met
Carboxylic Acids - Asp, Glu
Amides - Asn,Gln
1o amine - Lys
Guanidinium -Arg
Imidizole ring - His
2
4. (10 points) I have a 0.1 molar phosphate buffer that is at pH 7.0. What is the pH of this
buffer after I add 15 mls of 0.1M HCl to 100 mls of the buffer. (The pKa of phosphate is
6.86)
Step 1 Establish current concentrations of HA and A HA + A - = .1; HA = .1-A pH = pKa + log (A -/HA); 7=6.86 + log (A -/HA); .14=log (A -/(.1-A -))
10.14 = 1.38 = A -/(.1-A -); .138 -1.38A- = A .138 = 2.38A-; A- = .138/2.38 = .058M; HA = .042M
Step 2 See what happens when you add the acid
add 15 mls of .1M HCl .015L x .1 mol/liter = .0015 moles
You had 100 ml of .058 M A - = .0058 mole
and 100 ml of .042M HA = .0042 moles
H+ + A -6HA so A - = .0058-.0015, HA = .0042 + .0015;
A- = .0043, HA = .0057
pH = 6.86 + log (.0043/.0057)
pH = 6.74
5. (10 points) Urushiol it the main constituent of the irritant oil of poison ivy. The structure of
urushiol is:
OH
OH
R
R= (CH2 )14CH3
(CH2) 7CH=CH(CH2 )5CH3
And other similar long chain hydrocarbons
On the next page are portions of the web page for a product called Ivy Off that claims to
clean the Urushiol off your skin. While I haven't tried it, I have heard quite a few Boy Scouts
say it actually works.
A. Based on the physical properties you might expect for Urusiol explain, why
simply washing with soap and water would not be effective.
Urushiol is primarily a long hydrophobic tail with only a slightly polar aromatic head group.
This will not be easily solubilized by the soap, and, in fact, is probably already
incorporating itself into the membranes of skin cells
B. What might Ivy Off contain to make it effective.
To make Ivy-Off effective, it must contain a base that will deprotonate the phenol groups,
making them charged. This now makes the phenolic ring much more soluble, so that now
soap has a chance to remove the urushiol from the skin, as well as making it less likely to
want to bury itself in the cell membrane.
C. (Extra Credit) Based on the above answer, can you think of a way to remove
Urushiol using common household chemicals?
A simple replacement might be a household base like ammonia or sodium
Bicarbonate (Baking Soda). My guess is that you would want to apply a soapy baking
soda solution and leave it on for a few minutes to help get the urushiol that has already
incorporated into cell membranes a chance to dissolve in the solution. Ammonia would
probably work too, but it would be smellier, and maybe more irritating.
3
6. (20 points) Fill in the following table:
Name
Tryptophan
Glutamine
Cystiene
3 letter
abbreviation
Trp
Gln
Cys
1 letter
abbreviation
W
Q
C
Structure
O
NH 2
SH
CH 2
NH
NH 3+
CH 2
NH 3+
CH2
CH 2
COO-
NH3+
COOH
H
COOH
side chain
pKa
(if ionizable)
NA
NA
8.18
General
classification
(nonpolar,
polar, etc)
Aromatic, nonpolar
Polar
Polar
7. (10 points) I have the peptide with the sequence TEST. Write the structure of this
peptide at pH 2 and 7 with all charged groups in their proper ionization state.
Thr-Glu-Ser-Thr
pH 2
COOH
CH3
HC OH
NH3 +
H
CO N
H
CH2
CH2
H
CH3
H2 C OH
CO N
H
H
CO N
H
HC OH
Actually the COO- is close to
its pKa so it is only about ½
protonated at pH2
COOH
H
pH 7 - The two COOH groups are fully deprotonated and carry a - charge
4
8. (5 points) What is FDNB and how is it used in biochemistry?
1-fluoro-2,4-dinitrobenzene or Sanger reagent. Used to identify the N-terminal
amino acid.
9. (5 points) What is Cyanogen Bromide and how is it used in Biochemistry
CNBr, a chemical agent that cleaves the peptide chain on the C side of a
methionine residue, used to cleave a protein into smaller peptides for sequencing
10. (5 points) What is an Edman degradation and how is it used in Biochemistry?
A repetitive way of cleaving amino acids form the N terminal end of a protein or
peptide using phenylisothiosyanate. Used in protein sequencers to determine the
sequence of peptides up to about 50 residues in length.
11. (5 points) What is the Mass Spectrometer and how is it used in Biochemistry?
An instrument that a changes a molecule into an ion, and then determines the
molecules mass by monitoring how that ion moves in a vacuum. Used in Biochemistry
both to determine the molar mass of a protein or DNA, and can also be used to sequence
a protein.