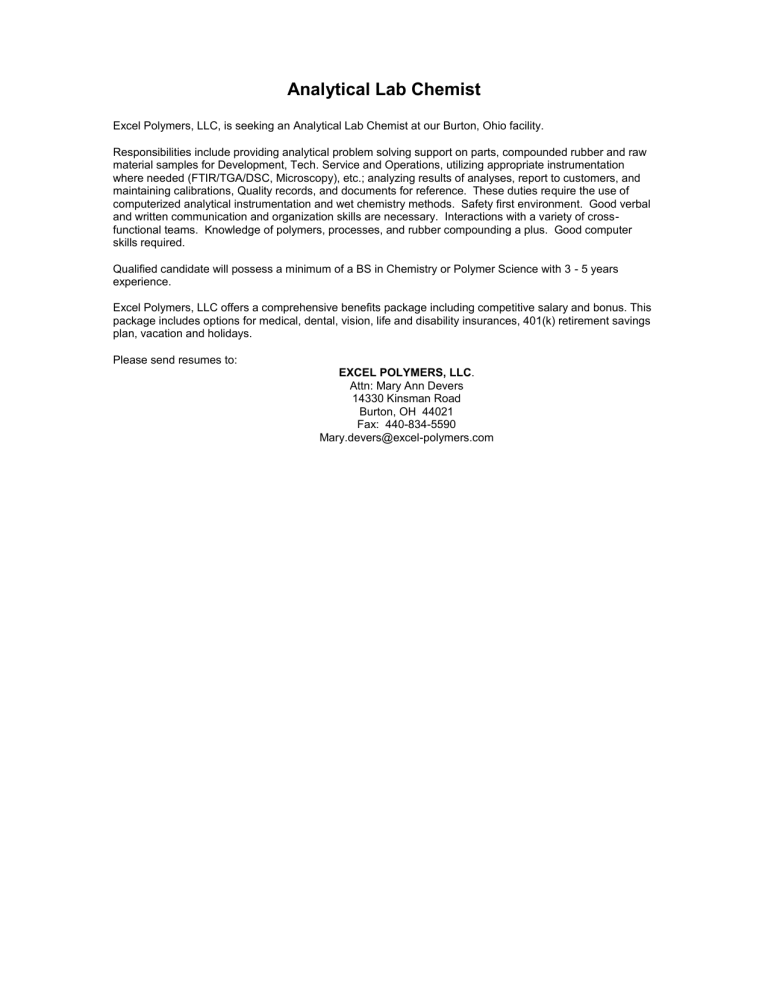 Analytical Lab Chemist
Excel Polymers, LLC, is seeking an Analytical Lab Chemist at our Burton, Ohio facility.
Responsibilities include providing analytical problem solving support on parts, compounded rubber and raw material samples for Development, Tech. Service and Operations, utilizing appropriate instrumentation where needed (FTIR/TGA/DSC, Microscopy), etc.; analyzing results of analyses, report to customers, and maintaining calibrations, Quality records, and documents for reference. These duties require the use of computerized analytical instrumentation and wet chemistry methods. Safety first environment. Good verbal and written communication and organization skills are necessary. Interactions with a variety of crossfunctional teams. Knowledge of polymers, processes, and rubber compounding a plus. Good computer skills required.
Qualified candidate will possess a minimum of a BS in Chemistry or Polymer Science with 3 - 5 years experience.
Excel Polymers, LLC offers a comprehensive benefits package including competitive salary and bonus. This package includes options for medical, dental, vision, life and disability insurances, 401(k) retirement savings plan, vacation and holidays.
Please send resumes to:
EXCEL POLYMERS, LLC .
Attn: Mary Ann Devers
14330 Kinsman Road
Burton, OH 44021
Fax: 440-834-5590
Mary.devers@excel-polymers.com