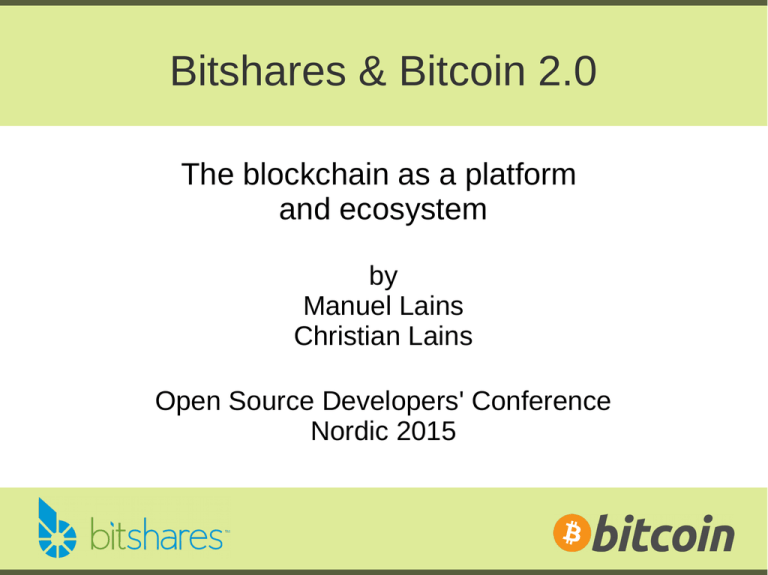 Bitshares & Bitcoin 2.0
The blockchain as a platform
and ecosystem
by
Manuel Lains
Christian Lains
Open Source Developers' Conference
Nordic 2015
Bitcoin and Beyond
Bitcoin & Satoshi's Vision
●
●
●
●
Satoshi Nakamoto (2008): Bitcoin: A Peer-to-Peer
Electronic Cash System
«A purely peer-to-peer version of electronic cash would
allow online payments to be sent directly from one party
to another without going through a financial institution»
«Commerce on the Internet has come to rely [...] on third
parties to process electronic payments»
«What is needed is an electronic payment system based
on cryptographic proof instead of trust allowing any two
willing parties to transact directly with each other»
Bitcoin and
Satoshi Nakamoto
Beyond
Creator of Bitcoin
Bitcoin Facts
●
Open Source code first released in 2009
●
Based on cryptography and P2P communication
●
Solution to Decentralized Consensus Problem
●
Coins created by «mining transactions»
●
Proof-Of-Work
●
Satoshi: 1 CPU, 1 vote
●
Now million dollar ASIC industry
●
2013: 1 exaFLOPS, 8 times faster than top 500
supercomputers. But single-purpose.
Bitcoin Network Hash Rate
Community Creativity
●
Decentralized innovation
●
Namecoin (DNS)
●
Litecoin (Silver)
●
Peercoin (POS)
●
Dogecoin
●
1000's of cryptocurrencies
●
Web-based Coin Generators
The Cryptocurrency Revolution
●
PCs and Internet decentralized computing and
information
●
Cryptocurrencies will decentralize Economy
●
Free communication of value
●
Channel your own resources
●
Liquid Economy
●
Empowering the Individual
●
Transparency & Accountability
Bitcoin 2.0
●
BitShares (DPOS)
●
Ripple / Stellar (Quasi-decentralized)
●
NXT / Horizon (POS)
●
Mastercoin (Bitcoin)
●
Counterparty (Blockchain Agnostic)
●
Ethereum (Turing Complete)
Daniel Larimer's Vision
●
Daniel Larimer, Genesis Post:
«My mission in life is to find free market solutions
to secure life, liberty, and property for all.»
«If I am successful then society as we know it will
operate on an entirely voluntary and therefore
non-violent basis.»
«Governments will not be overthrown; they will
become irrelevant.»
Innovating with a Mission
●
●
Life: Own your identity
–
Extended identity (passport, ID)
–
Sensitive information (medical info, card numbers)
–
Passwords (Google, Facebook)
Property: Own the keys to your property
–
Shares, Assets, Funds
●
Liberty: Transfer value freely without middlemen
●
Empowering the individual to be free and independent
Economic Drive
●
Economic freedom
–
●
●
Freedom to express value
Economic efficiency
–
Value flowing freely
–
Price discovery
–
Channeling of resources
Creation of value
–
Freedom to create value
Creation of Value
●
Decentralized Autonomous Company (DAC)
–
Service
–
Expenses & income
–
Shareholders
●
Slot Machine Analogy
●
Benefits that apply to all DACs
–
Open, fair, secure
–
Fast, easy, programmable
Constraints on building DACs
●
Shareholder influence
●
Economies of scale
●
Cost of decentralization
Delegated Proof of Stake
●
●
●
101 Delegates: Variable by shareholder
approval.
Delegates are selected by shareholder vote
(stake) instead of proof of work (mining)
At any point in time, only one delegate is
producing the current block
●
Transactions processed in 10s or less
●
Can scale to 10,000 tps and beyond
DPOS 2
●
●
DPOS funds itself:
–
Delegates
–
Workers
–
Projects
DPOS is a platform
–
Open source
–
Promotes «clones»
–
Soon: Turing complete
Examples of DPOS DACs
●
BitShares
–
●
KeyID (.p2p)
–
●
Transparent, incorruptible voting
Play
–
●
Decentralized identity, messaging and DNS
FollowMyVote
–
●
Decentralized Exchange
Provably honest gambling
PeerTracks
–
A new way to incentivize musicians
Decentralized Exchange
bitUSD
bitEUR
bitCNY
bitBTC
bitGOLD
bitSILVER
Why do we need exchanges?
●
Buying Cryptocurrency
●
Cashing out to FIAT (USD, NOK, etc)
●
Trading FIAT:Crypto or Crypto:Crypto
●
Crypto:Crypto – Shapeshift.io
●
FIAT represents challenges
Centralized Exchange
Mt.Gox
Order Book
BTC
GoxBTC
GoxUSD
USD
Problems with Centralized
Exchanges
●
Exchange Failures
●
●
Mt. Gox, Mintpal, Bter, Cryptorush
Problems
●
Trust – Fraud and theft of funds
●
Security – Single point of failure
●
Transparency - Accountability, Insider Trading
●
Control – User not in control of funds
Decentralized Exchange
●
Order book/Trading mechanism
●
Gateways
–
●
●
Deposits & Withdrawals
User-Issued Assets
–
IOUs
–
Trusted
BitAssets
–
Assets secured by the blockchain
–
Trustless
Decentralized Exchange
BitShares
BTC
BitEUR
Trusted
Gateway
USD
BitUSD
GoxBTC
GoxUSD
Trusted
Gateway
BitBTC
BitGold
BTC
USD
User-Issued Assets
●
Used by gateways into/out of Exchange
●
Represents FIAT currency or physical asset
●
Subject to Regulation
●
–
Know Your Customer (KYC)
–
Centralized Control by the issuer
Plethora of Potential Usecases
BitAssets
●
Intrinsic assets of the BitShares platform
●
Represents the value of a traditional or physical asset
●
Trustless, secured by the blockchain and DPOS
●
Delegates provide price feeds to the network
●
●
Established by two parties entering into a contract,
locking BitShares (BTS) as collateral.
Margin calls executed based on aggregated Price Feeds
–
Results in high tolerance to price flucuations typically seen in
cryptocurrency markets
BitAsset Creation - Example
Contract
BOB
$2
$1
1 BitUSD
Alice
BitAsset Creation - Example
●
●
●
Bob wants to borrow BTS, to increase his
exposure to the volatility of BitShares, Alice wants
to buy BitUSD to have a stable crypto-value.
They enter into a contract where Bob locks away
200% of what he wants to borrow, Alice locks
away 100% of what she wants to buy, leaving us
with 300% BTS in security.
BitShares autonomously now issues 100% worth
of BitUSD and gives it to Alice.
Benefits of Decentralized Exchange
●
Specific Solutions
●
●
–
Trust (fraud & coercion)
–
Security (theft & failure)
–
Transparency (accountability, insider trading)
–
Identity (privacy)
–
Control (autonomy)
General Improvements
–
Open, fair, secure
–
Fast, easy, programmable
Creating value while
–
Securing life, liberty and property for all
–
Increasing economic freedom and efficiency
User Issued Assets
UIAs: A Powerful Idea
●
Initial Public Offerings (IPOs)
–
Traditional
–
Crowd-fund with equity
●
Gift Cards / Fan Tokens
●
Token-Controlled Access
●
–
Simple Authentication
–
Complex Authentication
Ownership tracking
–
Property
–
Assets
PeerTracks
PeerTracks
●
Front End
–
●
Streaming, Download, Merchandize, ArtistCoin
Back End
–
ArtistCoin/Token
●
●
●
–
BaseBall Card – Token
Token-Controlled Access – VIP pass
Crowd-Fund with Equity – Stock
Portal/GateWay IOU
●
●
Transparent Transactions / Accounting
Programmable functions
Benefits
●
●
●
New Artists
–
Promote Undiscovered Talent
–
Not Screwing over loyal fans (Oculus)
Established Artists
–
Creative Marketing
–
Independence
Users
–
Free Streaming
–
Talent Discovery
–
Transparent Accountability
FollowMyVote
●
Voting on the Blockchain
●
Voter anonymity
●
Follow My Vote
●
Transparent
●
Provably honest
●
Incorruptible
Unlimited Potential
●
KeyID (Identity, Messaging, DNS)
●
BitShares Play (Gaming)
●
Opportunities for entrepreneurs
–
BitShares is open source
●
https://github.com/BitShares/bitshares
–
Forks are actively encouraged
–
Become a delegate today!
About us
●
●
BitSpace
–
Group focused on Bitcoin and Crypto 2.0
–
We are looking for active collaborators
–
Visit us at http://www.bitspace.no
BitGate
–
Norwegian gateway to BitShares
–
Start trading bitGold, bitBTC, bitUSD, UiAs
–
Sign up for updates: http://www.bitgate.no
Questions!