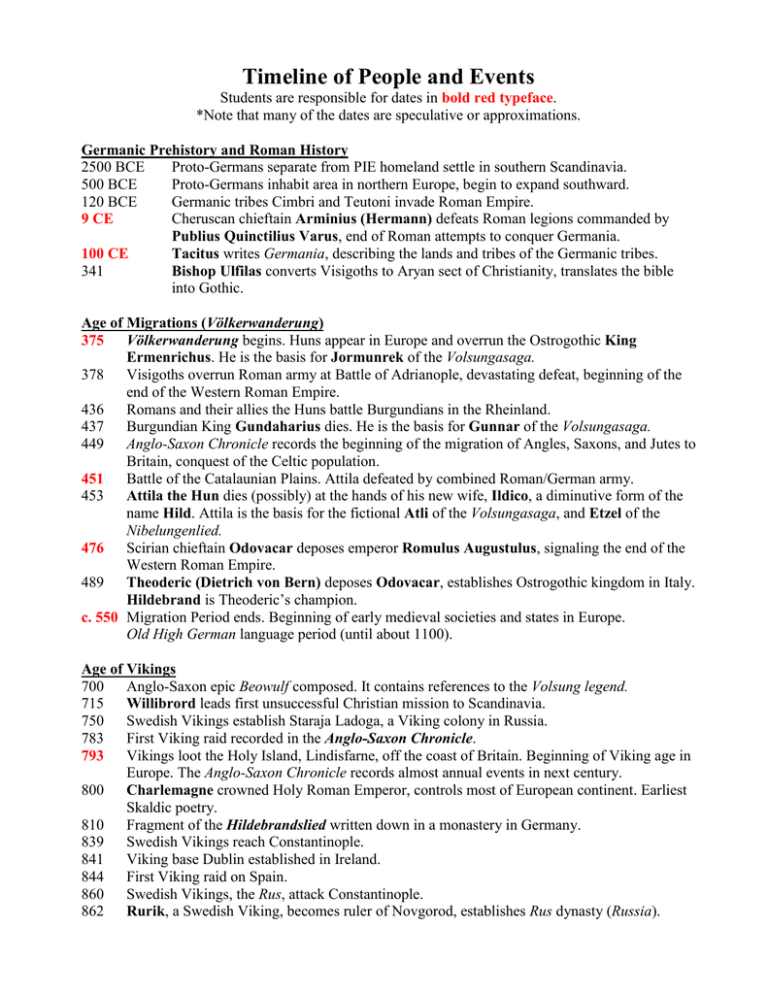 Timeline of People and Events
Students are responsible for dates in bold red typeface.
*Note that many of the dates are speculative or approximations.
Germanic Prehistory and Roman History
2500 BCE
Proto-Germans separate from PIE homeland settle in southern Scandinavia.
500 BCE
Proto-Germans inhabit area in northern Europe, begin to expand southward.
120 BCE
Germanic tribes Cimbri and Teutoni invade Roman Empire.
9 CE
Cheruscan chieftain Arminius (Hermann) defeats Roman legions commanded by
Publius Quinctilius Varus, end of Roman attempts to conquer Germania.
100 CE
Tacitus writes Germania, describing the lands and tribes of the Germanic tribes.
341
Bishop Ulfilas converts Visigoths to Aryan sect of Christianity, translates the bible
into Gothic.
Age of Migrations (Völkerwanderung)
375 Völkerwanderung begins. Huns appear in Europe and overrun the Ostrogothic King
Ermenrichus. He is the basis for Jormunrek of the Volsungasaga.
378 Visigoths overrun Roman army at Battle of Adrianople, devastating defeat, beginning of the
end of the Western Roman Empire.
436 Romans and their allies the Huns battle Burgundians in the Rheinland.
437 Burgundian King Gundaharius dies. He is the basis for Gunnar of the Volsungasaga.
449 Anglo-Saxon Chronicle records the beginning of the migration of Angles, Saxons, and Jutes to
Britain, conquest of the Celtic population.
451 Battle of the Catalaunian Plains. Attila defeated by combined Roman/German army.
453 Attila the Hun dies (possibly) at the hands of his new wife, Ildico, a diminutive form of the
name Hild. Attila is the basis for the fictional Atli of the Volsungasaga, and Etzel of the
Nibelungenlied.
476 Scirian chieftain Odovacar deposes emperor Romulus Augustulus, signaling the end of the
Western Roman Empire.
489 Theoderic (Dietrich von Bern) deposes Odovacar, establishes Ostrogothic kingdom in Italy.
Hildebrand is Theoderic's champion.
c. 550 Migration Period ends. Beginning of early medieval societies and states in Europe.
Old High German language period (until about 1100).
Age of Vikings
700 Anglo-Saxon epic Beowulf composed. It contains references to the Volsung legend.
715 Willibrord leads first unsuccessful Christian mission to Scandinavia.
750 Swedish Vikings establish Staraja Ladoga, a Viking colony in Russia.
783 First Viking raid recorded in the Anglo-Saxon Chronicle.
793 Vikings loot the Holy Island, Lindisfarne, off the coast of Britain. Beginning of Viking age in
Europe. The Anglo-Saxon Chronicle records almost annual events in next century.
800 Charlemagne crowned Holy Roman Emperor, controls most of European continent. Earliest
Skaldic poetry.
810 Fragment of the Hildebrandslied written down in a monastery in Germany.
839 Swedish Vikings reach Constantinople.
841 Viking base Dublin established in Ireland.
844 First Viking raid on Spain.
860 Swedish Vikings, the Rus, attack Constantinople.
862 Rurik, a Swedish Viking, becomes ruler of Novgorod, establishes Rus dynasty (Russia).
862
870
880
900
911
919
930
936
958
960
980
985
988
995
1000
1014
1015
1019
1045
1066
Finns and Slavs invite Rurik and the Rus to rule over them, origin of Russian state.
Vikings begin settlement of Iceland.
Harald Fairhair King of all Norway.
Thjodolf of Hvinir a poet of Harald Fairhair, composes Ynglinga Tal and
Haustlong.
Rollo (Hrolf Gangr) founds Normandy (land of the Norsemen), a Viking settlement in
northern France.
Heinrich the Falconer elected first King of Germany, beginning of medieval German
state.
Althing established on Iceland, beginning of the Icelandic Republic.
Erik Bloodaxe King of Norway.
Hakon the Good King of Norway.
Harald Bluetooth King of Denmark, converts Denmark to Christianity in 965.
Harald Greycloak King of Norway.
Varangian guard (consisting only by Scandinavians) formed at Constantinople.
Eirik the Red sails from Iceland with a group of settlers headed to Greenland.
Vladimir of Kiev converts to Christianity, Russia becomes independent Slavic state.
Olaf Tryggvason king of Norway.
Conversion of Iceland to Christianity.
Leif Erikson winters in Vinland.
Runestone (Ramsund carving) in Sweden depicts Sigurd roasting Fafnir's heart.
Irish King Brian Boru defeats Norse in battle of Clontarf (mentioned in Njal's Saga).
Olaf Haraldson (St. Olaf) king of Norway.
Cnut the Great King of Denmark and England.
Harald Hardrada becomes king of Norway.
Harold Hardrada killed at Battle of Stamford Bridge in England.
William the Conquerer, great-great-great-grandson of Rollo, conquers England.
End of the Viking Age.
Medieval History of German and Norse Lands
1100
Middle High German language period (to about 1400)
1075
Adam of Bremen writes Gesta Hammaburgensis Ecclesiae Pontificum which includes
description of heathen Norse rituals at Uppsala.
1080
Pagan ceremonies at Uppsala, Sweden come to an end.
1125
Icelandic Landnamabok (Book of Settlement) written, chronicles the Age of
Settlement in Iceland.
1185
Danish History of Saxo Grammaticus written, containing descriptions of Norse
myths.
1200
Oldest Icelandic family sagas written down.
1210
Nibelungenlied composed by unknown poet in Southern Germany or Austria.
1220
Prose Edda of Snorri Sturluson composed.
1260
Volsunga Saga composed by unknown poet in Iceland. The only manuscript still in
existence dates from c. 1400.
1270
Codex Regius manuscript of the Elder Edda written down, containing older Norse
myths and many of the poetic lays which form the basis for the prose Volsunga Saga.
1261
Greenland comes under Norwegian rule.
1262
Iceland comes under Norwegian rule, end of the Republic.
1271
End of the Rus dynasty in Russia.
1280
Vinland sagas (Eirik the Red's Saga and Saga of the Greenlanders) written down.
1300
1300-1350
1375
Njal's Saga composed.
Approximate dates for the legendary Till Eulenspiegel (if such a person ever existed).
Western Settlement in Greenland abandoned.
Early Modern Period
1450
Gutenberg invents the printing press with movable type.
1480
Last Norse colony in Greenland (Eastern Settlement) abandoned or extinguished.
1480-1540
Approximate dates for the historical Johann Faust in Germany.
1510
Hermann Bote composes Till Eulenspiegel.
1587
Johann Spies publishes the Volksbuch, Historia von D. Johann Fausten in Germany.
1592
P.F., Gent. publishes History of the Damnable Life and Deserved Death of Dr. Faust
in England (English Faust Book).
1593
Christopher Marlowe writes Tragicall History of Life and Death of Dr. Faustus
(first published after Marlowe's death in 1604).
Enlightenment Period
1697
Charles Perrault's Mother Goose Tales published in France.
1759
Gotthold Ephraim Lessing writes the first version of Faust in which the doctor is
saved.
1782
The Nibelungenlied is reprinted in Germany; beginning of the rediscovery of
medieval literature in Germany and reception of Germanic epic by a modern audience.
Romantic Age and 19th Century
1808
Johann Goethe publishes Faust, The Tragedy Part I.
1812-1814
Jacob and Wilhelm Grimm publish Children's and Household Tales (Kinder- und
Hausmärchen)
1835-54
Jacob Grimm publishes the first detailed studies of Germanic mythology.
1833
Publication of Faust, The Tragedy Part II, one year after Goethe's death.
1835
Hans Christian Anderson publishes Fairy Tales Told for Children.
1845
Norwegian Folk Tales published by Asbjörnsen and Moe.
1852-1960
Grimm brothers work on Historical Dictionary of the German Language, finally
completed by later scholars in the twentieth century.
1848-1874
Richard Wagner works on the four Operas comprising The Ring Cycle.
1876
Bayreuth Festspielhaus opens with a production of the entire Ring Cycle by Wagner.
1888
William Morris publishes The House of the Wolfings, a seminal fantasy story set in
Iron Age Europe which provides a reconstructed portrait of the lives of Germanicspeaking Gothic tribes.
Twentieth Century and Contemporary Era
1937
Walt Disney releases Snow White and the Seven Dwarfs, first full-length animated
feature film based on a fairy tale.
1954-55
J.R.R. Tolkien publishes The Lord of the Rings, the most important work of fantasy
literature in the twentieth century.
1960
Helge Ingstad and Anna Stine discover Norse settlements at L'anse aux Meadows in
Newfoundland.
2001-2003
Peter Jackson films Oscar-Winning Trilogy The Lord of the Rings.