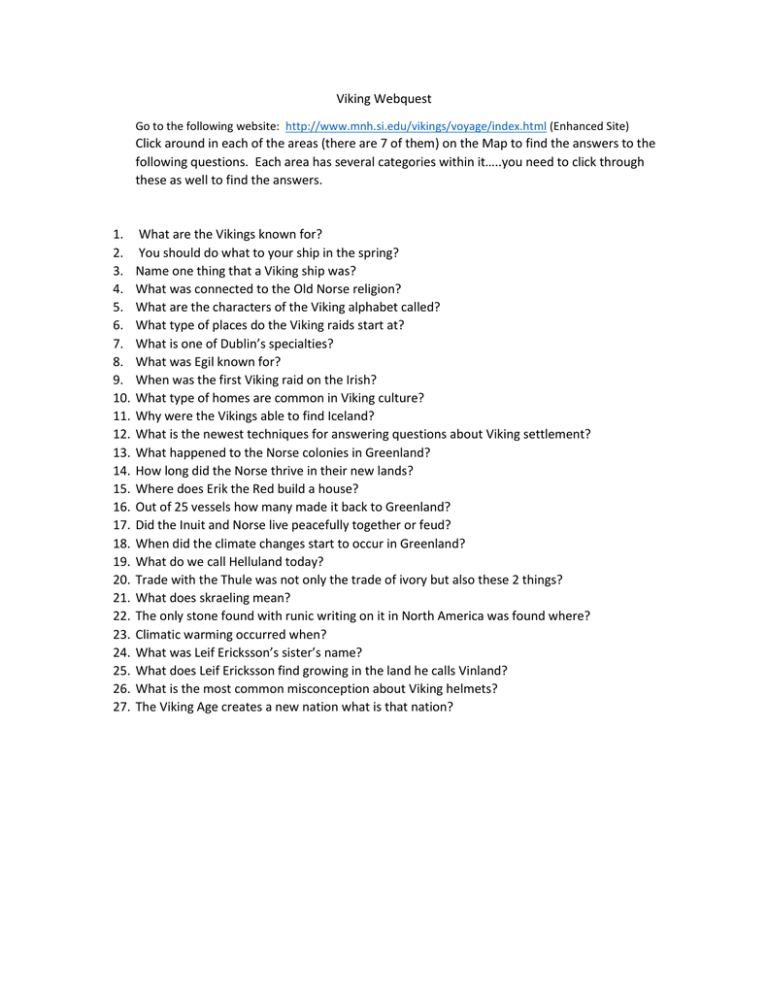 Viking Webquest
Go to the following website: http://www.mnh.si.edu/vikings/voyage/index.html (Enhanced Site)
Click around in each of the areas (there are 7 of them) on the Map to find the answers to the
following questions. Each area has several categories within it…..you need to click through
these as well to find the answers.
1.
2.
3.
4.
5.
6.
7.
8.
9.
10.
11.
12.
13.
14.
15.
16.
17.
18.
19.
20.
21.
22.
23.
24.
25.
26.
27.
What are the Vikings known for?
You should do what to your ship in the spring?
Name one thing that a Viking ship was?
What was connected to the Old Norse religion?
What are the characters of the Viking alphabet called?
What type of places do the Viking raids start at?
What is one of Dublin's specialties?
What was Egil known for?
When was the first Viking raid on the Irish?
What type of homes are common in Viking culture?
Why were the Vikings able to find Iceland?
What is the newest techniques for answering questions about Viking settlement?
What happened to the Norse colonies in Greenland?
How long did the Norse thrive in their new lands?
Where does Erik the Red build a house?
Out of 25 vessels how many made it back to Greenland?
Did the Inuit and Norse live peacefully together or feud?
When did the climate changes start to occur in Greenland?
What do we call Helluland today?
Trade with the Thule was not only the trade of ivory but also these 2 things?
What does skraeling mean?
The only stone found with runic writing on it in North America was found where?
Climatic warming occurred when?
What was Leif Ericksson's sister's name?
What does Leif Ericksson find growing in the land he calls Vinland?
What is the most common misconception about Viking helmets?
The Viking Age creates a new nation what is that nation?