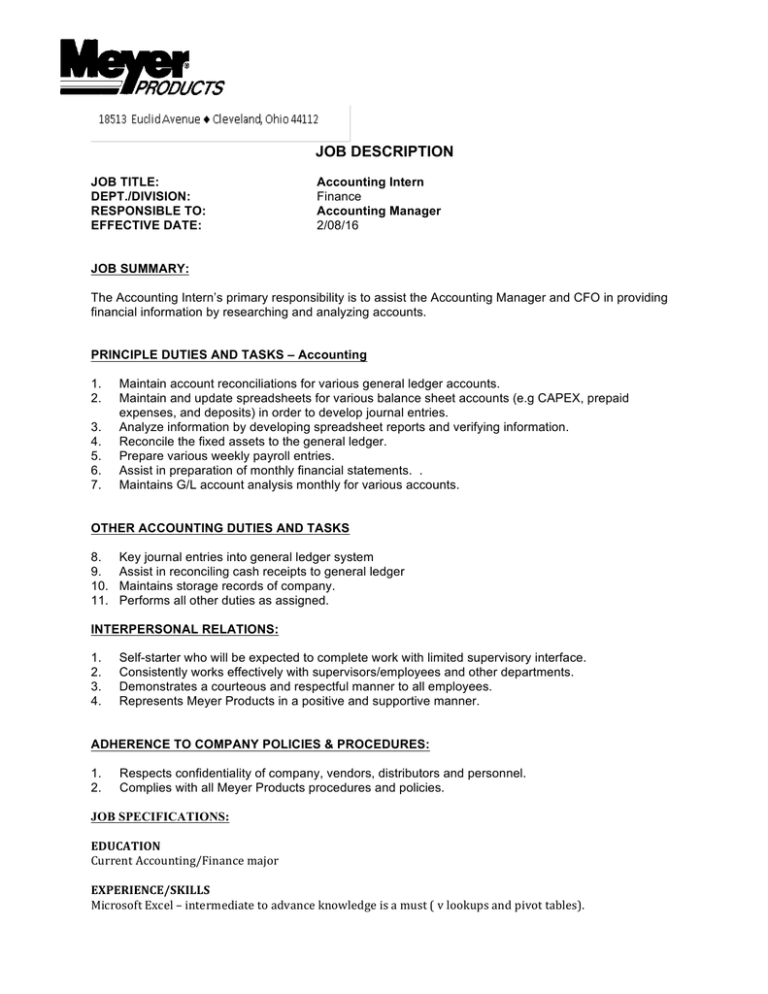 JOB DESCRIPTION
JOB TITLE:
DEPT./DIVISION:
RESPONSIBLE TO:
EFFECTIVE DATE:
Accounting Intern
Finance
Accounting Manager
2/08/16
JOB SUMMARY:
The Accounting Intern's primary responsibility is to assist the Accounting Manager and CFO in providing
financial information by researching and analyzing accounts.
PRINCIPLE DUTIES AND TASKS – Accounting
1.
2.
3.
4.
5.
6.
7.
Maintain account reconciliations for various general ledger accounts.
Maintain and update spreadsheets for various balance sheet accounts (e.g CAPEX, prepaid
expenses, and deposits) in order to develop journal entries.
Analyze information by developing spreadsheet reports and verifying information.
Reconcile the fixed assets to the general ledger.
Prepare various weekly payroll entries.
Assist in preparation of monthly financial statements. .
Maintains G/L account analysis monthly for various accounts.
OTHER ACCOUNTING DUTIES AND TASKS
8.
9.
10.
11.
Key journal entries into general ledger system
Assist in reconciling cash receipts to general ledger
Maintains storage records of company.
Performs all other duties as assigned.
INTERPERSONAL RELATIONS:
1.
2.
3.
4.
Self-starter who will be expected to complete work with limited supervisory interface.
Consistently works effectively with supervisors/employees and other departments.
Demonstrates a courteous and respectful manner to all employees.
Represents Meyer Products in a positive and supportive manner.
ADHERENCE TO COMPANY POLICIES & PROCEDURES:
1.
2.
Respects confidentiality of company, vendors, distributors and personnel.
Complies with all Meyer Products procedures and policies.
JOB SPECIFICATIONS:
EDUCATION
CurrentAccounting/Financemajor
EXPERIENCE/SKILLS
MicrosoftExcel–intermediatetoadvanceknowledgeisamust(vlookupsandpivottables).