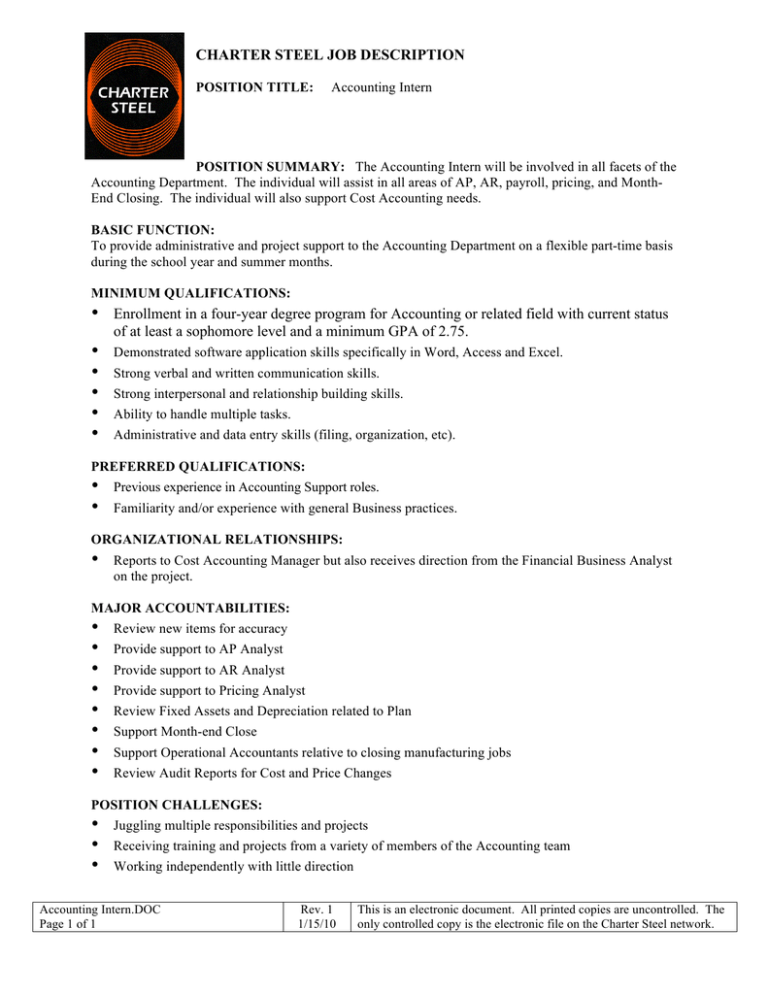 CHARTER STEEL JOB DESCRIPTION
POSITION TITLE:
Accounting Intern
POSITION SUMMARY: The Accounting Intern will be involved in all facets of the
Accounting Department. The individual will assist in all areas of AP, AR, payroll, pricing, and MonthEnd Closing. The individual will also support Cost Accounting needs.
BASIC FUNCTION:
To provide administrative and project support to the Accounting Department on a flexible part-time basis
during the school year and summer months.
MINIMUM QUALIFICATIONS:
• Enrollment in a four-year degree program for Accounting or related field with current status
of at least a sophomore level and a minimum GPA of 2.75.
•
•
•
•
•
Demonstrated software application skills specifically in Word, Access and Excel.
Strong verbal and written communication skills.
Strong interpersonal and relationship building skills.
Ability to handle multiple tasks.
Administrative and data entry skills (filing, organization, etc).
PREFERRED QUALIFICATIONS:
•
•
Previous experience in Accounting Support roles.
Familiarity and/or experience with general Business practices.
ORGANIZATIONAL RELATIONSHIPS:
•
Reports to Cost Accounting Manager but also receives direction from the Financial Business Analyst
on the project.
MAJOR ACCOUNTABILITIES:
•
•
•
•
•
•
•
•
Review new items for accuracy
Provide support to AP Analyst
Provide support to AR Analyst
Provide support to Pricing Analyst
Review Fixed Assets and Depreciation related to Plan
Support Month-end Close
Support Operational Accountants relative to closing manufacturing jobs
Review Audit Reports for Cost and Price Changes
POSITION CHALLENGES:
•
•
•
Juggling multiple responsibilities and projects
Receiving training and projects from a variety of members of the Accounting team
Working independently with little direction
Accounting Intern.DOC
Page 1 of 1
Rev. 1
1/15/10
This is an electronic document. All printed copies are uncontrolled. The
only controlled copy is the electronic file on the Charter Steel network.