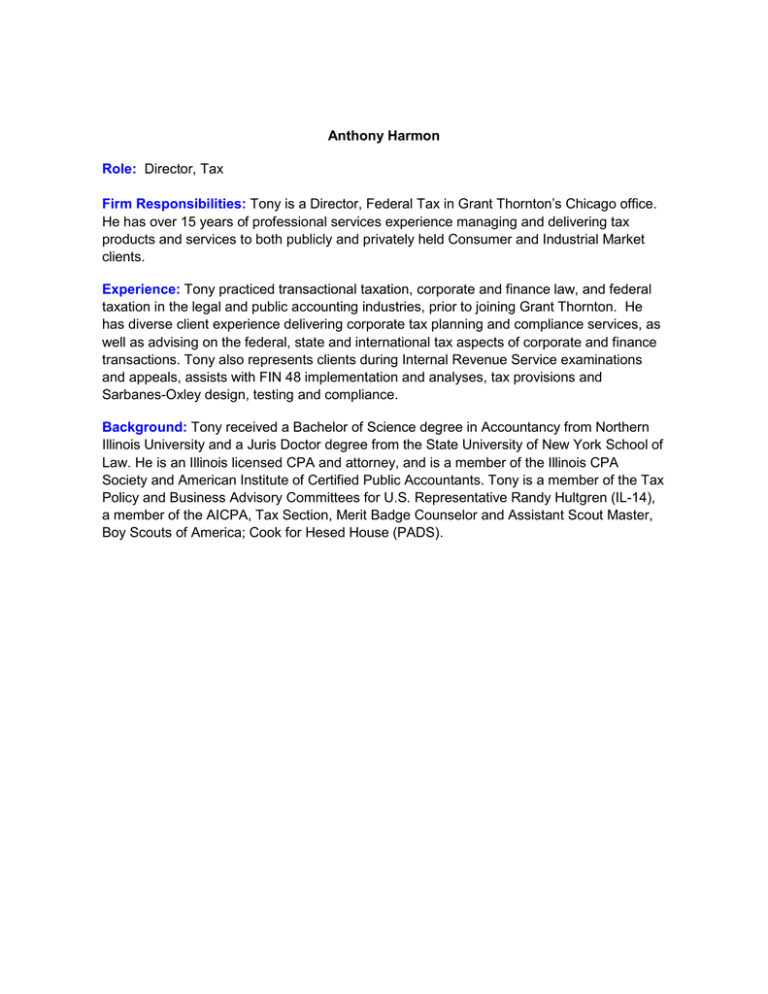 Anthony Harmon
Role: Director, Tax
Firm Responsibilities: Tony is a Director, Federal Tax in Grant Thornton's Chicago office.
He has over 15 years of professional services experience managing and delivering tax
products and services to both publicly and privately held Consumer and Industrial Market
clients.
Experience: Tony practiced transactional taxation, corporate and finance law, and federal
taxation in the legal and public accounting industries, prior to joining Grant Thornton. He
has diverse client experience delivering corporate tax planning and compliance services, as
well as advising on the federal, state and international tax aspects of corporate and finance
transactions. Tony also represents clients during Internal Revenue Service examinations
and appeals, assists with FIN 48 implementation and analyses, tax provisions and
Sarbanes-Oxley design, testing and compliance.
Background: Tony received a Bachelor of Science degree in Accountancy from Northern
Illinois University and a Juris Doctor degree from the State University of New York School of
Law. He is an Illinois licensed CPA and attorney, and is a member of the Illinois CPA
Society and American Institute of Certified Public Accountants. Tony is a member of the Tax
Policy and Business Advisory Committees for U.S. Representative Randy Hultgren (IL-14),
a member of the AICPA, Tax Section, Merit Badge Counselor and Assistant Scout Master,
Boy Scouts of America; Cook for Hesed House (PADS).