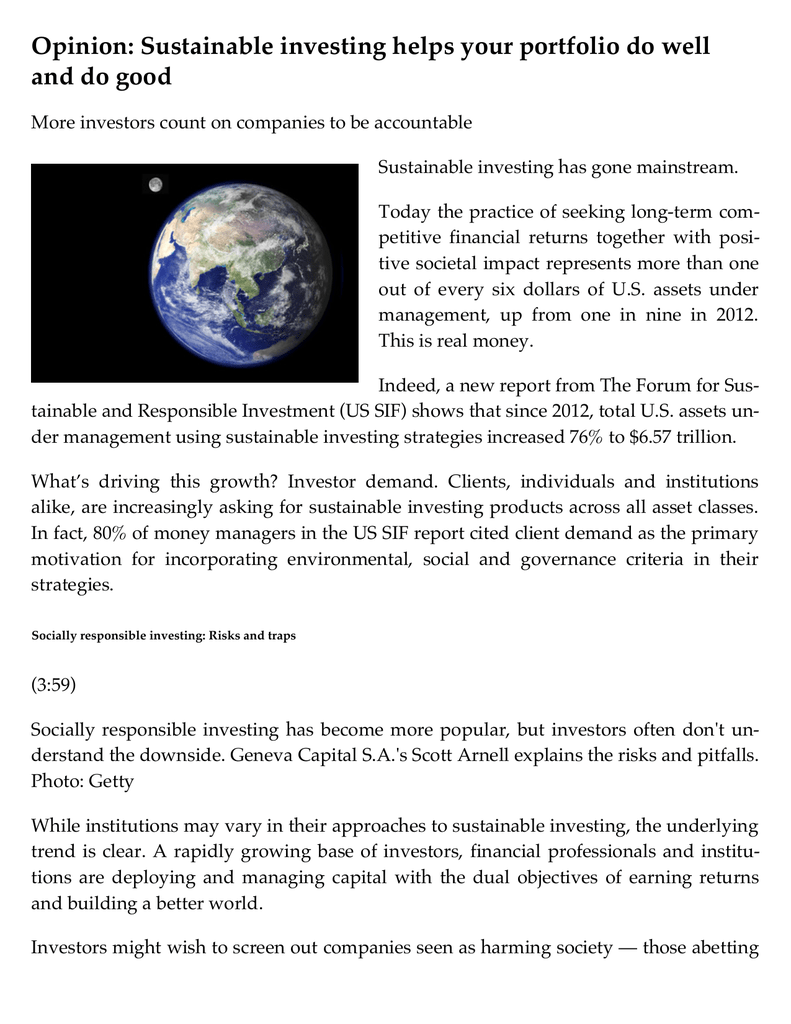 Opinion: Sustainable investing helps your portfolio do well
and do good
More investors count on companies to be accountable
Sustainable investing has gone mainstream.
Today the practice of seeking long-term competitive financial returns together with positive societal impact represents more than one
out of every six dollars of U.S. assets under
management, up from one in nine in 2012.
This is real money.
Indeed, a new report from The Forum for Sustainable and Responsible Investment (US SIF) shows that since 2012, total U.S. assets under management using sustainable investing strategies increased 76% to $6.57 trillion.
What's driving this growth? Investor demand. Clients, individuals and institutions
alike, are increasingly asking for sustainable investing products across all asset classes.
In fact, 80% of money managers in the US SIF report cited client demand as the primary
motivation for incorporating environmental, social and governance criteria in their
strategies.
Socially responsible investing: Risks and traps
(3:59)
Socially responsible investing has become more popular, but investors often don't understand the downside. Geneva Capital S.A.'s Scott Arnell explains the risks and pitfalls.
Photo: Getty
While institutions may vary in their approaches to sustainable investing, the underlying
trend is clear. A rapidly growing base of investors, financial professionals and institutions are deploying and managing capital with the dual objectives of earning returns
and building a better world.
Investors might wish to screen out companies seen as harming society — those abetting
repressive or terrorist regimes or human trafficking, for example — or actively choose
companies viewed as having positive impacts such as the advancement of clean, renewable energy or positive employment practices. Different investors have different
objectives, but the cumulative effect is substantial.
This demand is only likely to accelerate. According to the Center on Wealth and Philanthropy at Boston College, younger generations in the U.S., including millennials, stand
to inherit $36 trillion over the next 45 years. From what we know about them, millennials are far more likely to seek investments that combine solid financial returns with social and environmental benefits. The World Business Council for Sustainable Investment
says sustainable investing opportunities generated by this transfer of wealth could total
$10 trillion, or 4.5% of world GDP, by 2050.
Ultra-high-net-worth investors are also beginning to shift their investment mix, realizing that they can harmonize their philanthropic goals with their investment philosophy.
Similarly, large public foundations, leading university endowments, state and local
pensions, and a growing number of corporations are adjusting their strategies to avoid
investments that could conflict with their missions or goals.
This trend is indicative of a broad shift in how people and institutions are investing
their capital. Sustainable investing can be a smart way to invest. And today's sustainable investors do not expect to compromise financial return for positive environmental
and social impact.
Sustainability requires companies and investors to think long term. As noted in the US
SIF report, sustainable investing promotes stronger corporate governance, builds longterm value for companies and their stakeholders, and fosters businesses and innovations that have positive benefits for society.
While great strides have been made in broadening the use of sustainable investing
strategies, the work is far from finished. The ability to access and analyze high-quality
non-financial data is invaluable for sustainable investing strategies to expand their
reach. Companies and investors must continue to work together to increase transparency and disclosure that will enable the development of effective investing tools and
solutions.
Making it easier and more appealing to access such investment opportunities helps to
compound their impact. Companies that hold themselves to high ethical and environ-
mental standards will benefit the most from the popularity of sustainable investing, raising the bar for companies in general to improve their business practices. And that's
good for all of us.
Audrey Choi is CEO of the Morgan Stanley Institute for Sustainable Investing.