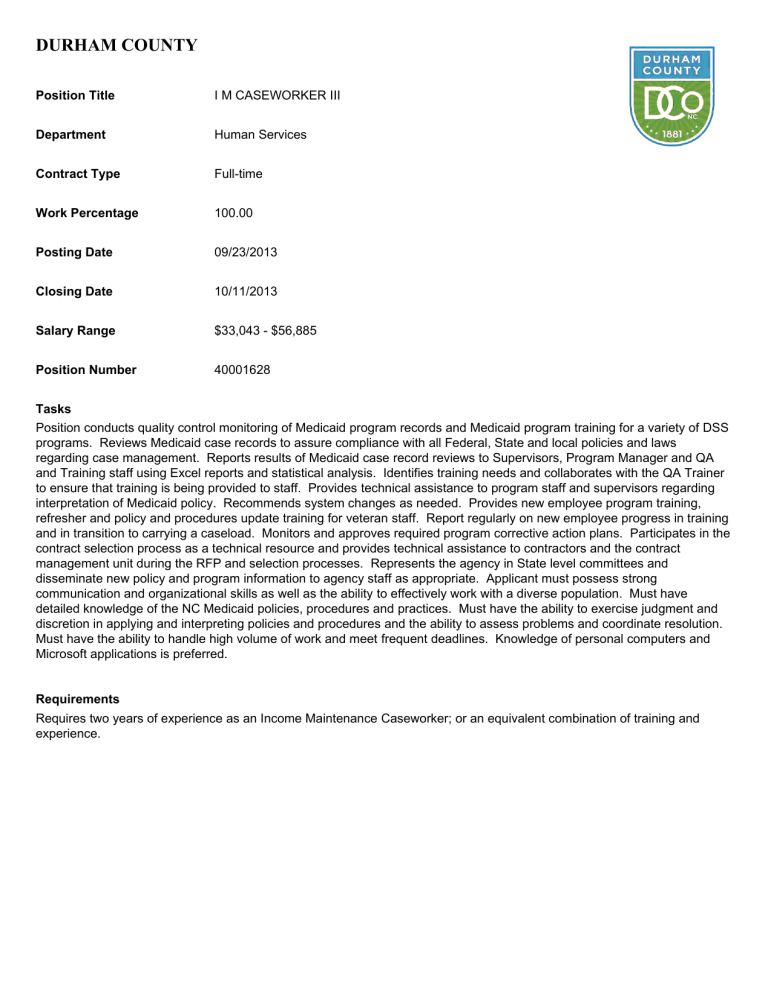 DURHAM COUNTY
Position Title
Department
Contract Type
Work Percentage
Posting Date
Closing Date
I M CASEWORKER III
Human Services
Full-time
100.00
09/23/2013
10/11/2013
Salary Range
Position Number
$33,043 - $56,885
40001628
Tasks
Position conducts quality control monitoring of Medicaid program records and Medicaid program training for a variety of DSS programs. Reviews Medicaid case records to assure compliance with all Federal, State and local policies and laws regarding case management. Reports results of Medicaid case record reviews to Supervisors, Program Manager and QA and Training staff using Excel reports and statistical analysis. Identifies training needs and collaborates with the QA Trainer to ensure that training is being provided to staff. Provides technical assistance to program staff and supervisors regarding interpretation of Medicaid policy. Recommends system changes as needed. Provides new employee program training, refresher and policy and procedures update training for veteran staff. Report regularly on new employee progress in training and in transition to carrying a caseload. Monitors and approves required program corrective action plans. Participates in the contract selection process as a technical resource and provides technical assistance to contractors and the contract management unit during the RFP and selection processes. Represents the agency in State level committees and disseminate new policy and program information to agency staff as appropriate. Applicant must possess strong communication and organizational skills as well as the ability to effectively work with a diverse population. Must have detailed knowledge of the NC Medicaid policies, procedures and practices. Must have the ability to exercise judgment and discretion in applying and interpreting policies and procedures and the ability to assess problems and coordinate resolution.
Must have the ability to handle high volume of work and meet frequent deadlines. Knowledge of personal computers and
Microsoft applications is preferred.
Requirements
Requires two years of experience as an Income Maintenance Caseworker; or an equivalent combination of training and experience.