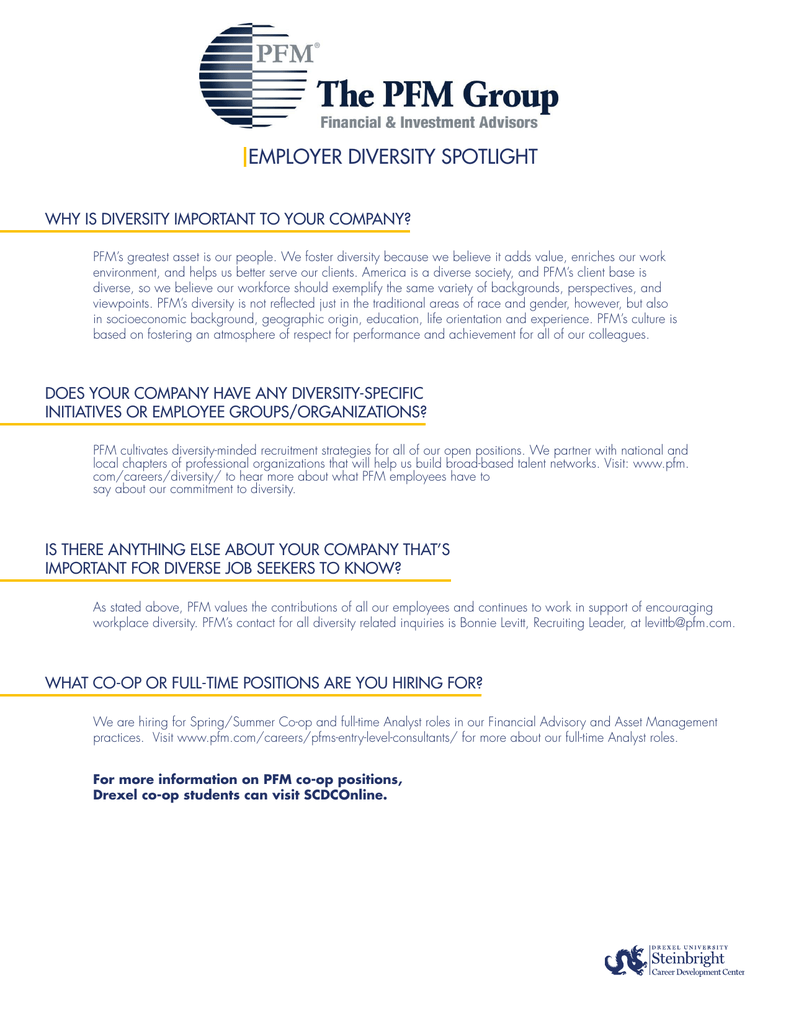 EMPLOYER DIVERSITY SPOTLIGHT
WHY IS DIVERSITY IMPORTANT TO YOUR COMPANY?
PFM's greatest asset is our people. We foster diversity because we believe it adds value, enriches our work
environment, and helps us better serve our clients. America is a diverse society, and PFM's client base is
diverse, so we believe our workforce should exemplify the same variety of backgrounds, perspectives, and
viewpoints. PFM's diversity is not reflected just in the traditional areas of race and gender, however, but also
in socioeconomic background, geographic origin, education, life orientation and experience. PFM's culture is
based on fostering an atmosphere of respect for performance and achievement for all of our colleagues.
DOES YOUR COMPANY HAVE ANY DIVERSITY-SPECIFIC
INITIATIVES OR EMPLOYEE GROUPS/ORGANIZATIONS?
PFM cultivates diversity-minded recruitment strategies for all of our open positions. We partner with national and
local chapters of professional organizations that will help us build broad-based talent networks. Visit: www.pfm.
com/careers/diversity/ to hear more about what PFM employees have to
say about our commitment to diversity.
IS THERE ANYTHING ELSE ABOUT YOUR COMPANY THAT'S
IMPORTANT FOR DIVERSE JOB SEEKERS TO KNOW?
As stated above, PFM values the contributions of all our employees and continues to work in support of encouraging
workplace diversity. PFM's contact for all diversity related inquiries is Bonnie Levitt, Recruiting Leader, at [email protected]
WHAT CO-OP OR FULL-TIME POSITIONS ARE YOU HIRING FOR?
We are hiring for Spring/Summer Co-op and full-time Analyst roles in our Financial Advisory and Asset Management
practices. Visit www.pfm.com/careers/pfms-entry-level-consultants/ for more about our full-time Analyst roles.
For more information on PFM co-op positions,
Drexel co-op students can visit SCDCOnline.