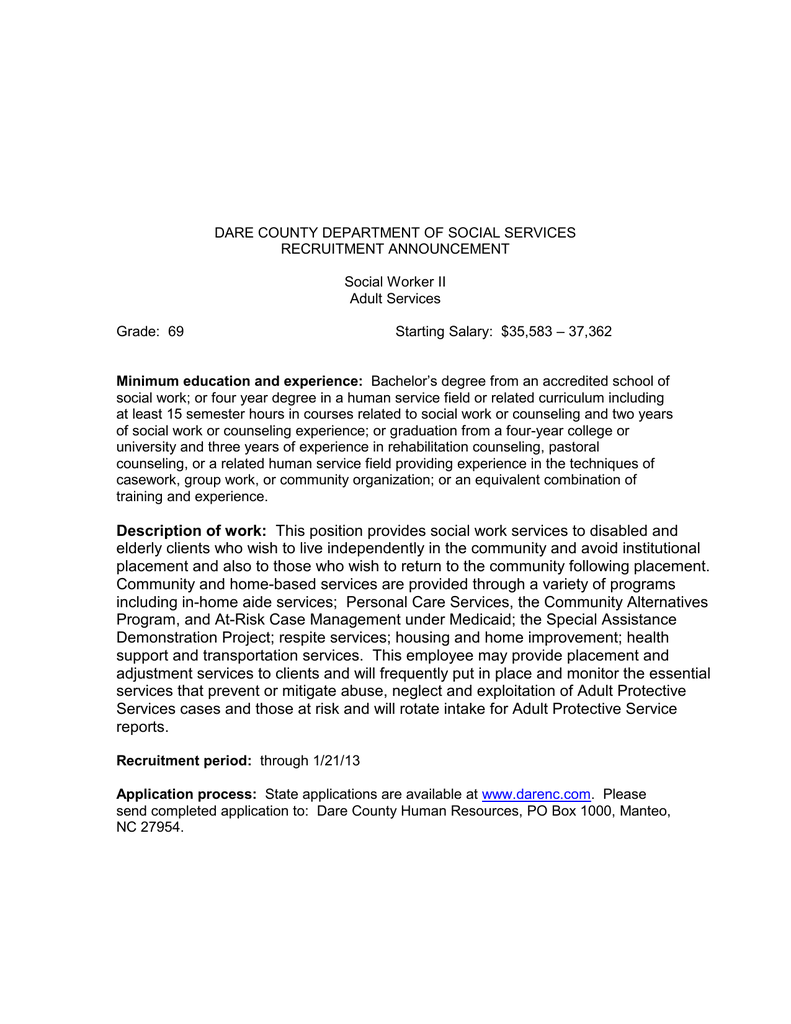 DARE COUNTY DEPARTMENT OF SOCIAL SERVICES
RECRUITMENT ANNOUNCEMENT
Social Worker II
Adult Services
Grade: 69
Starting Salary: $35,583 – 37,362
Minimum education and experience: Bachelor's degree from an accredited school of
social work; or four year degree in a human service field or related curriculum including
at least 15 semester hours in courses related to social work or counseling and two years
of social work or counseling experience; or graduation from a four-year college or
university and three years of experience in rehabilitation counseling, pastoral
counseling, or a related human service field providing experience in the techniques of
casework, group work, or community organization; or an equivalent combination of
training and experience.
Description of work: This position provides social work services to disabled and
elderly clients who wish to live independently in the community and avoid institutional
placement and also to those who wish to return to the community following placement.
Community and home-based services are provided through a variety of programs
including in-home aide services; Personal Care Services, the Community Alternatives
Program, and At-Risk Case Management under Medicaid; the Special Assistance
Demonstration Project; respite services; housing and home improvement; health
support and transportation services. This employee may provide placement and
adjustment services to clients and will frequently put in place and monitor the essential
services that prevent or mitigate abuse, neglect and exploitation of Adult Protective
Services cases and those at risk and will rotate intake for Adult Protective Service
reports.
Recruitment period: through 1/21/13
Application process: State applications are available at www.darenc.com. Please
send completed application to: Dare County Human Resources, PO Box 1000, Manteo,
NC 27954.