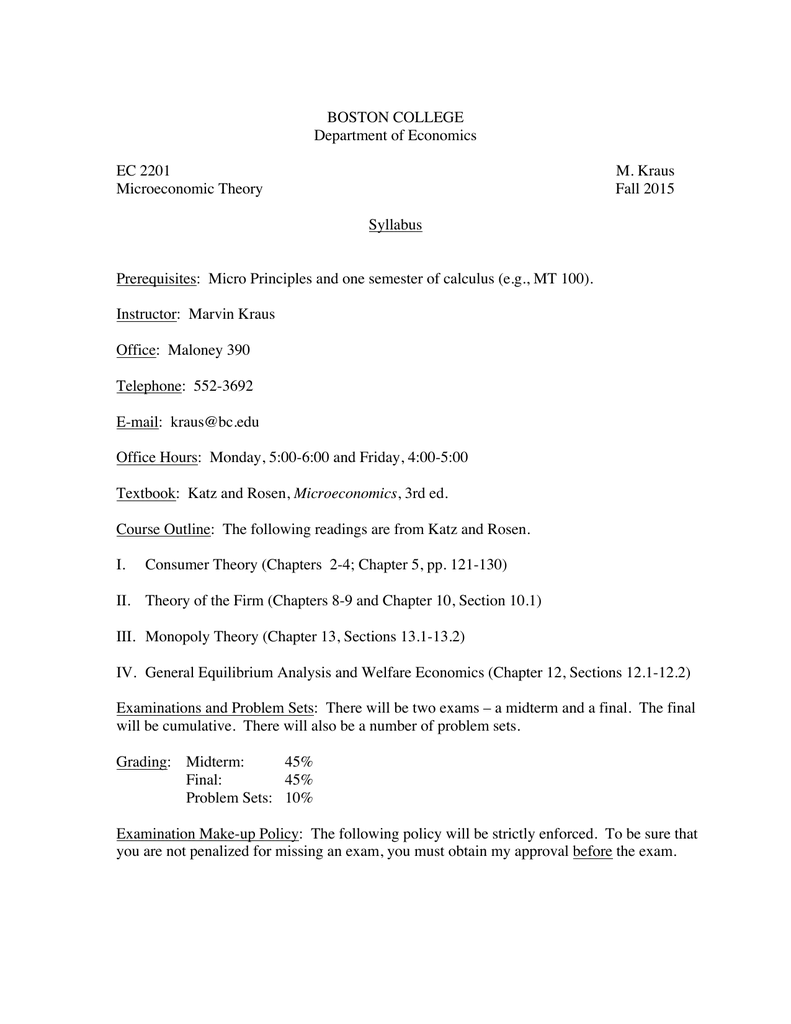 BOSTON COLLEGE
Department of Economics
EC 2201
Microeconomic Theory
M. Kraus
Fall 2015
Syllabus
Prerequisites: Micro Principles and one semester of calculus (e.g., MT 100).
Instructor: Marvin Kraus
Office: Maloney 390
Telephone: 552-3692
E-mail: [email protected]
Office Hours: Monday, 5:00-6:00 and Friday, 4:00-5:00
Textbook: Katz and Rosen, Microeconomics, 3rd ed.
Course Outline: The following readings are from Katz and Rosen.
I.
Consumer Theory (Chapters 2-4; Chapter 5, pp. 121-130)
II. Theory of the Firm (Chapters 8-9 and Chapter 10, Section 10.1)
III. Monopoly Theory (Chapter 13, Sections 13.1-13.2)
IV. General Equilibrium Analysis and Welfare Economics (Chapter 12, Sections 12.1-12.2)
Examinations and Problem Sets: There will be two exams – a midterm and a final. The final
will be cumulative. There will also be a number of problem sets.
Grading: Midterm:
45%
Final:
45%
Problem Sets: 10%
Examination Make-up Policy: The following policy will be strictly enforced. To be sure that
you are not penalized for missing an exam, you must obtain my approval before the exam.