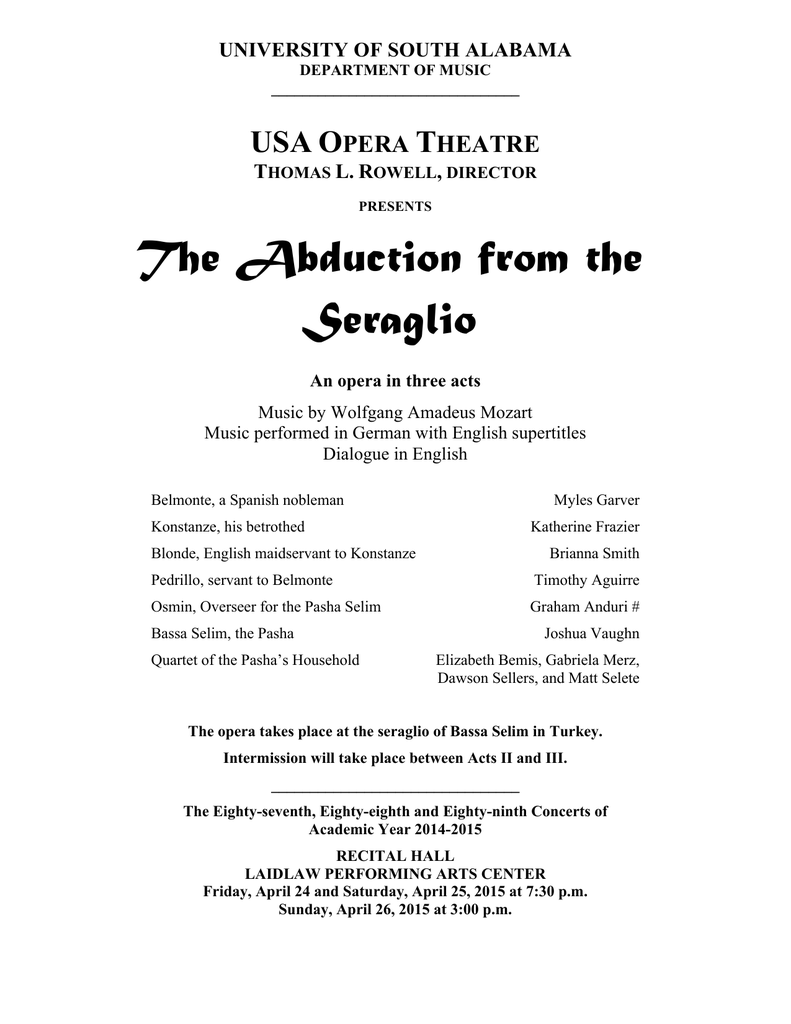 UNIVERSITY OF SOUTH ALABAMA
DEPARTMENT OF MUSIC
________________________________
USA OPERA THEATRE
THOMAS L. ROWELL, DIRECTOR
PRESENTS
The Abduction from the
Seraglio
An opera in three acts
Music by Wolfgang Amadeus Mozart
Music performed in German with English supertitles
Dialogue in English
Belmonte, a Spanish nobleman
Myles Garver
Konstanze, his betrothed
Katherine Frazier
Blonde, English maidservant to Konstanze
Brianna Smith
Pedrillo, servant to Belmonte
Timothy Aguirre
Osmin, Overseer for the Pasha Selim
Graham Anduri #
Bassa Selim, the Pasha
Quartet of the Pasha's Household
Joshua Vaughn
Elizabeth Bemis, Gabriela Merz,
Dawson Sellers, and Matt Selete
The opera takes place at the seraglio of Bassa Selim in Turkey.
Intermission will take place between Acts II and III.
________________________________
The Eighty-seventh, Eighty-eighth and Eighty-ninth Concerts of
Academic Year 2014-2015
RECITAL HALL
LAIDLAW PERFORMING ARTS CENTER
Friday, April 24 and Saturday, April 25, 2015 at 7:30 p.m.
Sunday, April 26, 2015 at 3:00 p.m.
USA Opera Theatre Chorus
Elizabeth Bemis
Shanarrous Briggins-Pollard
Cassidy Dangler
Myler Dobbins
Payton Brooke Fulford
Gabriela Merz
Sarah Pace
TJ Rickey
James Cleveland Rogers
Matt Selete
Dawson Sellers
Colby Smith
Conner Williams
University of South Alabama Opera Orchestra
Robert J. Seebacher, conductor
Flute/Piccolo
Timpani/Percussion
Nicole Carrion *
Ivan Merriweather
Ian Jones *
Luke Smith
Soren Odom
Jessica Foster
Oboe
Kaitlyn Poiroux *
Todd Stehr
Clarinet
Alexys Bush *
Alyssa Weiskopf
Bassoon
Jake Cannon *
Charlie Young
Horn
Morgan Wilkins *
Dustin Miller
Trumpet
Shawn Wright *
Nathan Shadix
Violin I
Rebecca Mitchell, concertmaster
Gosia Leska #
Elizabeth French #
Hannah Dunnam #
Violin II
Barbara Flechsenhar *#
Victoria Bishop
Daven Ervin
Viola
Jim Lichtenberger *#
Cello
Tobin Nelson *
Justin Way #
Bass
Rodik Newsome *
Lance Wilkerson
* denotes principal
# denotes guest artist
Production Personnel
Director
Thomas L. Rowell
Musical Director/Conductor
Robert J. Seebacher
Rehearsal Accompanist
Stage Management
Jasmin Arakawa
Joshua Vaughn and Dawson Sellers
Costumes
Adrian Vaughn
Wigs/Makeup
Adrian Vaughn
Set Design
Set Construction
Thomas L. Rowell
USA Opera Theatre Students
Supertitles
Jennifer Bemis
USA Opera Theatre wishes to thank the following persons and
organizations whose vital support made this production possible:
Andrzej Wierzbicki
Greg Gruner
Tamara Ikenberg, AL.com
Will Petersen
Peggy Doyle
Allison Harris
Keith Bohnet
Janet Lambard
Lyle Miller
Joe Sands
Rebecca Britton
Mobile Opera
John Hancock and USA Maintenance
Anonymous Donor
Artist Profile: Graham Anduri
Husband, father, and baritone Dr. Graham Anduri is
currently on the voice faculty at the University of Mobile
and at William Carey University where he teaches private
voice and directs the Missions of Mobile Chamber Choir.
His performing career has led him to sing in Germany,
Italy, South Korea, and Romania, as well as throughout the
United States. As a soloist, he has performed lead roles in
Le nozze di Figaro, Don Giovanni, Die Zauberflöte, The
Elixir of Love, La Cenerentola, The Rape of Lucretia,
Susannah, Cavalleria Rusticana, Il Tabarro, Turandot,
Madama Butterfly, Die Fledermaus, Werther, A Hand of
Bridge, Little Red Riding Hood, L'Enfant et les sortilèges,
and Falstaff, as well as solos in oratorios and concert
works by Bach, Handel, Schubert, Brahms, Faure, and Orff. He also sang the baritone
solo for the premiere performance of Mobile composer Louis Daniel's Requiem. In
the realm of musical theater, he has performed the title role in Phantom of the Opera
and leads in Oklahoma, Brigadoon, and Kiss Me Kate. Anduri holds a Doctor of
Musical Arts Degree from The University of Southern Mississippi, a Master of Music
Degree from University of Florida, and a Bachelor of Music Education Degree from
Colorado State University. He relishes the opportunities that music brings for cultural
interchange, and seeks to use the power of music to bring diverse groups of people
together.