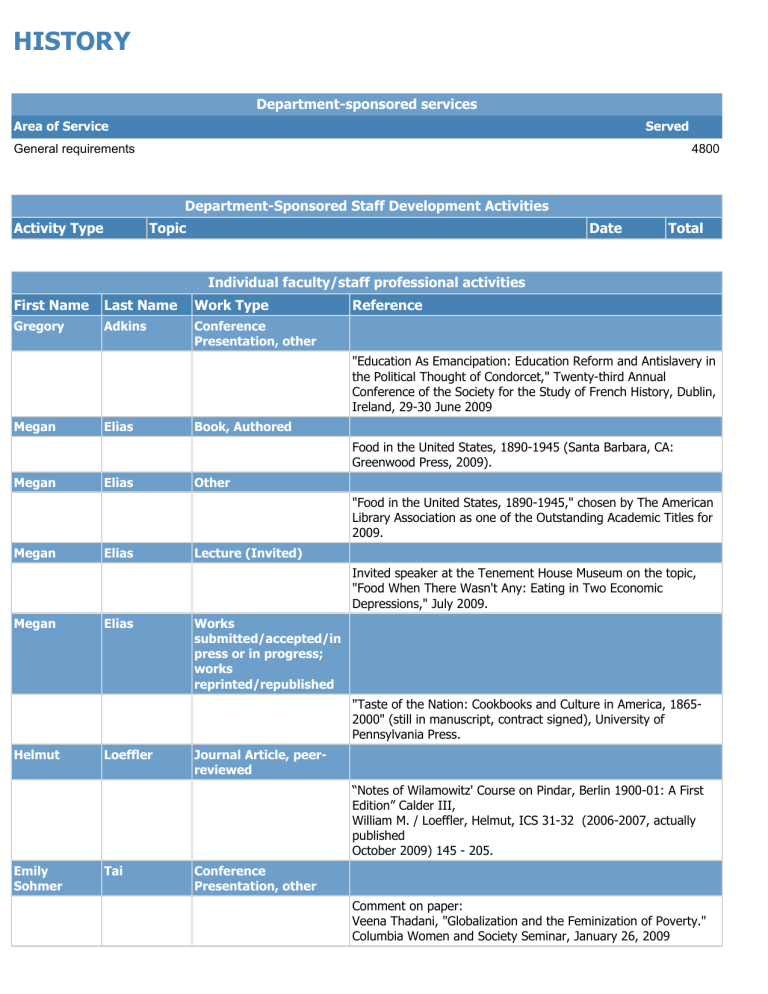 HISTORY
Department-sponsored services
Area of Service
Served
General requirements
4800
Department-Sponsored Staff Development Activities
Activity Type
Topic
Date
Total
Individual faculty/staff professional activities
First Name
Last Name
Work Type
Gregory
Adkins
Conference
Presentation, other
Reference
"Education As Emancipation: Education Reform and Antislavery in
the Political Thought of Condorcet," Twenty-third Annual
Conference of the Society for the Study of French History, Dublin,
Ireland, 29-30 June 2009
Megan
Elias
Book, Authored
Food in the United States, 1890-1945 (Santa Barbara, CA:
Greenwood Press, 2009).
Megan
Elias
Other
"Food in the United States, 1890-1945," chosen by The American
Library Association as one of the Outstanding Academic Titles for
2009.
Megan
Elias
Lecture (Invited)
Invited speaker at the Tenement House Museum on the topic,
"Food When There Wasn't Any: Eating in Two Economic
Depressions," July 2009.
Megan
Elias
Works
submitted/accepted/in
press or in progress;
works
reprinted/republished
"Taste of the Nation: Cookbooks and Culture in America, 18652000" (still in manuscript, contract signed), University of
Pennsylvania Press.
Helmut
Loeffler
Journal Article, peerreviewed
³1RWHVRI:LODPRZLW] &RXUVHRQ3LQGDU%HUOLQ$)LUVW
(GLWLRQ´&DOGHU,,,
:LOOLDP0/RHIIOHU+HOPXW,&6 DFWXDOO\
SXEOLVKHG
2FWREHU Emily
Sohmer
Tai
Conference
Presentation, other
&RPPHQWRQSDSHU
9HHQD7KDGDQL*OREDOL]DWLRQDQGWKH)HPLQL]DWLRQRI3RYHUW\
&ROXPELD:RPHQDQG6RFLHW\6HPLQDU-DQXDU\
Individual faculty/staff professional activities
First Name
Last Name
Work Type
Reference
0HGLHYDODQG(DUO\0RGHUQ0HUFKDQWV$5RXQGWDEOH'LVFXVVLRQ
0HGLHYDO&OXERI1HZ<RUN2FWREHU
3UHVHQWHGRQ0HGLWHUUDQHDQPHUFKDQWVDWLQWHUGLVFLSOLQDU\SDQHO
RIPHGLHYDOLVWVZLWK0DULR'L*DQJLDQG'9DQFH6PLWK
3LUDF\DQG&LYLF(QJDJPHQW
3DSHUSUHVHQWHGDW&RPPXQLW\&ROOHJH+XPDQLWLHV$VVRFLDWLRQ
1DWLRQDO&RQIHUHQFH&KLFDJR,OOLQRLV2FWREHU
0HGLHYDO0HGLWHUUDQHDQ3LUDF\
3DSHUSUHVHQWHGDW3HDUO.LEUH$QQXDO5RXQGWDEOH
1HZ'LUHFWLRQVLQ0HGLHYDO6FKRODUVKLS
&81<*UDGXDWH&HQWHU1RYHPEHU
:RPHQDQGWKH5ZDQGD*HQRFLGH
6SHDNHURQ3DQHORQWKH5ZDQGD*HQRFLGH+DUULHWDQG.HQQHWK
.XSIHUEXUJ+RORFDXVW$UFKLYHVDQG5HVRXUFH&HQWHU
4XHHQVERURXJK&RPPXQLW\&ROOHJH&81<'HFHPEHU
Emily
Sohmer
Tai
Conference
Presentation published as
proceedings
3URYHQ]DO0DODXUDV6DYDMD*HQRH]D:DQGHULQJ,GHQWLWLHVDQG
$PELYDOHQW/R\DOWLHVLQWKH7URXEDGRXU'LDVSRUD
3DSHU3UHVHQWHGDWWKHWK,QWHUQDWLRQDO&RQJUHVVRI0HGLHYDO
6WXGLHVDW.DODPD]RR0LFKLJDQ0D\
Mark
Van Ells
Conference
Presentation, other
"G.I. Joe Sees the World: The American Soldier as Traveler
During World War II," Popular Culture Association International
Meeting, Turku, Finland, July 2009.
"Submarines in the Heartland: Manitowoc, Wisconsin and World
War II," Popular Culture Association National Meeting, New
Orleans, LA, April 2009.
Mark
Van Ells
Service to department,
College, University,
community, and/or
professional society
Program Chair, Northeast Popular Culture Association Annual
Meeting, Queensborough Community College, Bayside, NY,
October 2009.
President, Northeast Popular Culture Association, October 2009 to
present.
Curricular Changes - Course
Program Change
Course Number
Course Title
Semester
Comments
000
History of Ancient Greece History of
This course was tested as a Special
Ancient Greece Topic. It will be offered as a
permanent offering for the first
time in the Fall of 2010
New Course
Personnel or organizational structure changes, newly developed projects
Changes
One full-time faculty member was hired, with contract starting on September 2010; Dr. Megan Moran.
A member of the department, Dr. Emil Polak, retired.
A member of the department, Dr. Gregory Adkins, resigned.
A full-time member of the department was hired, Dr. Helmut Loeffler.
A new member of the department was hired, Ms. Aithne Bialo-Padin.
A task force on assessment was created. Dr. Sarah Danielsson will head said task force.
Facilities/space changes
Facility modification
Purpose
Semester
Two cubicles were built in existing space.
The cubicles will serve as Spring 2010
office space for two fulltime members of the
department.
Facility Evaluation
The space looks comfortable but it
is not yet occupied.
Equipment changes
Equipment Changes
Purpose
Semester Evaluation
Two laptop computers were acquired.
The equipment will be used to
enhance the learning experience in
the classroom.
Spring 2010 Similar equipment has already
been used previously. The
equipment allows faculty
members to utilize all types of
media in the classroom; images,
text, film, websites, etc.
Resource changes
Other Resources Purpose
Semester Resource Evaluation
Other changes affecting department
Departmental procedures for conducting assessment
A task force was created to develop a continuing, sustained assessment process. A timetable and procedure was established
to be phased in gradually. The procedures and results for the first semester are part of the first assessment report to be
submitted shortly.
Departmental participation in self-study/program review
Program(s): Reviewed
Program Review Follow-up
Action Item
Timeline
Accomplishements
Course Objectives and Course Assessment
Course Assessed: HI127, HI112
Educational Objectives: SEE FULL REPORT
Course Objectives and Course Assessment
Curricular Objectives: SEE FULL REPORT
Results: SEE FULL REPORT
Action Plan: ASSESSMENT PROCESS WILL CONTINUE TO BE PHASED IN
Results of certification exams, employer and alumni surveys, student surveys, advisory board
recommendations
Data Source
Results
Action Plan
Goals/objectives for year just completed
Goals
Strategic
Plan
Evaluation of achievement
Action Plan
False
The department has hired a
new faculty member to replace
one who resigned last year.
The department has completed
its acquisition of computer
equipment with the purpose of
making every faculty member
able to use multi-media in
every classroom and every
course that we offer. The
department has continued to
offer new courses through the
"Special Topics Designation".
The department has set up an
assessment task force and has
initiated a sustained, long-term
assessment process. The
department has created new
office space for its new
members. The department
has increased the number of
courses offered during the
Winter Session.
The accomplishment of the objectives is No action plan necessary.
self-evident. The actions proposed were
carried out.
Goals/objectives for coming year
Upcoming Goals
Related Strategic Plan
Objective
Planned Method of Evaluation
The Department will conduct a
search to hire a replacement for a
specialist in Ancient History who
retired this year. The department
will incorporate more courses into
the process of assessment.
The establishment of a comprehensive, The department will use the assessment protocol
sustained process of assessment.
designed in the previous year to evaluate certain
aspects of courses offered.