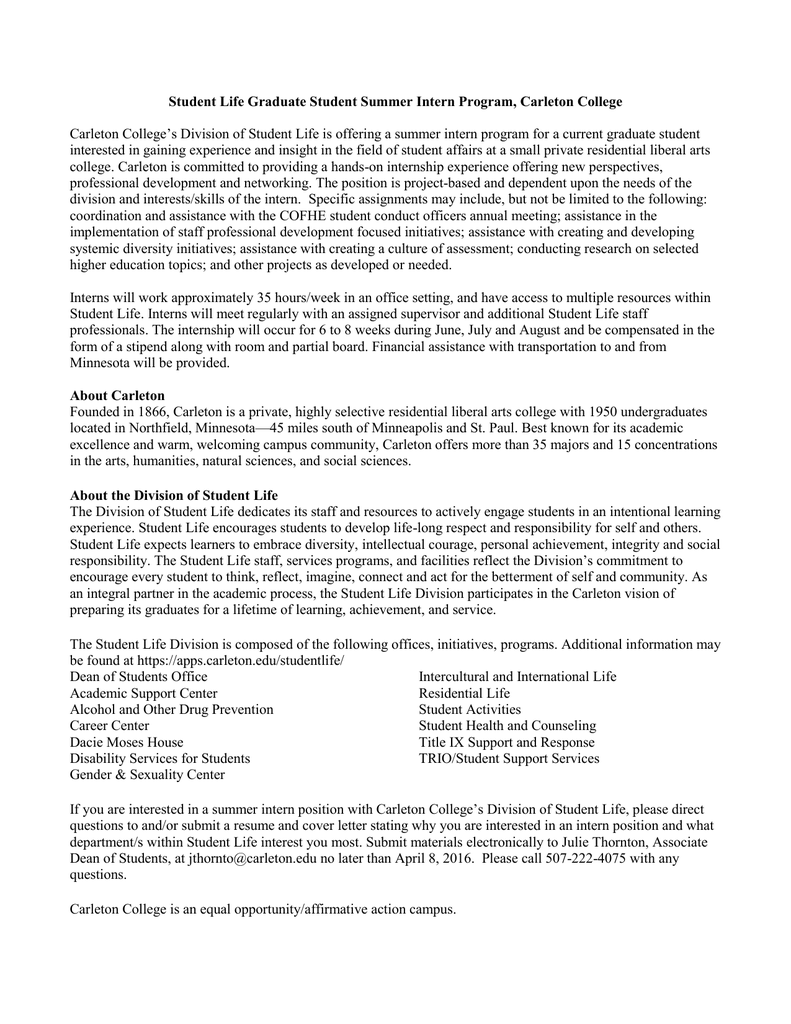 Student Life Graduate Student Summer Intern Program, Carleton College
Carleton College's Division of Student Life is offering a summer intern program for a current graduate student
interested in gaining experience and insight in the field of student affairs at a small private residential liberal arts
college. Carleton is committed to providing a hands-on internship experience offering new perspectives,
professional development and networking. The position is project-based and dependent upon the needs of the
division and interests/skills of the intern. Specific assignments may include, but not be limited to the following:
coordination and assistance with the COFHE student conduct officers annual meeting; assistance in the
implementation of staff professional development focused initiatives; assistance with creating and developing
systemic diversity initiatives; assistance with creating a culture of assessment; conducting research on selected
higher education topics; and other projects as developed or needed.
Interns will work approximately 35 hours/week in an office setting, and have access to multiple resources within
Student Life. Interns will meet regularly with an assigned supervisor and additional Student Life staff
professionals. The internship will occur for 6 to 8 weeks during June, July and August and be compensated in the
form of a stipend along with room and partial board. Financial assistance with transportation to and from
Minnesota will be provided.
About Carleton
Founded in 1866, Carleton is a private, highly selective residential liberal arts college with 1950 undergraduates
located in Northfield, Minnesota—45 miles south of Minneapolis and St. Paul. Best known for its academic
excellence and warm, welcoming campus community, Carleton offers more than 35 majors and 15 concentrations
in the arts, humanities, natural sciences, and social sciences.
About the Division of Student Life
The Division of Student Life dedicates its staff and resources to actively engage students in an intentional learning
experience. Student Life encourages students to develop life-long respect and responsibility for self and others.
Student Life expects learners to embrace diversity, intellectual courage, personal achievement, integrity and social
responsibility. The Student Life staff, services programs, and facilities reflect the Division's commitment to
encourage every student to think, reflect, imagine, connect and act for the betterment of self and community. As
an integral partner in the academic process, the Student Life Division participates in the Carleton vision of
preparing its graduates for a lifetime of learning, achievement, and service.
The Student Life Division is composed of the following offices, initiatives, programs. Additional information may
be found at https://apps.carleton.edu/studentlife/
Dean of Students Office
Intercultural and International Life
Academic Support Center
Residential Life
Alcohol and Other Drug Prevention
Student Activities
Career Center
Student Health and Counseling
Dacie Moses House
Title IX Support and Response
Disability Services for Students
TRIO/Student Support Services
Gender & Sexuality Center
If you are interested in a summer intern position with Carleton College's Division of Student Life, please direct
questions to and/or submit a resume and cover letter stating why you are interested in an intern position and what
department/s within Student Life interest you most. Submit materials electronically to Julie Thornton, Associate
Dean of Students, at [email protected] no later than April 8, 2016. Please call 507-222-4075 with any
questions.
Carleton College is an equal opportunity/affirmative action campus.