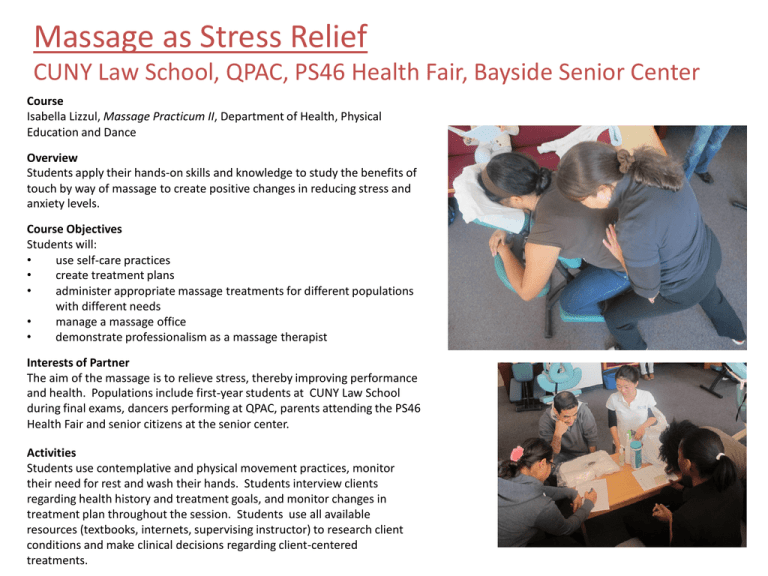 Massage as Stress Relief
CUNY Law School, QPAC, PS46 Health Fair, Bayside Senior Center
Course
Isabella Lizzul, Massage Practicum II, Department of Health, Physical
Education and Dance
Overview
Students apply their hands-on skills and knowledge to study the benefits of
touch by way of massage to create positive changes in reducing stress and
anxiety levels.
Course Objectives
Students will:
•
use self-care practices
•
create treatment plans
•
administer appropriate massage treatments for different populations
with different needs
•
manage a massage office
•
demonstrate professionalism as a massage therapist
Interests of Partner
The aim of the massage is to relieve stress, thereby improving performance
and health. Populations include first-year students at CUNY Law School
during final exams, dancers performing at QPAC, parents attending the PS46
Health Fair and senior citizens at the senior center.
Activities
Students use contemplative and physical movement practices, monitor
their need for rest and wash their hands. Students interview clients
regarding health history and treatment goals, and monitor changes in
treatment plan throughout the session. Students use all available
resources (textbooks, internets, supervising instructor) to research client
conditions and make clinical decisions regarding client-centered
treatments.