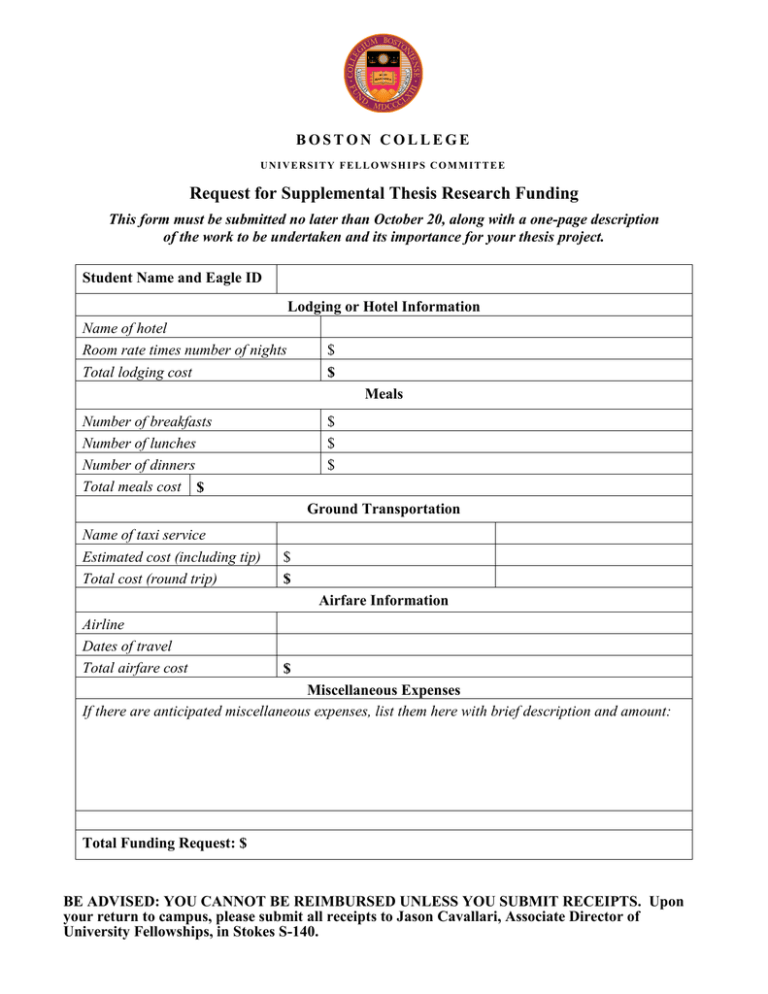 BOSTON COLLEGE
UNIVERSITY FELLOWSHIPS COMMITTEE
Request for Supplemental Thesis Research Funding
This form must be submitted no later than October 20, along with a one-page description
of the work to be undertaken and its importance for your thesis project.
Student Name and Eagle ID
Lodging or Hotel Information
Name of hotel
Room rate times number of nights
Total lodging cost
$
$
Meals
Number of breakfasts
Number of lunches
Number of dinners
Total meals cost $
$
$
$
Ground Transportation
Name of taxi service
Estimated cost (including tip)
Total cost (round trip)
$
$
Airfare Information
Airline
Dates of travel
Total airfare cost
$
Miscellaneous Expenses
If there are anticipated miscellaneous expenses, list them here with brief description and amount:
Total Funding Request: $
BE ADVISED: YOU CANNOT BE REIMBURSED UNLESS YOU SUBMIT RECEIPTS. Upon
your return to campus, please submit all receipts to Jason Cavallari, Associate Director of
University Fellowships, in Stokes S-140.