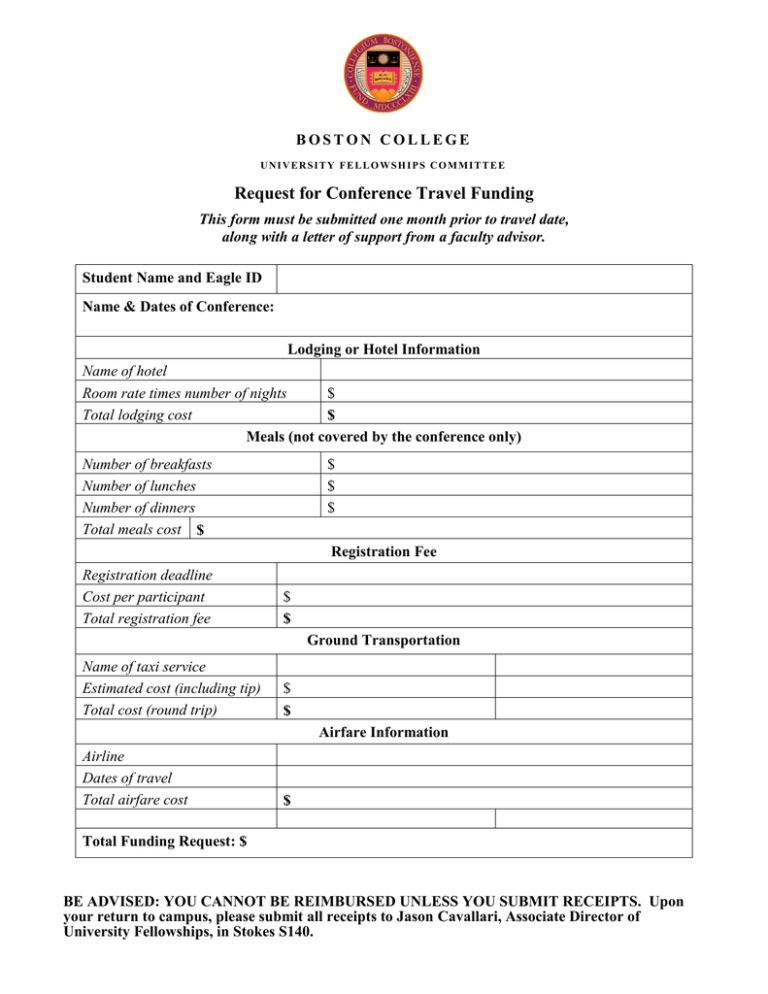 BOSTON COLLEGE
UNIVERSITY FELLOWSHIPS COMMITTEE
Request for Conference Travel Funding
This form must be submitted one month prior to travel date,
along with a letter of support from a faculty advisor.
Student Name and Eagle ID
Name & Dates of Conference:
Lodging or Hotel Information
Name of hotel
Room rate times number of nights
$
Total lodging cost
$
Meals (not covered by the conference only)
Number of breakfasts
Number of lunches
Number of dinners
Total meals cost $
$
$
$
Registration Fee
Registration deadline
Cost per participant
Total registration fee
$
$
Ground Transportation
Name of taxi service
Estimated cost (including tip)
Total cost (round trip)
$
$
Airfare Information
Airline
Dates of travel
Total airfare cost
$
Total Funding Request: $
BE ADVISED: YOU CANNOT BE REIMBURSED UNLESS YOU SUBMIT RECEIPTS. Upon
your return to campus, please submit all receipts to Jason Cavallari, Associate Director of
University Fellowships, in Stokes S140.