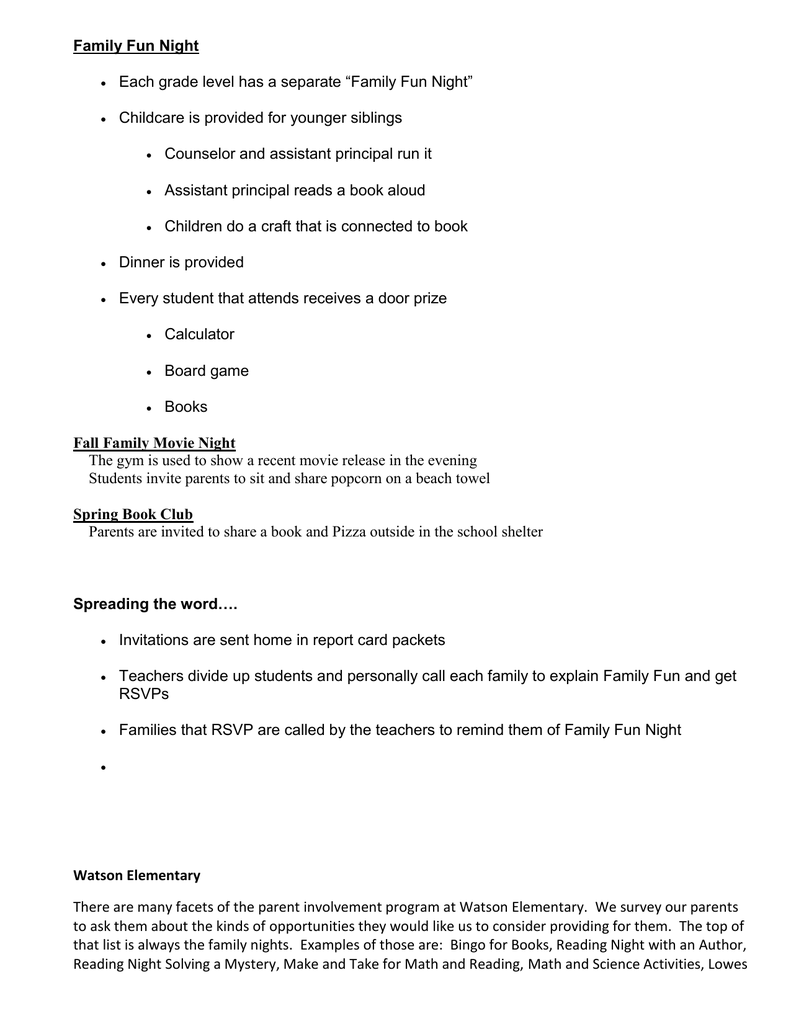 Family Fun Night

Each grade level has a separate "Family Fun Night"

Childcare is provided for younger siblings

Counselor and assistant principal run it

Assistant principal reads a book aloud

Children do a craft that is connected to book

Dinner is provided

Every student that attends receives a door prize

Calculator

Board game

Books
Fall Family Movie Night
The gym is used to show a recent movie release in the evening
Students invite parents to sit and share popcorn on a beach towel
Spring Book Club
Parents are invited to share a book and Pizza outside in the school shelter
Spreading the word….

Invitations are sent home in report card packets

Teachers divide up students and personally call each family to explain Family Fun and get
RSVPs

Families that RSVP are called by the teachers to remind them of Family Fun Night

Watson Elementary
There are many facets of the parent involvement program at Watson Elementary. We survey our parents
to ask them about the kinds of opportunities they would like us to consider providing for them. The top of
that list is always the family nights. Examples of those are: Bingo for Books, Reading Night with an Author,
Reading Night Solving a Mystery, Make and Take for Math and Reading, Math and Science Activities, Lowes
Building Project, Technology Night, Parenting Skills provided by Summit Center, Homework Help, Movie
Night, Other Cultures and Geography, Open House, Breakfast with Clifford, etc.
We try to make the opportunities for participation open to the community and not just parents. We have
"Special Persons" Luncheon, Material Aides, Volunteer Tutors, Beautification of the Grounds, Playground
Maintenance, School Carnival, Field Trips, Business Partners, etc.
Of course, communication is of great importance. These opportunities are provided through Edline,
Newsletters from the principal and from individual classrooms, Notes home as needed, Calendar of Events,
Report Cards, Agenda or Assignment Books, School-Wide Responsible Student Positive Behavior Support
Program, Recognition Programs, Parent Link, Email, Phone Calls, Face to Face Meetings, Student Assistance
Team Meetings, Individual Education Plan Meetings, Parent Teacher Conferences, Grant writing, etc
We have given some examples. We are sure we have left many things off of the list. This is an ever
evolving process. The involvement of our families is one of the top priorities at our school. It is difficult to
do a good job of educating students without their families.