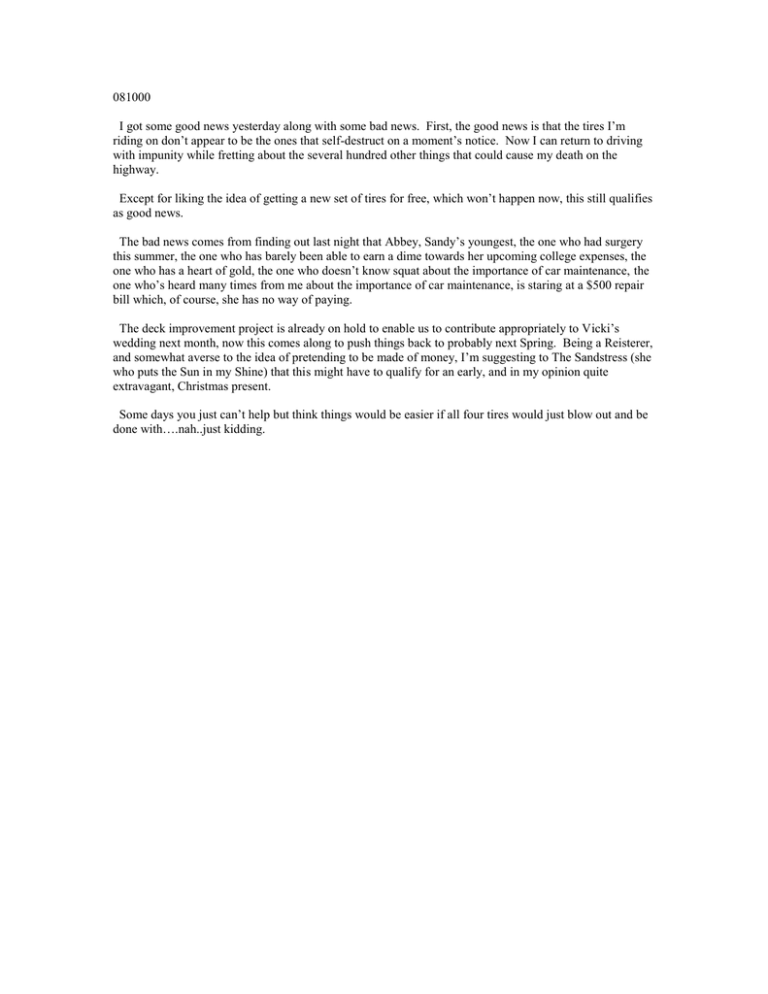 081000
I got some good news yesterday along with some bad news. First, the good news is that the tires I'm
riding on don't appear to be the ones that self-destruct on a moment's notice. Now I can return to driving
with impunity while fretting about the several hundred other things that could cause my death on the
highway.
Except for liking the idea of getting a new set of tires for free, which won't happen now, this still qualifies
as good news.
The bad news comes from finding out last night that Abbey, Sandy's youngest, the one who had surgery
this summer, the one who has barely been able to earn a dime towards her upcoming college expenses, the
one who has a heart of gold, the one who doesn't know squat about the importance of car maintenance, the
one who's heard many times from me about the importance of car maintenance, is staring at a $500 repair
bill which, of course, she has no way of paying.
The deck improvement project is already on hold to enable us to contribute appropriately to Vicki's
wedding next month, now this comes along to push things back to probably next Spring. Being a Reisterer,
and somewhat averse to the idea of pretending to be made of money, I'm suggesting to The Sandstress (she
who puts the Sun in my Shine) that this might have to qualify for an early, and in my opinion quite
extravagant, Christmas present.
Some days you just can't help but think things would be easier if all four tires would just blow out and be
done with….nah..just kidding.