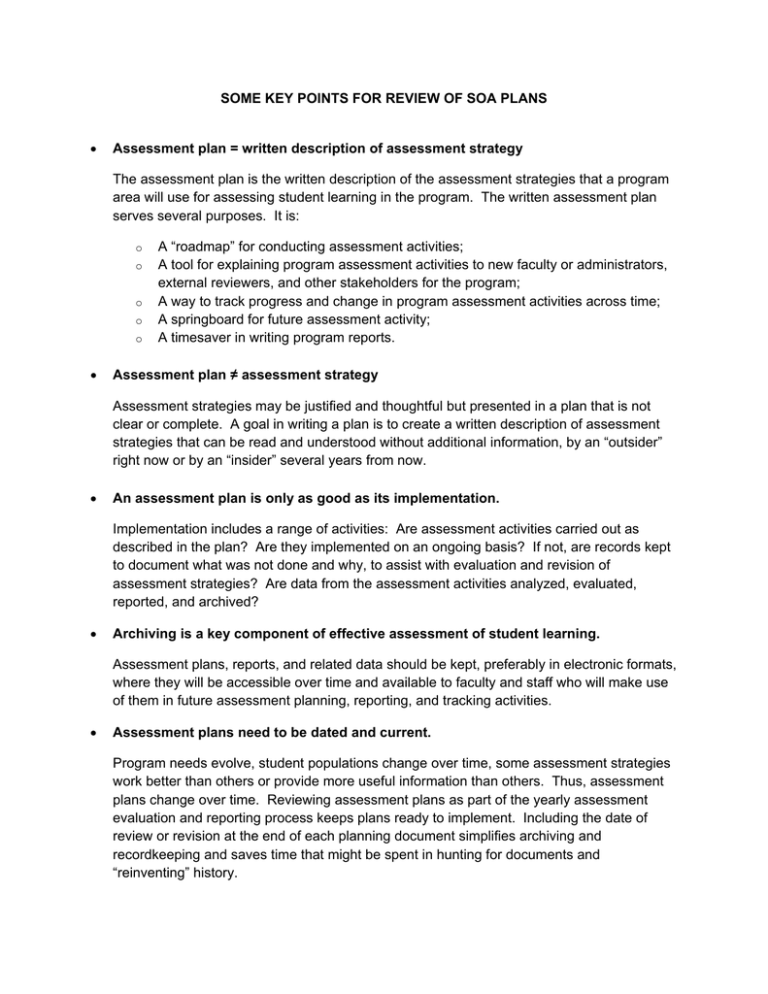 SOME KEY POINTS FOR REVIEW OF SOA PLANS
•
Assessment plan = written description of assessment strategy
The assessment plan is the written description of the assessment strategies that a program
area will use for assessing student learning in the program. The written assessment plan
serves several purposes. It is:
o
o
o
o
o
•
A "roadmap" for conducting assessment activities;
A tool for explaining program assessment activities to new faculty or administrators,
external reviewers, and other stakeholders for the program;
A way to track progress and change in program assessment activities across time;
A springboard for future assessment activity;
A timesaver in writing program reports.
Assessment plan ≠ assessment strategy
Assessment strategies may be justified and thoughtful but presented in a plan that is not
clear or complete. A goal in writing a plan is to create a written description of assessment
strategies that can be read and understood without additional information, by an "outsider"
right now or by an "insider" several years from now.
•
An assessment plan is only as good as its implementation.
Implementation includes a range of activities: Are assessment activities carried out as
described in the plan? Are they implemented on an ongoing basis? If not, are records kept
to document what was not done and why, to assist with evaluation and revision of
assessment strategies? Are data from the assessment activities analyzed, evaluated,
reported, and archived?
•
Archiving is a key component of effective assessment of student learning.
Assessment plans, reports, and related data should be kept, preferably in electronic formats,
where they will be accessible over time and available to faculty and staff who will make use
of them in future assessment planning, reporting, and tracking activities.
•
Assessment plans need to be dated and current.
Program needs evolve, student populations change over time, some assessment strategies
work better than others or provide more useful information than others. Thus, assessment
plans change over time. Reviewing assessment plans as part of the yearly assessment
evaluation and reporting process keeps plans ready to implement. Including the date of
review or revision at the end of each planning document simplifies archiving and
recordkeeping and saves time that might be spent in hunting for documents and
"reinventing" history.