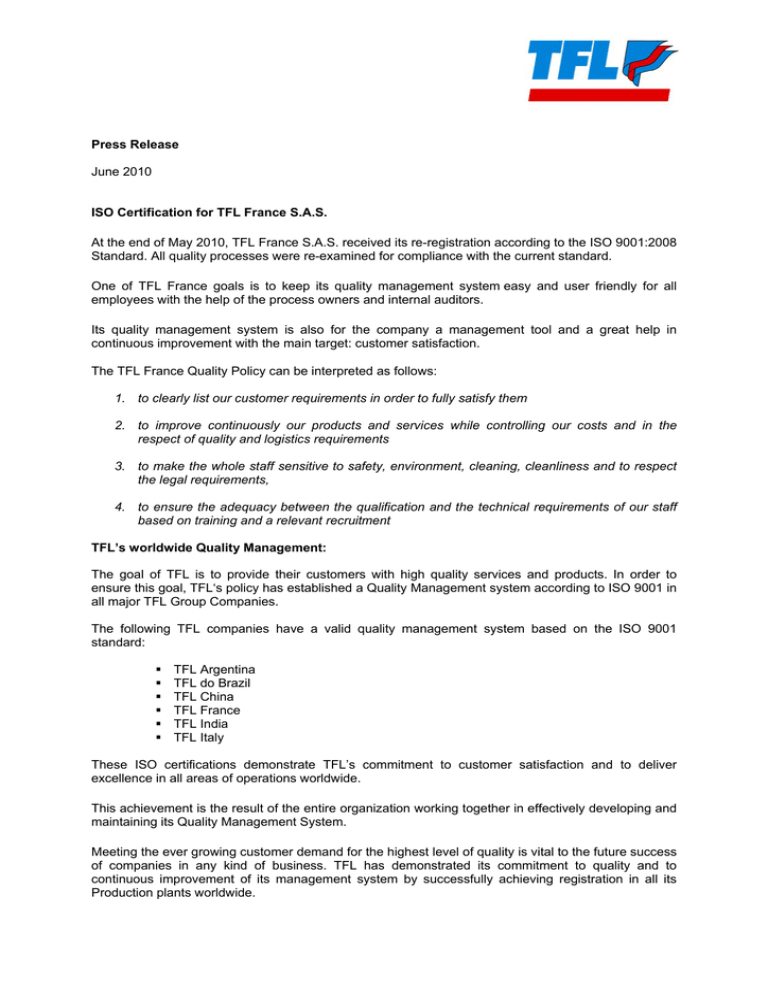 Press Release
June 2010
ISO Certification for TFL France S.A.S.
At the end of May 2010, TFL France S.A.S. received its re-registration according to the ISO 9001:2008
Standard. All quality processes were re-examined for compliance with the current standard.
One of TFL France goals is to keep its quality management system easy and user friendly for all
employees with the help of the process owners and internal auditors.
Its quality management system is also for the company a management tool and a great help in
continuous improvement with the main target: customer satisfaction.
The TFL France Quality Policy can be interpreted as follows:
1. to clearly list our customer requirements in order to fully satisfy them
2. to improve continuously our products and services while controlling our costs and in the
respect of quality and logistics requirements
3. to make the whole staff sensitive to safety, environment, cleaning, cleanliness and to respect
the legal requirements,
4. to ensure the adequacy between the qualification and the technical requirements of our staff
based on training and a relevant recruitment
TFL's worldwide Quality Management:
The goal of TFL is to provide their customers with high quality services and products. In order to
ensure this goal, TFL's policy has established a Quality Management system according to ISO 9001 in
all major TFL Group Companies.
The following TFL companies have a valid quality management system based on the ISO 9001
standard:
ƒ
ƒ
ƒ
ƒ
ƒ
ƒ
TFL Argentina
TFL do Brazil
TFL China
TFL France
TFL India
TFL Italy
These ISO certifications demonstrate TFL's commitment to customer satisfaction and to deliver
excellence in all areas of operations worldwide.
This achievement is the result of the entire organization working together in effectively developing and
maintaining its Quality Management System.
Meeting the ever growing customer demand for the highest level of quality is vital to the future success
of companies in any kind of business. TFL has demonstrated its commitment to quality and to
continuous improvement of its management system by successfully achieving registration in all its
Production plants worldwide.